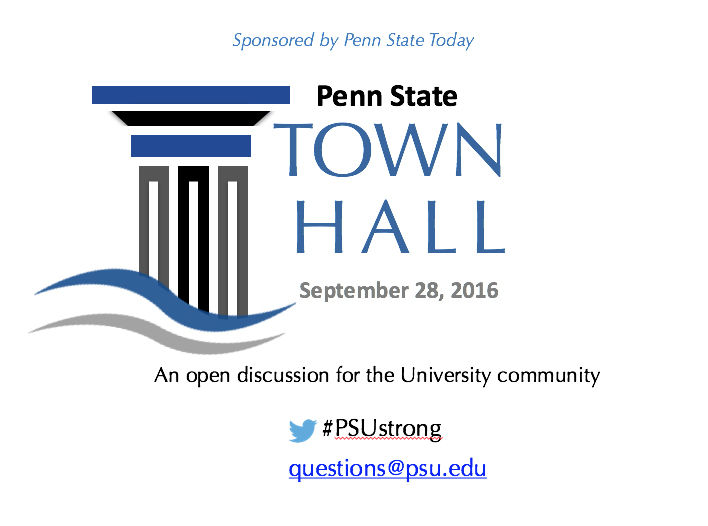 UNIVERSITY PARK, Pa. — Penn State Provost Nick Jones and Senior Vice President David Gray will provide updates on University initiatives and answer questions during a Town Hall meeting for faculty and staff scheduled for 3-5 p.m. Sept. 28 in the Pavilion Theatre at University Park. The meeting will be livestreamed at https://www.youtube.com/watch?v=tUdLttAgf-A for faculty and staff members at all Penn State campuses to view.
The Town Hall meetings, which began last year, are opportunities for members of the Penn State community to receive informational updates on University initiatives, hear from administrative leaders about key issues, ask questions and provide feedback. Topics at the Sept. 28 meeting will include University budgetary considerations, health care, strategic planning, and human resources issues.
Faculty and staff are invited to ask questions at the meeting, or by sending them in advance to [email protected] or through Twitter using the hashtag #PSUstrong. Members of the audience also can submit questions anonymously on site at the Pavilion Theatre, and the names of people submitting questions through email, on site or via Twitter will not be shared.
The meeting is being sponsored by Penn State Today. Check Penn State Today for information about future Town Hall meetings.