President Raven Brunner advocates diversity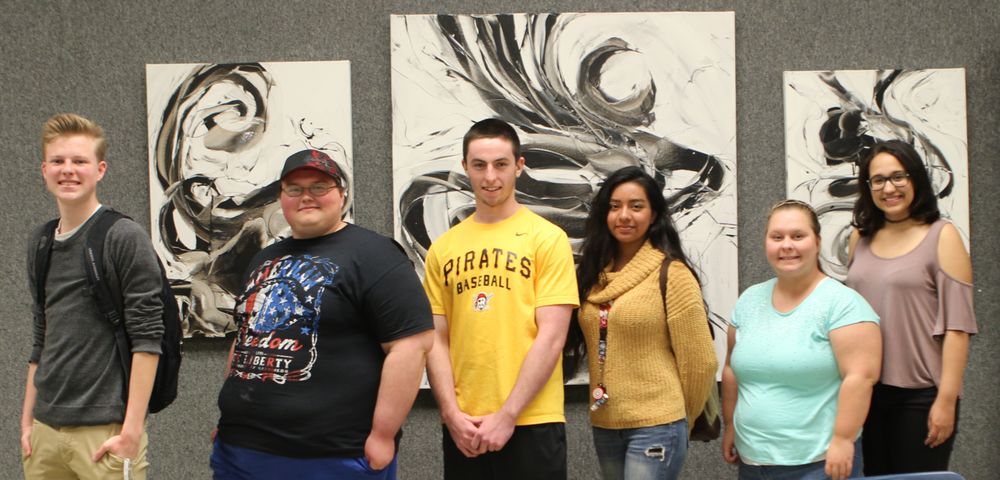 NEW KENSINGTON, Pa. – With the spring semester winding down, the Penn State New Kensington's Student Government Association (SGA) is ramping up. The 2017-18 slate of officers, headed by president Raven Brunner, was sworn in April 24 in the campus Art Gallery.
Brunner, a sophomore communications major from Augusta, Georgia, took over the reins of the eclectic board that represents the campus' students, provides support and advocacy, and enhances the college experience. Joining Brunner as SGA officers were:
Bradley Lucas, freshman business administration major from Murrysville, Pennsylvania, vice president;
Kaleb Jewell, freshman engineering major from Cheswick, Pa., treasurer;
Jayleen Chagolla, freshman administration of justice major from Riverside, California, secretary;
Ashton Caldwell, a freshman political science major from Cheswick, underclassmen faculty senate representative;
Carly Duncan, freshman biology major from Gibsonia, Pa., upperclassmen faculty senate representative;
Nick Roth, freshman electro-mechanical engineering technology major from Butler, Pa. and Paulina Iniguez, sophomore, division of undergraduate studies program from Murrysville, THON co-chairs.
"As SGA president, I'm hoping to gain more insight on what kind of events students want on campus and what we can do to build a more connected community," said Brunner, co-founder and president of the campus' Diversity Club and a member of the Campus Activity Board.
Theresa Bonk, director of student affairs, and Michele Marcks, assistant director of student affairs and student life coordinator, will work closely with the board. They are co-advisers for the SGA.
"We had a record number of students apply for positions in student government this year," Bonk said. "Michele and I are looking forward to working with this exceptionally talented group, many of whom are first year students."
The new officers will receive leadership training throughout the summer to improve their leadership skills and to develop networks to collaborate with fellow student governments across the commonwealth campuses. They will undergo a four-day Student Summer Leadership conference at Penn State Harrisburg. Participants will learn about meeting management, student activism, diversity, community building, and personal and professional goal setting. Jewell will receive additional training on the logistics of handling student organization fiscal accounts under the tutelage of the staff in Student Life.
Leadership training continues throughout the fall and spring semesters. Due to the enormity of the president's role, including co-chairing both the student activity fee and student facility fee committees, Brunner will meet weekly with Bonk. In addition, the executive team attends five weekend meetings of the Commonwealth Council of Student Governments at Penn State University Park.
The SGA board was appointed by a committee comprising a majority of students, along with faculty and staff. The officers were selected via an interview process that asked about their past leadership experiences, as well as about their goals for the campus for the upcoming year.
After a summer of leadership training, the new executive board will be prepared to implement their strategic plans for the 2017-2018 academic year.
"My main goal for SGA is to add more assortment to our diversity on campus," Brunner said. "We will plan events that appeal to everybody."
In addition to regular weekly meetings, the SGA will host the November meeting the Council of Commonwealth Student Governments. The council, which represents student governments of Penn State's 19 Commonwealth campuses, promotes unity, change, and growth. More than 250 students from student governments of all Commonwealth campuses, as well as the University Park campus, will be in attendance.
"The New Kensington campus is honored to be named as host campus for the only 'away' meeting of the council that traditionally meets at University Park," Bonk said.
Contact
Bill Woodard
Alumni and Public Relations Specialist