Beth Matocha nurtured a generation of students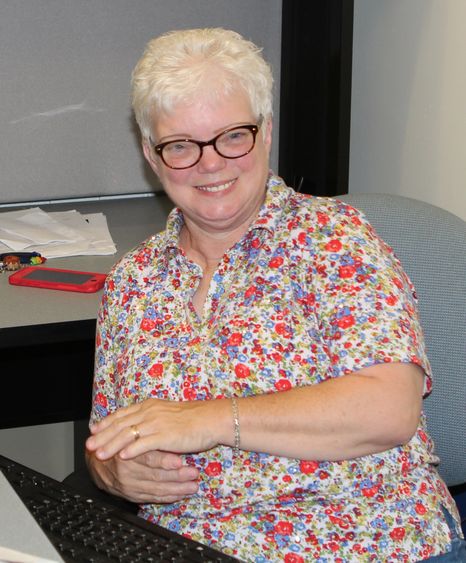 NEW KENSINGTON, Pa. — Beth Matocha spent much of her Penn State New Kensington career checking out books for students in the Elizabeth S. Blissell Library. The books were to be returned at the end of the semester. Last month, Matocha checked herself out of the library by retiring. There is no return date.
Matocha, information resources and services support specialist, retired June 30 after 33 years at the campus. In her position, she provided support for all functions of Blissell Library, including the Interlibrary Loan unit. Interlibrary loan supports the scholarly research and curriculum needs of campus faculty, staff and students. Books and materials that are not owned by the campus can be borrowed from other Penn State libraries and non-Penn State libraries.
"She has been an amazing member of the Blissell Library team," said Amy Rustic, reference librarian. "With a smile on her face, she is always helpful to staff, students and faculty."
After earning an associate degree from Bradford Business School, Matocha joined the campus community in 1983 as a part-time staff assistant in the Continuing Education office. She performed a variety of tasks for the office, including working with off-campus evening programs and the Kids in College summer camp program.
Matocha's work ethic earned her a full-time position with Blissell Library in 1998. In her 18 years at Blissell, Matocha saw an evolution in the way the library operates. Among the changes: typewriters gave way to computer keyboards and the old card catalogue gave way to the online database.
"Students searching for articles for research used to give the request to the library, and then they received a paper copy of the article," said Matocha, a native of Vandergrift. "Today, students have hands-on experience with a computer and can control the process from start to finish."
Over the years, Matocha worked with a variety of colleagues and served generations of students. She savors those experiences.
"The Continuing Education and library staffs were fantastic groups to work with, and I have the utmost respect for all of them," Matocha said. "I loved our students, and they taught me so much over the years. I saw a lot of the same students who continuously used the library. In recent years, I became a grandma to them."
The library staff honored Matocha's retirement with a reception June 20. Students, faculty, staff and campus retirees offered their congratulations and best wishes.
"Beth has been the glue that holds our team together for all these years," said Jennifer Gilley, head librarian. "We will greatly miss her."
"She was always offering to help out with anything, and I knew I could always count on her," said Yesenia Figueroa-Lifschitz, library assistant. "Beth has been a great co-worker and friend, and I will miss her very much."
Although retirement diminished Matocha's grandma duties at the campus, it enhanced those duties at home. She is using her new leisure hours to spend more time with her three grandsons, ages 9, 7 and 2, and a granddaughter, who is expected to arrive in July. She lives in Lower Burrell with her husband, Chuck Matocha.
In addition to enjoying her grandchildren, Matocha will spend time traveling with friends and relaxing at the family camp in Cook's Forest.
Blissell Library open to the public
Because of Penn State's status as a state-related institution, and its strong community service commitment, the resources of Blissell Library are available for use by the general public, free of charge. The system-wide resources include government documents and online databases. Members of the community can take advantage of the library's resources by filling out a form and receiving a Penn State library card. For more information, call Blissell Library at 724-334-6071. For more about Blissell Library, visit https://www.libraries.psu.edu/psul/newkensington.html.
Contact
Bill Woodard
Alumni and Public Relations Specialist