New Kensington Academic and Student Achievement Awards celebrate 2022-23 achievements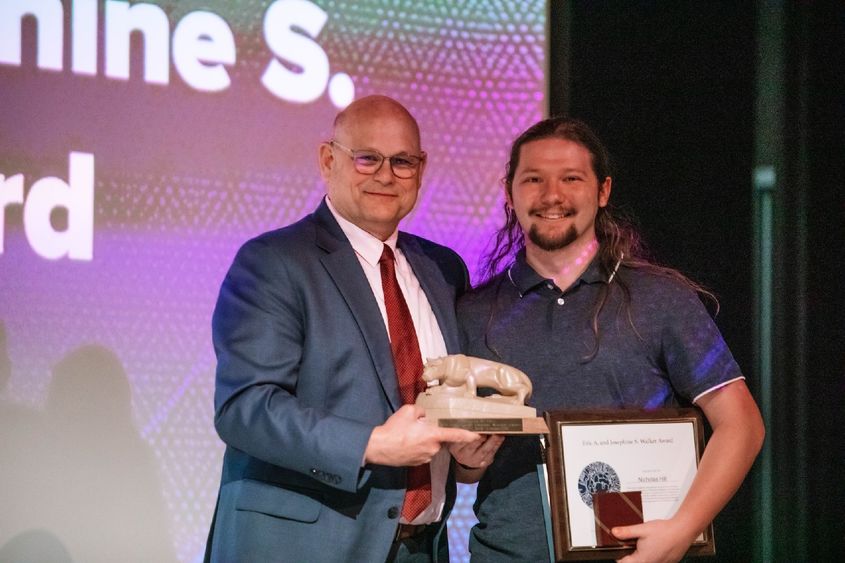 NEW KENSINGTON, Pa. - Academic, teaching and extracurricular honors were bestowed at the annual Penn State New Kensington Academic and Student Achievement Awards ceremony on April 29. Approximately 50 awards were presented in the Forum Theatre, which was filled with campus faculty, staff, students, and students' family members and friends.  
Eric A. and Josephine S. Walker Award 
The highest student honor presented, the Eric A. and Josephine S. Walker Award, was presented to Nicholas Hill, a biomedical engineering technology student.  
Hill, a familiar and friendly face on the Penn State New Kensington campus in and out of the classroom, has been an active student leader, holding the position of president of the Campus Activities Board for the past three years and serving on the campus' THON organization as a co-chair and dancer. He also readily volunteers to assist the admissions department in giving tours to prospective students. 
"While we do have a smaller campus, I've come to know it as my home," said Hill. "I've taken a lot of what I learned here both in the classroom and in clubs and utilized them in my daily life." 
In addition to his studies and campus involvement, Hill runs a small business making 3D prints. In addition, he enjoys being part of the Rebel Legion, a Star Wars organization, and the Droid Division, a Star Wars droid building group. His on and off-campus leadership is shown through all he does. 
"There has been no other student that has made a greater impact on the out-of-classroom experiences than Nic," said one nominator. 
"He has tirelessly dedicated himself to being involved as a student leader to provide co-curricular opportunities for his peers to have fun and grow as students." Another nominator wrote, "His enthusiasm and energy have been unmatched over the five years I have known him, and his discipline and integrity is remarkable. 
Student Awards  
Students receiving academic honors were recognized for having high grade-point averages in their respective majors or within the University, as well as participation in the campus honors programs. Twelve students were celebrated for earning a 4.0 cumulative grade-point average.  
Accolades for leadership and participation in athletics and campus activities also were highlighted. The Penn State New Kensington Alumni Society recognized Hill as this year's Penn State Spirit Award winner for exhibiting integrity and character while exuding Penn State pride. Angelena Dove received the campus Top Influencer Award and the 2023 Emerging Leader Award.  
A number of athletics awards were presented, including United States Athletic Association All-Academic honors and Penn State University Athletic Conference Academic All-Conference awards.  
Teaching Awards  
Two faculty members were honored with Excellence in Teaching Awards — Steven Evanchec, lecturer of accounting (full time), and David McGeary, adjunct instructor in kinesiology (part time). Faculty have three areas of responsibility: teaching, research/scholarly activity and service. The principle criterion is classroom performance, but excellence in other activities such as advising, supervision of learning outside the classroom, and course development are also considered for the accolades. 
In addition, Joseph Cuiffi, assistant teaching professor and program coordinator of electro-mechanical engineering technology, was recognized for being one of six University-wide George W. Atherton Award recipients this year. The award is named after Penn State's seventh president and is given to six full-time faculty members who have devoted substantial effort to and developed a record of excellence in undergraduate teaching.   
Hal Smith, associate professor and program coordinator of information sciences and technology, was recognized with the Arlene Hall Service Award, which iswarded by faculty of Penn State New Kensington in recognition of high-quality service to the campus, college, University, discipline and the community as a representative of the University. 
Staff Awards 
Candee Christy, administrative assistant to the Chancellor, was awarded the Outstanding Office Professional Award given by the Penn State Educational Office Professionals organization. The award is given to an administrative support employee who has provided exceptional meritorious service on behalf of Penn State.  
A full photo gallery from the event can be viewed on the Penn State New Kensington Facebook page.  
2023 Awards and Winners List  
Academic Awards 
COLLEGE OF AGRICULTURAL SCIENCES (Baccalaureate Degree): Nicholas Wigle 
COLLEGE OF ENGINEERING (Baccalaureate Degree): Bradley Carr, Patrick Clark, Bryce Eddy, Samuel Ramsey; Biomedical Engineering Technology (Associate Degree): Maria Sherbondy 
COLLEGE OF HEALTH AND HUMAN DEVELOPMENT (Baccalaureate Degree): Alexandra Clickner 
COLLEGE OF LIBERAL ARTS (Baccalaureate Degree): Zack Oswalt 
THE JOSEPH A. AND MARY M. QUARATO NURSING PROGRAM AWARD: Joseph Lonjose, Caylyn Piovesan, Marissa Studer 
UNIVERSITY COLLEGE (Baccalaureate Degree): Biobehavioral Health: Meredith Carter, Laurel Cowling, Jennifer Roberts; Business Administration: Sebastian Borrero, Stephanie Rovnak, Delaney Tevelonis; Communications: Serena Timko; Criminal Justice: Alaina Aulerich, Kaylea Kemp, Farid Nafash; Information Sciences and Technology: Kalpik Patel, Bevanny Stearman; Project and Supply Chain Management: Ryan Welsh; Psychology: Ashley Sovitski, Sara Tresco; Radiological Sciences (Associate Degree): Morgan Gamble 
DIVISION OF UNDERGRADUATE STUDIES: Elliott Ferrent 
HONORS PROGRAM - Four-Year Participants: Samuel Ramsey, Elizabeth Schachte; Three-Year Participants: Ally Albert, Bryce Eddy, Michel Nafash; Two-Year Participants: Meredith Carter, Laurel Cowling, Clayton Groves, Izabel Kislan, Farid Nafash, Heather Shultz; One-Year Participants: Kelly Dugan, Rosa Heath, Daniel Kinter, Ryan Litzinger, Aaron McCrea, Lauren Reed, Alexandra Reilly, Edward Ripple, Gabriella Wolfkill 
THE EVAN PUGH SCHOLAR AWARD: Samuel Ramsey, Bevanny Stearman 
THE PRESIDENT WALKER AWARD:  Grant Allen, Thomas Gniewkowski, Marissa Hayden, Braden Karus, Zoe King, Rhiannon Litz, Ryan Litzinger, Madelaine Quarles, Lauren Reed, Edward Ripple, Jessica Salemme, Giovanni Savko 
THE PRESIDENT SPARKS AWARD: Chelsea Kristof 
Excellence in Teaching Awards 
FULL-TIME FACULTY: Steven Evanchec 
PART-TIME FACULTY: David McGeary 
GEORGE W. ATHERTON AWARD FOR EXCELLENCE IN TEACHING: Joseph Cuiffi 
ARLENE HALL SERVICE AWARD: Hal Smith 
Staff Awards 
OUTSTANDING OFFICE PROFESSIONAL AWARD: Candee Christy 
Student Achievement Awards 
ERIC A. AND JOSEPHINE S. WALKER AWARD: KNicholas Hill 
TOP INFLUENCERS' AWARD: Angelena Dove 
PENN STATE NEW KENSINGTON ALUMNI SOCIETY - PENN STATE SPIRIT AWARD: Nicholas Hill  
LITERARY AWARD: Audrey Surma 
LION AMBASSADOR OF THE YEAR AWARD: Mary Shaw 
EMERGING LEADER: Angelena Dove 
STUDENT ORGANIZATION OF THE YEAR AWARD: THON 
CLUB ADVISOR AWARD: Paula Dove 
Athletic Academic Awards 
USCAA NATIONAL ALL-ACADEMIC TEAM: Baseball - Dylan Fowler; Vaughn Gallicano; Men's Basketball - Jovan Kojic, Pape Mbaye; Men's Soccer - Sebastian Borrero, Izabel Kislan, Dylan Shaw, Tanner Stockdill;  Softball - Elliott Ferrent; Women's Basketball - Destiny Batiste, Sarah Usko; Women's Volleyball - Elliott Ferrent, Kayla Unger, Gabriella Wolfkill 
PSUAC ACADEMIC ALL-CONFERENCE: Baseball - Tallon Auth, Jared Busche, Dominic Fellowes, Dylan Fowler, Vaughn Gallicano, Matthew Hodgins, Nicholas Johnston, Reise Matson, Timothy Morris, Max Oliveri, Lucas Springer, Braden Tristani, Karter Weitzel, Zachary Woolheater; Men's Basketball - Joseph Dusabe, Shyheim Flanagan, Andre Hayes, Jovan Kojic, Pape Mbaye, Dalton Wiles; Men's Soccer - Nima Bahrami, Sam Barca, Sebastian Borrero, Ben Gigliotti, Jacob Guerrini, Ericson Kimbel, Izabel Kislan, Jeremy Mack, Dylan Shaw, Tanner Stockdill; Softball - Kali Barnett, Sophie Brandon, Molly Collins, Keeghan Cook, Elliott Ferrent, Addyson Gregg, Madison Hoyt, Zoe King, Delaney Sierka, Antonia Velasquez, Olivia Waldrop; Women's Basketball - Destiny Batiste, Esther Cole, Sarah Usko; Women's Volleyball - Tatum Clayton, Elliott Ferrent, Maci Frazeer, Kayla Unger, Gabriella Wolfkill