Thirty-seventh annual tradition features 5K, mile fun run through campus, Upper Burrell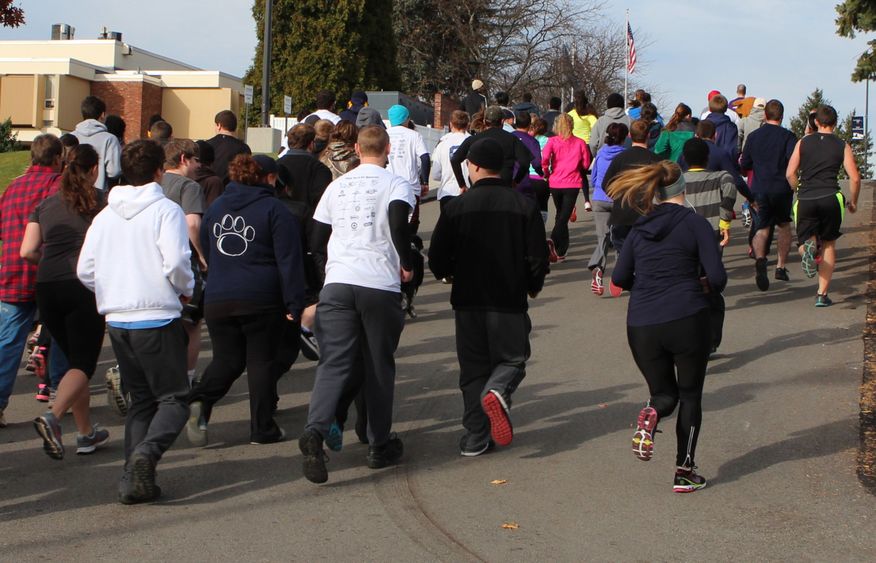 NEW KENSINGTON, Pa. — Promoting health and wellness while supporting the Cystic Fibrosis Foundation, the Penn State New Kensington Turkey Trot gets underway at 10 a.m. Saturday, Nov. 5, at the campus Athletics Center.
A 37-year tradition at the campus, the pre-Thanksgiving race has grown from an informal weekday 2-miler into a classic weekend 5K, a 3.1-mile run through Upper Burrell. Held in conjunction with the 5K is a low-key 1-mile fun run or walk that starts at 10:15 a.m. The family friendly event is geared to running enthusiasts, joggers and casual walkers.
The feature race begins at the Athletics Center, crosses the upper parking lot, and heads down Myers Drive to the turnaround point. Participants then backtrack to the finish line at the Athletics Center. The 1-miler will stay within the parameters of the campus.
Race coordinator Pepsi Umberger, instructor in kinesiology, developed the race format to accommodate alumni, friends and families in the local communities. The Saturday date and open registration dovetails with Chancellor Kevin Snider's vision of using the resources of Penn State to engage the community and enhance the quality of life in the region. In addition, Umberger partnered with the Cystic Fibrosis Foundation to help children and adults with the debilitating disease.
"Our goal is to promote a fun family-friendly race to promote health and wellness in the community," said Umberger, who also serves as director of intramural programs.
The entry fee is $25 for college and high school students with ID, $35 for campus faculty and staff, and $40 for local residents. Frozen turkeys will be awarded to the winners of each of the five age categories: 16-24, 25-30, 31-44, 45-54 and 55 and older. Registrants receive a Turkey Trot T-shirt and goodies bag. Advance registration is encouraged but not required.
All proceeds benefit the Western Pennsylvania Chapter of the Cystic Fibrosis Foundation. Cystic fibrosis is an inherited chronic disease that affects the lungs and digestive system of about 30,000 children and adults in the United States.
For more information, contact Umberger at 724-334-6747 or [email protected]
Cystic fibrosis
A defective gene and its protein product cause the body to produce unusually thick, sticky mucus that clogs the lungs, leads to life-threatening lung infections, obstructs the pancreas, and stops natural enzymes from helping the body break down and absorb food.
In the 1950s, few children with cystic fibrosis lived to attend elementary school. Today, advances in research and medical treatments have further enhanced and extended life for children and adults with cystic fibrosis . Many people with the disease can now expect to live into their 30s, 40s and beyond.
Turkey Trot Registration Form
Name: ___________________________
Email: ____________________________
Phone: ___________________________
Gender: ___________________________
Age: O 16-24, O 25-30, O 31-44, O 45-54 and O 55+
Event: O 5K O 1-Mile Fun Run/Walk
T-Shirt: O Small; O Medium; O Large; O XL
O Student; O Faculty/Staff; O Community Member
Mail to:
ATTN: Turkey Trot
Penn State New Kensington
3550 Seventh Street Road
New Kensington, PA 15068
Contact
Bill Woodard
Alumni and Public Relations Specialist