Lions bring 96-point average to Athletics Center for three-game home stand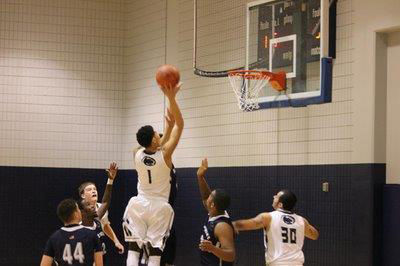 NEW KENSINGTON, Pa. — After a month on the road, the high-flying Penn State New Kensington men's basketball team brings its offensive fireworks to the Athletics Center this weekend for a three-game home stand against conference rivals.
The home opener is set for 7 p.m. Friday, Dec. 2, against Penn State Wilkes-Barre, followed by a 1 p.m. game on Saturday verses Penn State Worthington Scranton. Penn State Fayette visits at 7 p.m. Tuesday, Dec. 6, to close out the 2016 portion of the Penn State University Athletic Conference regular season schedule.
Head coach Art McCray's up-tempo squad, 2-2 on the year, is averaging 96.5 point per game, third best in the country in the United States Collegiate Athletic Association. The team features five players scoring in double figures.
Freshman Alex Bell (Allderdice High School) leads the way with a 19.1 scoring average. The 6-foot-4-inch forward is shooting 53 percent from the floor and 70 percent from the foul line. Bell also tops the team in rebounding with 39 (9.8 a game) and blocked shots with six.
Right behind Bell in scoring average are junior guard Jordan Williams (East Allegheny) at 18.8 and freshman guard Kenneth Rouse (West Miflin) at 18.3. Rounding out the points deluge are sophomore guard Javon Turner (Beaver Falls) with 15 a game, and freshman guard Juwan Willis (Woodland Hills) with 11. Willis is sixth nationally in free-throw percentage at 92.3.
The high-octane offense is a change of style for McCray, in his fourth year as head coach of his alma mater. His previous teams' scoring averages were in the 70s. The new explosive style is dictated by the teams' strengths — speed and shooting prowess. The New Kensington Lions lack of a true "big man" — the tallest player is 6 feet 5 inches — is offset by a variety of players who can handle the ball, run the floor and score from anywhere on the court. A five-guard line-up is not out of the ordinary as the versatile group can rain three-pointers on opponents as well as drive to the hoop and draw fouls. As a team, the Lions are the nation's best free-throw shooting team, converting 24 of 31 free-throw attempts per game for a .780 percentage.
The New Kensington Lions travel to Chatham University on Wednesday, Dec. 7, for a 7:30 p.m., nonconference match before going on their annual five-week hiatus for final exams and the holiday break. The season resumes on Jan. 13 with a PSUAC contest at Penn State Schuylkill.
For more information, visit PSNK Basketball.


Contact
Bill Woodard
Alumni and Public Relations Specialist