Three players also named All-Americans after record-breaking season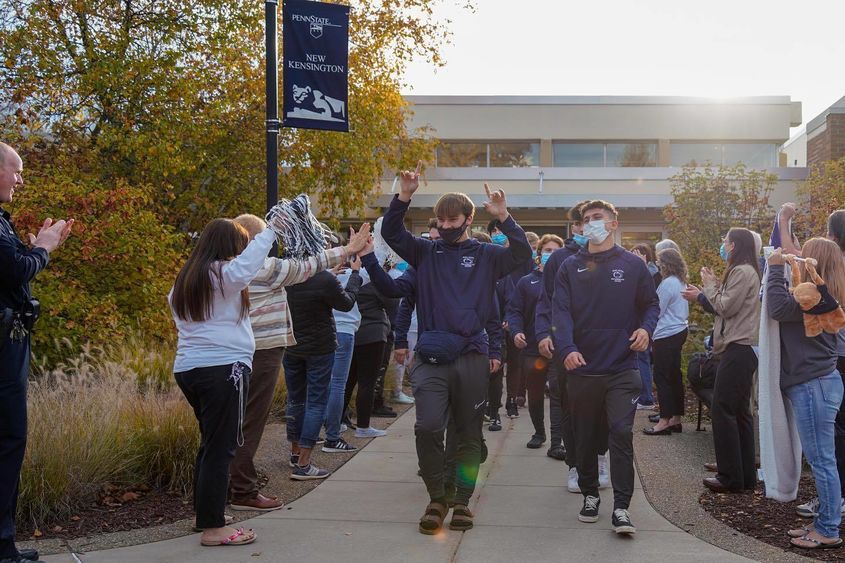 NEW KENSINGTON, Pa. - After the best season in program history, student-athletes from the Penn State New Kensington men's soccer team anxiously awaited Fall Championship Bid Day announcements by the United States Collegiate Athletics Association (USCAA) on Nov 3. The annual event declares which teams have earned the chance to play in USCAA national tournaments later in the month, a feat that no previous campus soccer team had yet achieved, until they earned the sixth seed for tournament play in Virginia Beach. 
"It felt so great to hear our name," remembered Mark Duffield, head coach. "It was a fine reward for all the hard work the guys put in." 
The team completed the Penn State University Athletic Conference (PSUAC) season with a record of 12-5, the program's historic and best win total, helping to propel them to receiving the national bid placement.  
"I am extremely proud of the way this team has represented our campus all year long," said Megan Bratkovich, director of athletics at the campus. "They show a commitment to their sport, to their academics and to a high standard of sportsmanship." 
Both Bratkovich and Duffield credit the team's success to a unified and engaged returning student-athlete roster, as well as its first-year members. 
"A huge factor was leadership from our seniors," said Duffield, who became head coach four years ago. "Two of those seniors, Brady Braun and Nolan Johngarlo, have been with me since day one and helped build this. They were key factors in mentoring the younger guys." 
Bratkovich added, "There is tremendous senior leadership on this team, and I was able to see them shine this past weekend on a national stage. We also have some incredible young talent that will be able to carry on the growth of program. Coach Duffield set out to change the culture of the program when he stepped foot on campus, and he has done just that."  
"They are true student-athletes. And have carried themselves well all year. They are respectful and professional, and I'm proud of every single one of them." 

—Mark Duffield , men's soccer head coach
The team made their national program debut during two matches in pool play. In their first game, New Kensington fell to Berkeley-NJ with a final score of 6-0. In its second game, the team fell to Penn State Brandywine, this year's eventual USCAA Division II champions, 5-0.
Although the team did not make it to the final championship game, the experience of making campus history was founded in the New Kensington athletics' department core values, which include unity. 
"Above all else I'm proud of how they conducted themselves - winning and losing with respect," said Duffield. "They represented the school well. I think this trip, this special group of lads, laid the foundations to make the national trip a more regular event!" 
In addition to ending their season with a record of 12-7, the team also boasts three USCAA Division II All-Americans.  
Jacob Guerrini, a first-year student from Lower Burrell, was selected as a first team all-American after having a program-best 21 goals and seven assists this season. He became the New Kensington program's first player to earn first-team All-American status. Prior to the honor, he was named to the PSUAC All-Conference second team, as well as USCAA Player of the Week and PSUAC Offensive Player of the Week accolades.  
Senior Brady Braun of Harrison City earned USCAA second-team All-American status for the second time in his career. This season, the senior captain scored nine goals and added seven assists. The most recent honor is added to a lengthy list of accolades during his time at the campus. Earlier in the season, he was named the PSUAC Defensive Player of the Year and earned his second first team all-conference award, having been on the second team during his freshman season. Braun was also selected to the PSUAC All-Decade Team this summer, solidifying him as one of the best men's soccer players in the conference over the last ten years. 
Austin Arnold of Washington, Pennsylvania, received honorable mention selection after ranking in the top 10 in the USCAA in both goals and total points. His 14 goals ranked him seventh-highest in Division II, while his 32 points put the first-year student-athlete at eighth. Prior to the selection, Arnold was named to the PSUAC All-Conference second team.  
"Along with our three all-Americans, we had many all-academic and all-conference academic earners, which shows the work the guys also do in the classroom," said Duffield. "They are true student-athletes. And have carried themselves well all year. They are respectful and professional, and I'm proud of every single one of them."