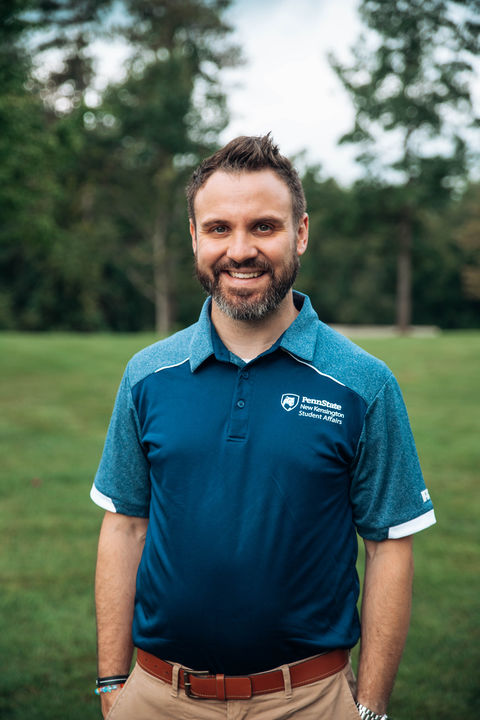 Director of Student Affairs, Student Affairs
0002 ADMINISTRATION BLDG
NEW KENSINGTON, PA 15068
Office Hours

8 a.m. - 5 p.m. Monday - Friday
Biography

JW started as Penn State New Kensington's the Director of Student Affairs at the start of the 2021 academic year. In this role, he oversees the Student Affairs department that consists of Athletics, Career Services, Counseling Services, Health Services, International Student Services, Student Life and Transportation Services. The Department also oversees the CARE Team, Behavior Threat Management Team process, Student Conduct process and Title IX.

He holds a Doctor of Education degree from the University of Pittsburgh, a Master of Arts degree in Adult & Community Education from Indiana University of Pennsylvania, and Bachelor of Arts degree in Christian Ministries from the University of Valley Forge.

Prior to coming to Penn State New Kensington, JW served in a variety of roles at Point Park University including the Director of Student Activities, Director of Student Conduct, Director of Student Development and Assistant Dean of Student Affairs. Additionally, he served as an interim director for the offices of Orientation, Career Development and Title IX.

Tabacchi serves on boards both nationally and locally. He is an active member in the American College Personnel Association and currently serves as the President of the ACPA Foundation. Within the Pittsburgh Region, he is a school board member of Passport Academy Charter School and previously served as a member of the Children Home of Pittsburgh's Shake Your Booties fundraising committee.

When he's not in the office you can find him on the soccer field, ski slopes or cooking with his partner for friends and family. He was born and raised not far from campus and has called Pittsburgh home for his entire life. Above all else, working at Penn State New Kensington is extra special for him because his dad is an alumnus of campus.
Research Interests
Publications

Morgan-Acosta, D., Arroyo, L., Moody, C., Neville, K., & Tabacchi, J. (2022). Campus Racial Justice and Decolonization Expectations Project. ACPA-College Educators International.
Education

Doctor of Education in Higher Education Management from the University of Pittsburgh

Master of Arts in Adult and Community Education from Indiana University of Pennsylvania

Bachelor of Arts in Christian Ministries with a minor in Youth Ministries from the University of Valley Forge.
Course Schedule