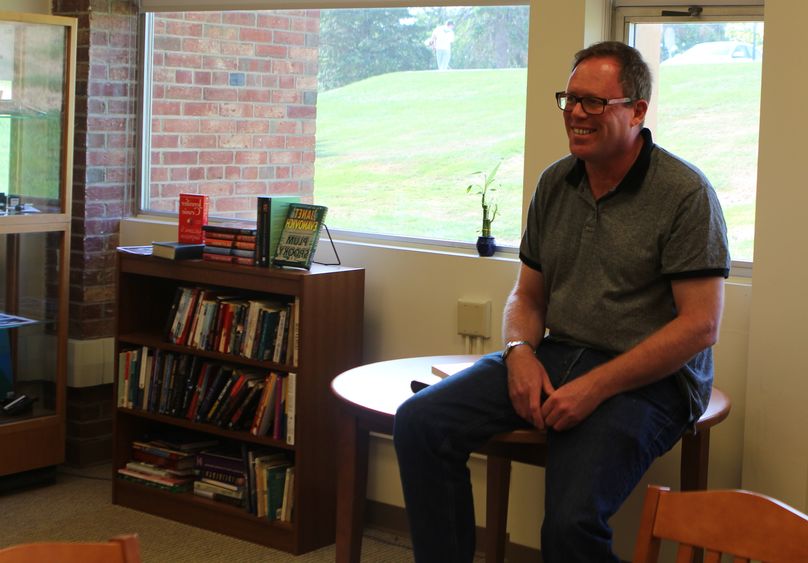 NEW KENSINGTON, Pa. -- Like a bride's wedding dress, the composition of new faculty at Penn State New Kensington features "something old, something new, something borrowed and something blue (and white)."
Nick Petrucci fits the "old" persona as he departed from the campus in 2011 as a full-time instructor in the Mechanical Engineering Technology program and returns in 2016 as a full-time instructor in the Electro-Mechanical Engineering Technology program. Penelope Morrison covers the "new" aspect as the first assistant professor of biobehavioral health, in the new Biobehavioral Health (BBH) program that debuts for the fall semester. Joseph Coohill takes on the "borrowed" character as he fills in for Craig Hammond, associate professor of history, who is on a semester sabbatical. Coohill, who is serving as adjunct instructor in history, also could be cast in the "old" role since he was the campus' history professor before Hammond. In an odd twist, Coohill and Hammond have now preceded and succeeded each other.
"It is a high point of each year to welcome new faces to the campus," said Andrea Adolph, director of academic affairs. "Even those who have taught here before return with new experiences and fresh perspectives to share with our students. Our students will benefit from the wealth of knowledge that each one brings to us."
Nick Petrucci, EMET
Petrucci taught mechanical engineering courses at the campus for eight years until the Mechanical Engineering Technology associate degree program was absorbed into the Electro-Mechanical Engineering Technology (EMET) bachelor's degree program in 2011. EMET emphasizes knowledge in all fields of engineering technology related to typical, highly automated manufacturing, production, or assembly plant processes. Graduates of the program learn the skills needed to apply current methods and technology to the development, design, operation and management of electro-mechanical systems, particularly in those industries where automated systems are prevalent.Pivoting from his educator's position, Petrucci turned his attention to his 13-year-old forensic engineering consulting firm, Petrucci Engineering Consultants LLC. Petrucci specializes in analyzing mechanical failures that have caused personal injuries and property damage, and conducting safety assessments. He has provided expert witness testimony in a variety of court cases.
After a five-year hiatus from the teaching profession, Petrucci again yearned to share his 25 years of engineering experience with students. The June retirement of Frank Kadi, senior instructor in engineering, paved the way for an opening in the EMET program and a return to campus by Petrucci. His course load for the fall features four courses -- Mechanics for Technology, Mechanical Drives, Strength of Materials Lab, and Electro-Mechanical Design Project Preparation.
"I enjoy giving back to my students what I have learned," Petrucci said. "Teaching also helps to keep me mentally sharp."
Petrucci is a licensed professional engineer, a board certified diplomate forensic engineer and a board certified safety professional. He is published in the Journal of the National Academy of Forensic Engineers and is a peer reviewer for the Journal.
The Murrysville, Pennsylvania, resident earned a master's degree in mechanical engineering from Penn State and a bachelor's degree in marine engineering systems from the United States Merchant Marine Academy in Kings Point, New York. He also holds a master of business administration from Webster University in St. Louis.
"Nick will be a wonderful addition to our EMET faculty, and he brings a great deal of experience to our offerings in the mechanical aspects of the degree," Adolph said. "Because the EMET program balances electrical and mechanical engineering technologies, it is critical to have not only someone with expertise in one area, but also an overall view of the field and of how the various sectors interact. Nick's background as a practitioner and consultant allows him to share both views with our students."
Penelope Morrison, BBH
Morrison brings more than six years of experience in health and health services research to the first-year BBH program. New Kensington and Penn State Greater Allegheny have joint authorization to deliver the bachelor of science program. BBH is an innovative and interdisciplinary program designed to explore health from all angles. Scholarship and teaching focuses on how biological, behavioral, psychological, sociocultural, and environmental variables interact to influence health across time scales and levels of analysis. Research topics include: physiological processes; health behaviors; genetics and epigenetics; chronic disease; neuroscience; global health; psychological states and processes; environmental exposures; bioethics; health disparities; and intervention science.
The Pittsburgh resident made her way to the New Kensington campus via Magee-Womens Research Institute, where she was a co-investigator and senior research associate. She also worked as an instructor at the University of Pittsburgh's School of Social Work. She has built collaborations with the RAND Corporation, Veterans Affairs Center for Health Equity Research and Promotion and investigators at Magee-Womens Hospital. Her new position aligns more closely with her career goals, which are oriented towards teaching and mentoring students interested in futures in health and health services.
"My multidisciplinary background, which draws from both anthropological frameworks with those of health sciences, allows me to integrate and adopt a wide variety of perspectives and approaches to the classroom setting and to meet the needs of a diverse student body," Morrison said.
Morrison will teach courses on gender and biobehavioral health, diversity and health, and intro to biobehavioral health, foundations and principles of health promotion, research strategies for studying biobehavioral health and human sexuality as a health concern.
Morrison holds a doctorate in medical anthropology and a master's degree in behavioral and community health sciences from Pitt, and a bachelor's degree in anthropology from the University of North Carolina at Charlotte.
With a specific interest in male perpetration of intimate partner violence, Morrison's research focuses broadly on health issues for underserved women and children. She has also worked extensively with opioid abuse during pregnancy, and adolescent sexual risk taking and substance use.
"Penelope is going to be a fantastic new faculty member and will have the opportunity to teach students who have selected the biobehavioral health major as well as students in the introductory class who are eager to learn more about the subject and the various pathways that it can offer them," Adolph said. "Her academic and research backgrounds complement the program curriculum very well, and our students will benefit from her deep understanding of the ways that health and society are interdependent."
Joe Coohill, Global Programs
After four years of research, Coohill gets back to his pedagogy roots at the campus where he landed his first full-time faculty position. Coohill was an assistant professor of history at New Kensington from 2002-07. He will teach a course, The United States Since 1865, which he calls "an absolutely fascinating subject."
"I missed the Penn State New Kensington family very much," said Coohill, who also served as assistant coach of the men's and women's golf team. "The combination of professionalism and genuine humanity of the folks at the campus is very hard to find elsewhere. I'm also looking forward to working with Penn State students again."
Coohill returns to a campus that is much different than it was eight years ago. Three new four-year majors -- Administration of Justice, Biobehavioral Health and Project and Supply Management -- were added to the curriculum give to give New Kensington students 10 bachelor's degrees that can be completed at the campus. The Chemistry, Electro-Mechanical Engineering Technology, Biomedical Engineering Technology and Radiological Sciences labs were renovated to allow for more hands-on instruction. In addition, the campus embarked on a multi-year beautification and sustainability program.
"Like the rest of the Penn State system, the New Kensington campus has continued to stay ahead of the curve in terms of innovative college teaching and mentoring students," Coohill said. "But when you've been away for a while, you don't see the progress on a day-to-day basis. So coming back after so long is like coming back to an entirely new campus."
Another change more personal to Coohill was the transformation of his old faculty office, which was on the lower level of the Elizabeth S. Blissell Library. The space is now the home of the Quiet Study Lounge. Affectionately called the "Fishbowl" by staff and students because of its glass walls and large windows, the lounge is located adjacent to the Computer Center and provides individual study areas for campus students.
"I really liked that office I had in the library," Coohill said. "Too bad it's gone, but as long as it went to students, that's good."
An expert on 19th-century Great Britain, Coohill is the author of two books –- "Ideas of the Liberal Party: Perceptions, Agendas and Liberal Politics in the House of Commons, 1832-1852," and "Ireland: a Short History."
While teaching at New Kensington in 2006, Coohill was a part in the largest research project ever undertaken in the humanities -- Oxford Dictionary of National Biography. His mastery of British political history was invaluable in contributing biographies on political journalists and editors during the reign of Queen Victoria (1837-1901).
The dictionary is a 60-volume compendium of British lives. It covers 2,400 years and contains 50,000 biographical entries, 10,000 illustrations, and 60 million words. It retails for $2,660.
"We are pleased to welcome Joe Coohill back to the campus, and we're lucky to have his expertise available to students while Craig Hammond is on sabbatical," Adolph said.
An advocate of global learning, Coohill holds a doctorate in modern history from Oxford and a master's degree in history from the University of Melbourne. He stayed "local" for his bachelor's degree in history from Humboldt State University in California.
Global learning is centerpiece of Chancellor Kevin Snider's vision to expand student experiences and embrace diversity for the campus community. The campus' Global Programs initiative provides students with opportunities to study in foreign lands for varying periods of time -- week, summer, semester or full year. The objective is to offer students a broader education than can be obtained through classroom experiences. To help foster this mindset, New Kensington sponsors international trips and provides courses with an embedded international component. Since 2004, more than 170 campus students have traveled to Spain, France, Italy, China, Greece, Peru, Galapagos Islands, Ireland and Thailand.
Complementing international excursions is the campus' Country of Focus program. Each year, the campus adopts a country or region of the world to inspire teaching and scholarship. Brazil is this year's country of focus.
For more information, visit Academic Programs

Contact
Bill Woodard
Alumni and Public Relations Specialist