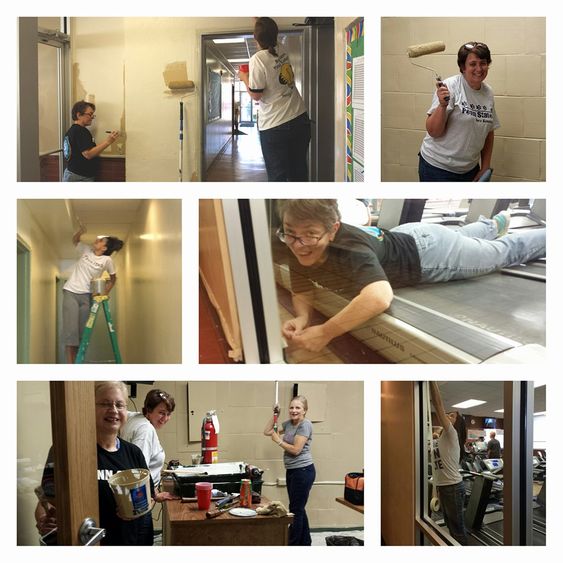 NEW KENSINGTON, Pa. – Delving into a good book for a couple of hours during the workday is the intent of Penn State New Kensington faculty and staff during the annual United Way Day of Caring event at a local library on Sept. 9.
The campus volunteers will help the staff of People's Library in New Kensington by cleaning books and sprucing up the interior of the facility. Work by the campus crew gives the library staff more time to spend on the daily duties of keeping the library operational.
"It's a great way to give back, be a part of the community, work together as a team, and show others that Penn State New Kensington cares about our area," said Corinne Coulson, enrollment services specialist and the event organizer for the campus.
Day of Caring is a national initiative designed to provide individuals an opportunity to serve in the local community for a few hours with a variety of nonprofit organizations. The area program is run under the auspices of the United Way of Southwestern Pennsylvania, and the campus is one of the numerous volunteer groups that will assist local agencies on the special day.
"This is the third year our campus has been actively involved in the Day of Caring, which has allowed us to not only help our local community but also learn more about agencies in our area," Coulson said.
This year's campus volunteer roster includes: Candee Christy, administrative support assistant; Kary Coleman, director of development and alumni relations; Susan Dale, administrative support assistant; Danielle DeStefano, assistant director of enrollment management; Jennifer Gilley, head librarian; Irene Wolf, senior instructor of arts and humanities; and Coulson.
Campus and community
Community service has been a major component of Chancellor Kevin Snider's eight-year administration. Coulson has organized the Day of Caring activities for the campus during the past three years. Last year, campus faculty and staff helped give a facelift to Valley Points Family YMCA in New Kensington. In 2014, the designated nonprofit was the Westmoreland County Food Bank warehouse in Delmont, Pennsylvania.
Coulson also coordinated the campus' "Poverty Summit" in 2014. More than 40 community leaders and nonprofit organization members joined campus faculty and staff to learn about the issues faced by individuals and families on the lower rungs of the economic ladder in the Alle-Kiski Valley.
The Lower Burrell resident is active in other aspects of campus life. During last semester's spring break, Coulson, along with Lauren Blum, assistant director of student affairs, accompanied nine campus students to Navajo Nation in Arizona for an "Alternate Spring Break" trip. Besides helping with various construction projects, the students took part in a traditional Navajo experience and learned about Navajo culture and history.
Coulson's goodwill has not gone unrecognized. In May, she received the campus' Outstanding Service to Students award for demonstrating a positive campus experience, furthering academic achievement, helping to make education more accessible and affordable, and contributing toward the development of students both personally and professionally. In March, she received "We Are!" kudos for personifying Penn State's commitment of service to the community.
"In addition to her admission responsibilities and working with students, Corinne is also passionate about giving back to her community. We are fortunate that she is willing to organize these events that truly do make a difference," commented Patty Brady, director of enrollment for the campus.

Contact
Bill Woodard
Alumni and Public Relations Specialist