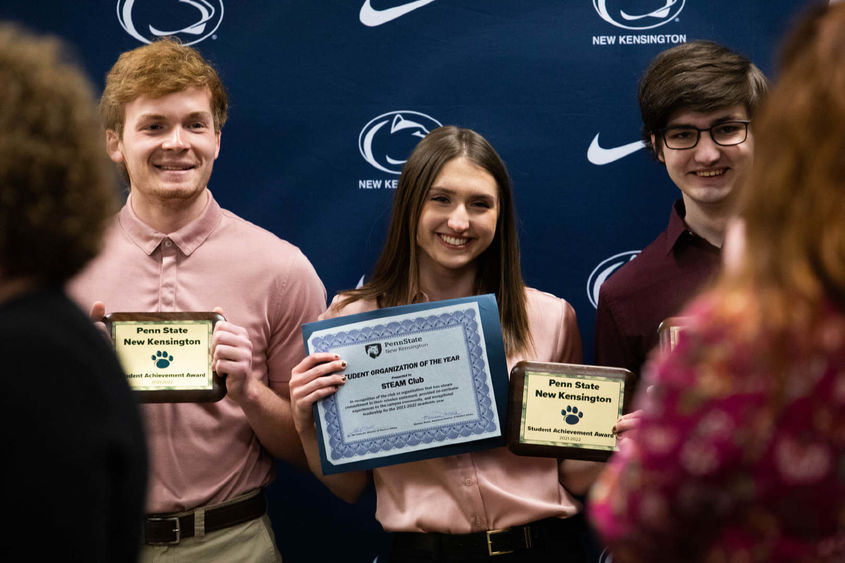 NEW KENSINGTON, Pa. — Academic, teaching and extracurricular honors were bestowed at the annual Penn State New Kensington Academic and Student Achievement Awards ceremony on April 29. Approximately 50 awards were presented in the Forum Theatre, which was filled with campus faculty, staff, students, and students' family members and friends. 
Eric A. and Josephine S. Walker Award
The highest student honor presented, the Eric A. and Josephine S. Walker Award, was presented to Kylie Meyer, senior psychology student. 
Since starting her Penn State journey through the Pathway to Success: Summer Start (PaSSS) Program at Penn State New Kensington, Meyer has been a leader on campus in and out of the classroom. She became a Success Coach in the campus Academic and Career Success Center by the end of that first summer, and since then, has been a New Student Orientation coach, peer tutor and peer mentor. Giving her time and talents to others is a foundation for her success. 
"Giving people the necessary help and resources can provide people in the community with opportunities they might not have had without the help of others," explained Meyer. "This is why it's so important to give back to others because it can make a huge difference in people's lives, and this is ultimately what I want to do in my personal life, as well as in my future career." 
Meyer has been a member of the campus Honors Program since 2019, as well as current president and past vice president of the Psychology Club and member of Psi Chi, the international honor society in psychology. In addition, she has been completing an ongoing independent research project under the supervision of a faculty member and recently presented research at the annual meeting of the Eastern Psychological Association in New York City.   
"She is not only an enthusiastic student, but also a skillful one," said one of her nominators. "Having an undergraduate present research at a prestigious national meeting of psychologists is somewhat of a rarity and a testimony to the quality of research she is conducting."  
When not helping her peers, working on research or being a successful student, she also has accumulated numerous awards and recognition. The honors include being a recipient of the Provost Award; the 2019 President Freshman Award; a 2019 and 2020 University Libraries Information Literacy Award; the Psychology Sophomore and Junior Student of the Year awards; and a 2021 campus Top Influencer Award. 
Student Awards 
Students receiving academic honors were recognized for having high grade-point averages in their respective majors or within the University, as well as participation in the campus honors programs. Seventeen students were celebrated for earning a 4.0 cumulative grade-point average. 
Accolades for leadership and participation in athletics and campus activities also were highlighted. The Penn State New Kensington Alumni Society recognized Deshaya Chavis as this year's Penn State Spirit Award winner for exhibiting integrity and character while exuding Penn State pride. Audrey Surma received the campus Top Influencer Award, and Austin Hatcher was named the 2022 Emerging Leader Award winner. 
A number of athletics awards were presented, including United States Athletic Association All-Academic honors. Seven student-athletes were presented with the Penn State University Athletic Conference's John Fritz Sportsmanship Award. Ryliegh Beck was presented with this year's Robert Darby "The Darb" Sportsmanship Award, which was established in honor of Robert Darby, kinesiology instructor, athletic director and coach, who retired in 2006 after 38 years at the campus. Reise Matson received the Roar as One Award, which was a new award established to recognize a student-athlete that best exemplifies the campus athletic department's principle of "roar as one." 
Teaching Awards 
Two faculty members were honored with Excellence in Teaching Awards — Richard Wentling, assistant professor of administration of justice and criminal justice (full time), and Jane Viti, adjunct instructor in biology (part time). Faculty have three areas of responsibility: teaching, research/scholarly activity and service. The principle criterion is classroom performance, but excellence in other activities such as advising, supervision of learning outside the classroom, and course development are also considered for the accolades. 
In addition, Debra Majetic, assistant teaching professor and program coordinator of radiological sciences, was recognized for being one of six University-wide George W. Atherton Award recipients this year. The award is named after Penn State's seventh president and is given to six full-time faculty members who have devoted substantial effort to and developed a record of excellence in undergraduate teaching. 
A full photo gallery from the event can be viewed on the Penn State New Kensington Facebook page. 
2022 Awards and Winners List 
Academic Awards
BEHREND COLLEGE, School of Engineering (Baccalaureate Degree): Kyle Collamer 
COLLEGE OF ENGINEERING (Baccalaureate Degree): Robert Dulick, Joshua Kolesar; Electro-Mechanical Engineering Technology (Baccalaureate Degree): Bryce Eddy, Dominick Perri, Samuel Ramsey; Biomedical Engineering Technology (Associate Degree): Samuel Gormont, Kayla Rozzi 
COLLEGE OF HEALTH AND HUMAN DEVELOPMENT (Baccalaureate Degree): Shelby Klingensmith 
COLLEGE OF LIBERAL ARTS (Baccalaureate Degree): Delaney Tevelonis 
THE JOSEPH A. AND MARY M. QUARATO NURSING PROGRAM AWARD: Natasha Dickun, Faith Yanoff 
EBERLY COLLEGE OF SCIENCE (Baccalaureate Degree): Seth Waugaman 
UNIVERSITY COLLEGE (Baccalaureate Degree): Biobehavioral Health: Michel Nafash, Michelle Rollinson, Elizabeth Schachte; Business Administration: Garrett Carr, Nolan Johngarlo; Communications: Cameron Krally; Criminal Justice: Izabel Kislan, Farid Nafash; Information Sciences and Technology: Meagan Carter, Zachery Craig, Cody Sitosky; Psychology: Kalina Boshkovska, Zachary Gaskell, Ashley Sovitski; Project and Supply Chain Management: Zachery Ferguson, Nicholas Snyder; Radiological Sciences (Associate Degree): David Beck, Brianna Keener 
DIVISION OF UNDERGRADUATE STUDIES: Joshua Logsdon 
HONORS PROGRAM - Four-Year Participants: Cameron Clark, Kylie Meyer; Three-Year Participants: Sarah Offen, Samuel Ramsey, Elizabeth Schachte; Two-Year Participants: Ally Albert, Bryce Eddy, Matthew Heavner, Abigail Kane, Michel Nafash; One-Year Participants: Kalina Boshkovska, Alexzander Caldwell, Meredith Carter, Laurel Cowling, Rachel Gau, Clayton Groves, Izabel Kislan, Nicholas Lee, Farid Nafash, Madison Naylor, Heather Shultz, Maya Volpe 
THE PRESIDENT WALKER AWARD: Bellah Barriga, Sebastian Borrero, Bradley Carr, Kylie DiLeo, Kelly Dugan, John Fennel, Rachel Gau, Eric Kilduff, Chelsea Kristof, Nicholas Lee, Mason Miklos, Kayla Rozzi, Alena Surace, Serena Timko, Sarah Usko, Maya Volpe 
THE PRESIDENT SPARKS AWARD: Joshua Kolesar 
THE EVAN PUGH SCHOLAR AWARD: Samuel Ramsey, Bevanny Stearman 
Excellence in Teaching Awards
FULL-TIME FACULTY: Richard Wentling 
PART-TIME FACULTY: Jane Viti 
GEORGE W. ATHERTON AWARD FOR EXCELLENCE IN TEACHING: Debra Majetic 
Student Achievement Awards
ERIC A. AND JOSEPHINE S. WALKER AWARD: Kylie Meyer 
TOP INFLUENCERS' AWARD: Audrey Surma 
PENN STATE NEW KENSINGTON ALUMNI SOCIETY - PENN STATE SPIRIT AWARD: Deshaya Chavis 
LITERARY AWARD: Matthew Heavner 
LION AMBASSADOR OF THE YEAR AWARD: Skylar McCormack 
EMERGING LEADER: Austin Hatcher 
STUDENT ORGANIZATION OF THE YEAR AWARD: STEAM Club 
Athletic Awards
USCAA NATIONAL ALL-ACADEMIC TEAM: Men's Soccer - Sebastian Borrero, Benjamin Edwards, Nolan Johngarlo; Women's Volleyball - Ally Albert, Izabel Kislan, Alex Polka; Men's Basketball – Jared Sidwell; Softball – Abigail Kane 
JOHN FRITZ SPORTSMANSHIP AWARD: Ryleigh Beck, Andrea Eiler, Benjamin Edwards, Elliott Ferrent, Mario Gomez, MIchael Kohl, Jared Sidwell 
STUDENT-ATHLETE ADVISORY COMMITTEE: Rodderick Barney Jr., Ryliegh Beck, Courtney Biswick, Braden Braun, Joseph Dusabe, Andrea Eiler, Reise Matson, Gabriella Wolfkill 
ROBERT DARBY "THE DARB" SPORTSMANSHIP AWARD: Ryliegh Beck 
ROAR AS ONE AWARD: Reise Matson