Jennifer Wood receives statewide award for excellence in teaching inside and outside of classroom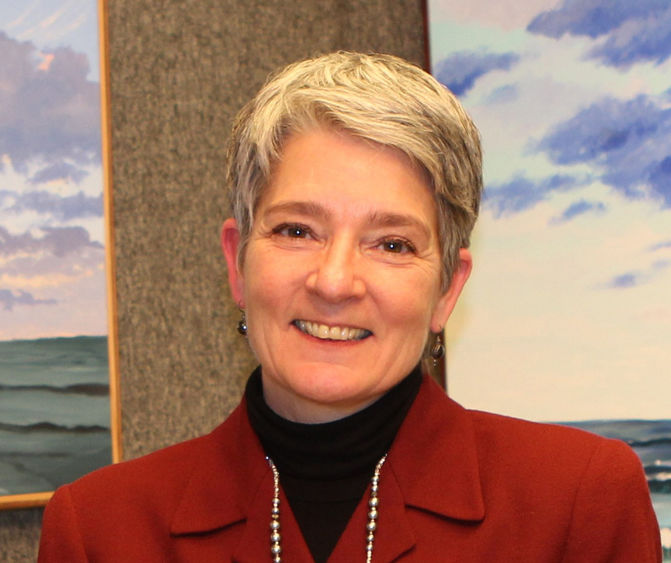 NEW KENSINGTON, Pa. — Even a sabbatical cannot slow down a Penn State New Kensington communications faculty's penchant for winning statewide teaching awards. Jennifer Wood, associate professor of communication arts and sciences, recently received the 2016 Harvey Kelly Excellence in Teaching Award from the Pennsylvania Communication Association (PCA).
A professional organization, PCA promotes teaching, research, service and development in all areas of human communication. The Kelly award recognizes a PCA member who demonstrates a passion for and a mastery of teaching, both in and out of the classroom. Wood was honored Sept. 23 at the association's 77th annual conference at the University of Pittsburgh at Johnstown.
"We are so pleased by and proud of this important recognition of Dr. Wood's teaching excellence," said Andrea Adolph, director of academic affairs. "She is a fantastic educator and provides meaningful learning experiences for students across the curriculum, from the core courses in public speaking to advanced courses in our communications major."
Two years ago, Wood was named a Penn State Teaching Fellow. Last year, her communications colleague Allen Larson, associate professor of communications, won the same award. In addition, Wood and Larson earned campus accolades with Excellence in Teaching awards in 2002 and 2008, respectively.
Beginning fall 2016, Wood took a yearlong sabbatical to work on a book-length project that explores prison reform policies that have been gaining wide bipartisan support. She is interested in the rhetorical strategies policymakers from differing perspectives use to reach agreement. Wood's project will provide rich case studies for some of the classes she teaches, including introduction to rhetorical theory and conflict resolution. She will return to the classroom for the fall 2017 semester.
Wood joined the campus faculty in 1999. In addition to conflict resolution and rhetoric, she teaches classes on effective speech. In her courses, she develops a classroom environment where students are able to find their voices, speak their minds, and learn to listen closely and openly to each other.
Her students' listening acumen was utilized last semester for the Hear Me project, an initiative of the campus' ABC CREATE (Alle-Kiski Best Practices Collaborative CREATE Lab Satellite Network Regional Hub). The campus, in partnership with Carnegie Mellon University, provided students in school districts in the greater Pittsburgh region an outlet for their views on gender bias and STEM. "Dr. Wood strives each semester to create rich opportunities for learning and growth in all of her courses," Adolph said. "We are fortunate to count her among our faculty at the New Kensington campus."
Seven students in Wood's Business and Professional Communications course took an active role in the project. The students interviewed and recorded students from the Burrell, Fox Chapel, Kiski Area and South Butler school districts to get their perspective on gender bias in the STEM fields. Following the audio sessions, the New Kensington team utilized editing software to prepare the interviews for publishing.
Wood earned a bachelor's degree at Chatham University and a doctorate at the University of Pittsburgh. Her research focuses on crime victim policy, the prison-industrial complex and restorative justice. She co-edited a book, "Working for Justice: A Handbook of Prison Education and Activism," that was published in 2013 by University of Illinois Press.
Communications program
With communications professionals engaging a variety of converging media practices and formats, the bachelor of arts in communications at Penn State New Kensington combines training in advanced multimedia skills with the development of critical thinking and strategic communication competencies. Students can complete one of two four-year degree options at the campus — corporate communications or journalism. Both options are designed to foster professionals who are capable of applying their communications expertise toward the attainment of personal, institutional and organizational goals.
For more information on communications, visit the Penn State New Kensington communications program online.
Contact
Bill Woodard
Alumni and Public Relations Specialist