Semiannual event hosts recruiters from a variety of industries and government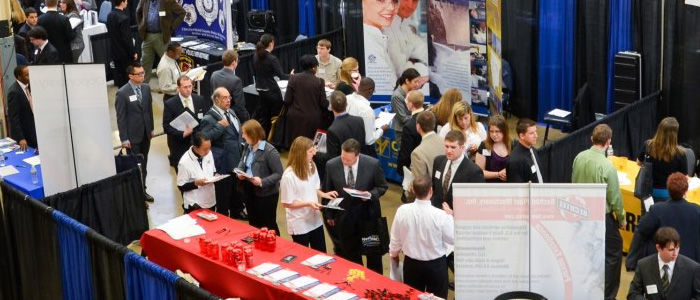 NEW KENSINGTON, Pa. — More than 170 national and local employers offering jobs will be at the Western Pennsylvania Career Services (WestPACS) Association's Job and Internship Fair from 10 a.m. to 3 p.m., Wednesday, Oct. 12, at the Monroeville Convention Center.
Recruiters from a variety of industries, including telecommunications, engineering, technologies, health care, government, human services, retail, hospitality and financial services, will attend the annual event. The fair is geared toward spring and fall 2016 graduates and recent alumni with program certificates and degrees in all majors. There are also many internship opportunities for current undergraduates.
Jim Shields, associate director of career services and professional development programs, is an executive board member of WestPACS. According to Shields, the event features full- and part-time employment, internship and co-op opportunities, both regionally and nationally.
"The WestPACS job and internship fairs are the best opportunities for our students and graduates to meet locally with a wide variety of employers from many industries and fields," Shields said. "These are the largest collegiate career fairs in western Pennsylvania, and they happen less than a half an hour from our campus. Some people drive three hours to get here for this event, that's how big it is."
Sponsored by the WestPACS Consortium of 47 colleges and universities in western Pennsylvania, the job fair is open to students and graduates from two- and four-year degree programs. More than a 1,000 candidates are expected at the event.
Registration is free for Penn State New Kensington students and graduates who register by Oct. 10 on the WestPACS website at http://westpacs.org/candidates or in the campus' Career Services office located in the Academic and Career Success Center on the lower level of the Student Union Building, adjacent to the bookstore. Shields can be reached at 724-334-6065 or [email protected].
Walk-in registration also is available at a cost of $10 at the door. Parking is free; a resume and professional dress are required for entrance into the fair.
The WestPacs job fair is an opportunity to meet many employers in one location. Networking skills are enhanced by face-to-face meetings with employers. The job fair also girds participants for the realities of the employment search, which includes knowing the competition and the job process. A job offer at the fair is unlikely, but prospective employees need to view the fair as an investment in their futures.
"The fall event is especially good for students seeking internships as this is the time of the year that employers start recruiting for next summer," Shields said. "If there is only one career fair events that I encourage our students to attend each year, this would be it."
The spring WestPacs job fair is set for March 15.
For more information on career assistance at Penn State New Kensington, visit Career Services
For a list of employers at the job fair, visit Recruiters at WestPACS

Contact
Bill Woodard
Alumni and Public Relations Specialist