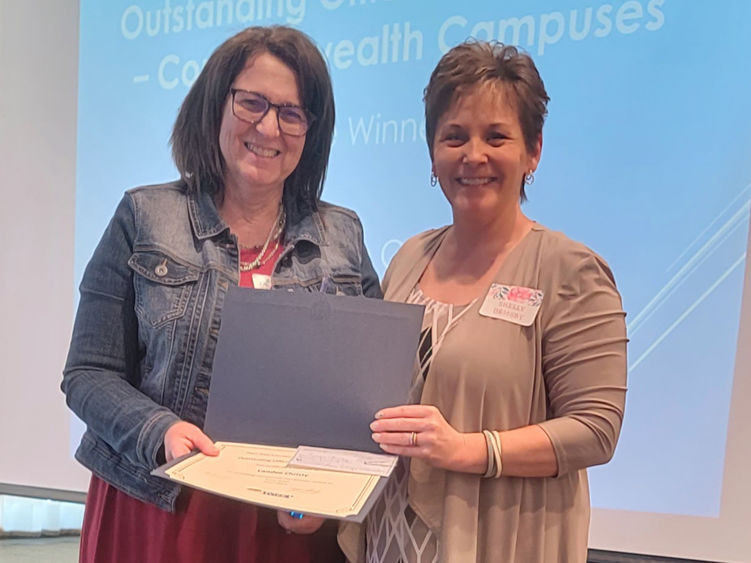 UNIVERSITY PARK, Pa. — The Penn State Educational Office Professionals (PSEOP) recognized two Penn State staff members with its 2023 Outstanding Office Professional Award during a banquet on May 10. The award recognizes administrative support employees who have provided exceptional service on behalf of Penn State.
One award was presented to a University Park administrative professional and one to a Commonwealth Campus administrative professional. The University Park Outstanding Office Professional Award was presented to Lisa Karl, administrative assistant to the executive director of organizational effectiveness, facilities and information technology in Penn State Outreach and Online Education. The Commonwealth Campus Outstanding Office Professional Award was presented to Candee Christy, administrative support assistant in the chancellor's office at Penn State New Kensington.
Karl supports the administrative efforts for three Outreach and Online Education units: Information Technology, Organizational Effectiveness, and Facilities. Nominators said that Karl has been pivotal in improving the culture in her unit by providing team-building exercises and through personal gestures like remembering team members' birthdays. She is an integral part of her team and is a consummate professional in all her duties. According to her nominators, Karl's support to the team, mission and customers is top-notch and always goes above and beyond. When asked for statements about Karl's character, her co-workers said she does so much more than is asked and always works to help others.
Karl is passionate about diversity, equity, inclusion and belonging (DEIB) and helping others adopt DEIB principles. She has worked to develop job postings that are DEIB friendly, inclusive and include gender-neutral language, which has resulted in increased applicant diversity. Nominators said Karl sets a great example by being patient and always having a positive attitude toward co-workers and vendors. They noted that she is a leader, highly effective, reliable, considerate of others and their time, and a highly valued member of her team.
Christy has been with Penn State for more than 19 years. Her nominator said that "Candee takes it upon herself to provide exceptional support and service to faculty, staff, and students. She takes time to talk with everyone, to know what needs or direction she can assist them with." She helps with new technology, which eases the stress on others, pitches in to help every department, volunteers for programs and events, and gets students involved.
Most of all, Christy's nominator said she is a "real life resource" at Penn State New Kensington. She went above and beyond to help a student obtain a driver's license by taking the student out to practice driving. Due to Christy's patient instruction and perseverance, the student passed the test. She also organized a spaghetti dinner for a student whose mother had cancer and was a single parent. Her nominator said that Christy has has gone above and beyond in many more ways, and she has positively impacted the students, staff, faculty and community at New Kensington.
The complete nominations and supporting letters of recommendation for both recipients are posted on the PSEOP website.