Debbie Hoch recognized for 'great service' to students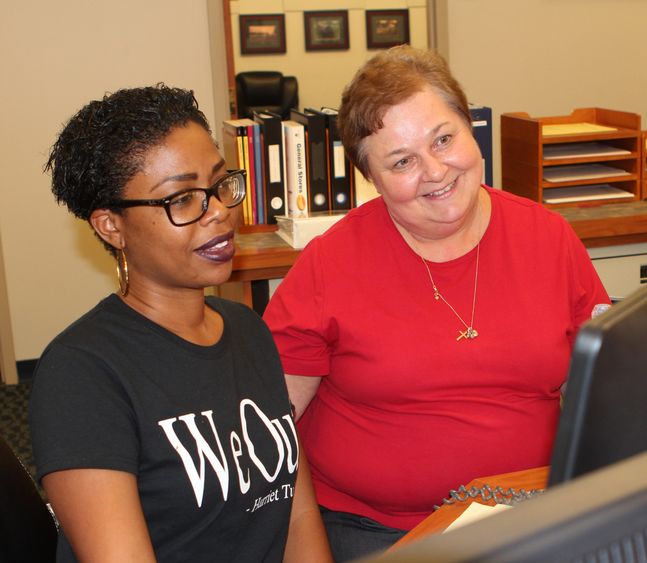 NEW KENSINGTON, Pa. — Whether educating elementary students in math or college students in tuition finances, Penn State New Kensington's Debbie Hoch goes about her work in a way that makes students comfortable. Hoch, a former elementary teacher, is an administrative support assistant in the business and finance office at the campus.
"It is hard to make paying a bill enjoyable, but I try my best to educate and lighten the experience for the students and parents," Hoch said.
Hoch was recognized for her outstanding service Sept. 12 with a "We Are!" shoutout. She is the 14th recipient from the campus to be awarded the University-wide symbol of excellence.
"Debbie continues to be valued member of the business and finance team," said Jason Bush, director of business and finance. "Her diligence in her position greatly contributes to the success of the department. She is very compassionate about her work and interactions with the students."
A weekly feature of the daily email publication Penn State Today, "We Are!" is a University-wide initiative that was launched last year to provide students, faculty and staff with a platform to give kudos to fellow Penn Staters for work that goes above and beyond their job duties or responsibilities.
Hoch's nominator wrote: "Debbie has shown determination in learning LionPATH, while helping others in her department. Debbie goes above and beyond to provide great service on campus."
A native of Gilpin Township, Hoch earned a bachelor's degree in education from Indiana University of Pennsylvania. She started as a teacher at Our Lady of the Most Blessed Sacrament School, teaching fourth-, fifth- and sixth-grade math before putting her career on hold to stay home with her children. When she was ready to return to the workforce, a new career awaited at the New Kensington campus.
Hoch joined the campus community in 2003 as a staff assistant in the student life office. She moved to her current job five years later. In her position, she takes on a variety of roles, including bursar, handling tuition payments, and assisting students and families with various tuition-related questions. In addition, Hoch supports other departments while managing accounts receivable and wage payroll. The most satisfying part of her job is working with students.
"My favorite part of my job is helping students who want to help themselves get their bill paid and move on with their semester," said Hoch. "It is also enjoyable when students come in to pay their last tuition bill before graduating."
The award adds Hoch's name to the roster of New Kensington campus staff who have received the "We Are!" honor over the past 20 months. Nancy Miller, retired co-director of continuing education, started the barrage in February 2015. Miller was followed by Corinne Coulson, enrollment specialist; Kevin Churik, information technology generalist; Jennifer Marino, assistant director for financial aid; Danielle DeStefano, assistant director of enrollment management; Susan Dale, administrative support assistant in the Office of Academic Affairs; Nancy Burns, staff assistant VI for the Office of Enrollment Management; Karen Harlan, multimedia specialist; Lauren Blum, assistant director of student affairs; Diana Hill, administrative support assistant for the Offices of Admissions and Financial Aid; Jim Shields, associate director of career services and professional development programs; Candee Christy, administrative support assistant for Chancellor Kevin Snider; and Mary Dubbink, campus registrar. All were nominated by campus colleagues or students for personifying Penn State's commitment of service to the community.
"I'm amazed that our staff do so much above the call of duty and am grateful that this service is recognized at University Park," Snider said. "We really have a fantastic staff, and Debbie is a great example. Paying bills can be a very frustrating time for parents and students, particularly many who are struggling with the cost of college. Debbie is passionate about student success and will go to great lengths to help families achieve the dream of a higher education. She has the gift of being able to be firm and supporting at the same time, and most students understand that she is trying to help them. She also uses her great sense of humor to put students and most around her at ease. Congrats to a really deserving employee."
A "We Are!" candidate could be a staff member taking extra steps to make sure a project is completed, a student organizing a charitable event, an administrator doing something special for employees, or a faculty member taking additional time to advise students.
To nominate a "We Are!" candidate from the campus community, visit news.psu.edu/WeAre.
To view more stories from around the University, visit news.psu.edu/story/359184/2015/06/01/we-are-thankful-these-penn-staters.
Contact
Bill Woodard
Alumni and Public Relations Specialist