Members provide perspectives on moving the campus forward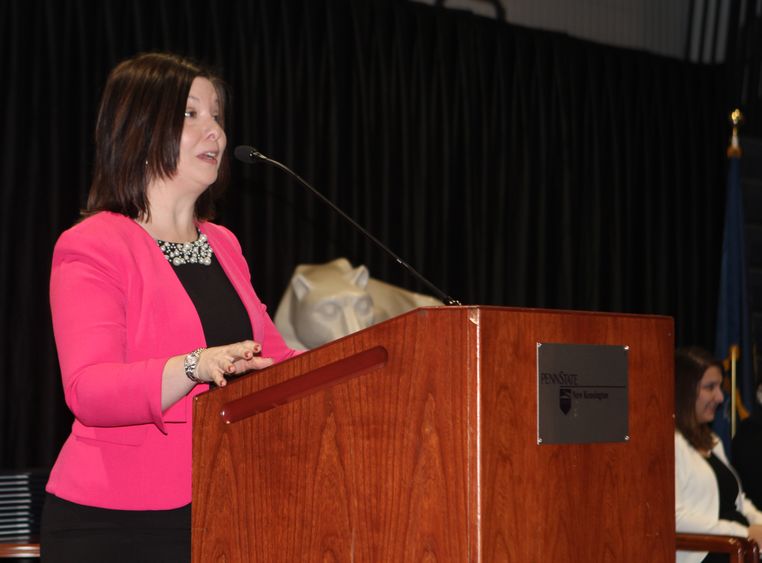 NEW KENSINGTON, Pa. – Bringing a background of business and education knowledge to the board room, five community leaders were appointed recently to the Penn State New Kensington Advisory Board by Kevin Snider, chancellor of the campus.
Esther Atwood, Amy Cyprych, Tim Gustafson, Matt Plocki and Jason Rigone are the newest members of the 18-person board. They complement current members Barb Arnold, James Ciuca, Joseph Defilippi, Eric Felack, Vera Spina Greenwald (associate), Shannon Josefoski (student), Ray Mastre, Steve Molitierno (president), Mitchell Nickols, Robin Rarie, Bob Sodini, Alan Vecchi, Erin Weber (vice president), John Welch and Nicole Ziccarelli.
The advisory board works with administration and faculty to foster education and build a strong future for the people of western Pennsylvania through the continuation and enhancement of Penn State's traditions in teaching, research, and service. Members serve three-year term.
Esther Atwood
Atwood is vice president of patient care services and chief nursing officer at Allegheny Valley Hospital. In her position, she assists in the development of the organization's strategic plan and collaborates with hospital leadership and medical staff to identify and develop new patient care programs, policies and procedures.
A longtime advocate of Penn State, Atwood works to enhance collaboration between the campus and Citizen's School of Nursing, which is under the auspices of the hospital. Her role in working with the two entities was the impetus for becoming a part of the campus board.
"I feel this commonwealth campus has so much to offer students and the community," said Atwood, who previously served as an adjunct faculty member at the campus. "I love the campus and staff."
The bachelor of science in nursing degree at the campus offers registered nurses the opportunity to earn a baccalaureate degree. Through an articulation agreement, students at Citizens take six credits of upper-level nursing courses at New Kensington. If the new registered nurse enrolls in the New Kensington nursing program, then the credits are applied to the student's program requirements.
After receiving a diploma in nursing from St. Francis School of Nursing, Atwood earned bachelor's and master's degrees in nursing from Waynesburg University. She also holds nursing executive board certification.
Atwood lives in her hometown of Kittanning with her husband, William. They have two married sons and four grandchildren.
Amy Cyprych
As director of risk revenue at Highmark, Cyprych leads a team of program and project managers and business and data analysts, who support risk adjustment for Medicare Advantage and Affordable Care Act. Her responsibilities include facilitating the department's strategic and tactical planning, leading business process modeling and redesign activities, developing business requirements and test plans, and managing the operational data submission processes.
Cyprych, who earned a bachelor's degree in information sciences and technology from the campus, remains connected to her alma mater. She delivered the commencement address to fall 2015 graduates and frequently returns to campus as guest speaker in IST classes where she enjoys interacting with the students and sharing her experiences in the corporate world. In addition, Cyprych participates as an employer partner of the GREAT (Growing Regional Excellence through Experience, Academics, and Training) program for promising students in engineering and technology fields.
The Lower Burrell resident lives with her husband, Jim, and their two pugs, Peyton and Bailey.
Tim Gustafson
Gustafson is the retired director of titanium operations at Latrobe Specialty Metals where he was responsible for the development and start-up of a new product line, including product and process development, customer approvals and relations, plant and machinery specification and design and staff development. The New Kensington resident received his bachelor's degree in electrical engineering from Penn State and an MBA from Indiana University of Pennsylvania.
A member of the campus' Industry Advisory Committee, which helps faculty in the Electro-Mechanical Engineering Technology programs with curriculum changes, Gustafson expects his advisory board duties to be an opportunity to "draw from past experiences and background and give back to the University any way that I can." 
Matt Plocki
Plocki is president and owner of Pitt Specialty Supply Inc., a provider of disposable food service products, specialty coffee shop supplies, cleaning and janitorial supplies, and packaging supplies to restaurants and businesses the greater Pittsburgh area. As a former student and past president of the Penn State New Kensington Alumni Society, which is based at the campus, Plocki's connections to New Kensington are long and deep. He shares the chancellor's vision of expanding the campus' footprint in the community.
"I want to help shape the future of Penn State New Kensington and help build the Alle-Kiski Valley," said Plocki, who graduated from University Park with a degree in labor and industrial relations. "I will supply guidance to the administration on issues I feel I can help with."
Plocki lives in Sarver with his wife, Holly, and their daughters, Abigail (16) and Olivia (13), and son, Nolan (14).
Jason Rigone
As executive director of Westmoreland County Industrial Development Corporation (WCIDC), Rigone guides the long-term strategy of the department. In his 17 years at WCIDC, he has gained experience in planning, economic development and industrial development. Rigone also serves on the board of directors for the Westmoreland Chamber of Commerce and is chair of the Government Affairs committee. The North Huntington resident obtained a bachelor's degree in geography from Penn State.
Advisory Board scholarships
The board has established two scholarships at the campus — Advisory Board Trustee Scholarship and Advisory Board Endowed Scholarship. The trustee scholarship provides financial aid to upperclassmen in leadership positions, such as Lion Ambassadors, Student Government Association officials and student club officers. Benjamin Lesko and Danielle Richardson are this year's recipients. The endowed scholarship supports first-year students who manifest promise of outstanding academic success. Zachary Bowser and Kubilay Ceylan are the current awardees.
For more information, visit newkensington.psu.edu/advisory-board. 
Contact
Bill Woodard
Alumni and Public Relations Specialist