'Dinner and Dialogue' series to highlight election returns at 5:30 p.m. Nov. 8 in Café 780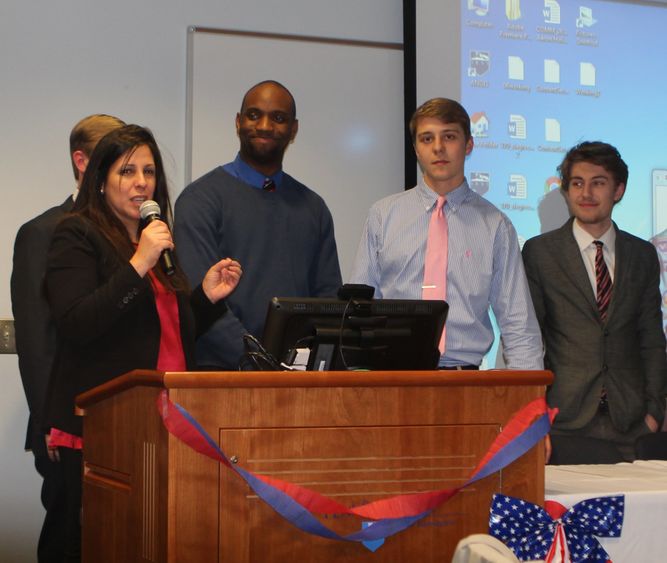 NEW KENSINGTON, Pa. — After exercising their franchise, students, faculty and staff at Penn State New Kensington will gather at 5:30 p.m. Tuesday, Nov. 8, in Café 780 to watch and discuss the 2016 election returns. Hosted by Student Life and the Campus Activities Board, the event is open to the public.
Since February, more than 150 campus students and community members joined voting rolls thanks to the awareness activities of My Vote Matters, a student organization that educates and registers first-time voters. The group doesn't espouse the views of any political party or candidate, but rather serves to enlighten young voters on the importance of getting involved in the political process, be it on a local, state or national level. Millie Brasser, a junior corporate communications major, and her team worked for more than a year to register students to vote, educate students on issues and candidates, build election excitement, and get out the vote.
For more information about the event, contact Lauren Blum, assistant director of student affairs, 724-334-6063 or [email protected].
Dinner and Dialogue series
The event is a part of the campus' "Dinner and Dialogue" program, an annual series that promotes greater awareness and understanding of national issues, international trends, and global policy debates. The first Dinner and Dialogue program in September focused on Hispanic Heritage Month and featured Pittsburgh filmmaker Chris Mason's documentary project, "3 Rivers to Cuba." The film highlighted the connections of Pittsburgh and Cuba and traced the African influence on Latin music, dance, culture and religion.
The series continued in October with "Alumni Connections," a social event geared to connecting current students to alumni in their respective fields. Campus graduates from a variety of the academic programs — information sciences and technology, electro-mechanical engineering technology, administration of justice and radiological sciences — shared their experiences during college and in the workforce, and offered advice and recommendations about making the most of their Penn State education.
The panel of 10 alumni explored topics such as starting salaries, negotiating as a new professional, balancing work and life balance and gaining experience through internships. The group focused on navigating the post-graduation "real world."
Andrew Holodnik, who earned an associate degree in business administration in 2011 and a bachelor's degree in administration of justice in 2013, told the students that successful job candidates stand out among their peers. According to Holodnik, doing the simple things like dressing appropriately and writing a thank you note after an interview can make an impression and move you to the top of an employer's wish list.
"I went on an interview and I was the only one dressed in a suit and tie," Holodnik said. "My peers wore causal clothes, which resulted in me getting my current job as a building inspector."
In addition to recent graduates, members of the Penn State New Kensington Alumni Society talked with students about their career concerns. Based on their major, students were assigned to seats for a roundtable discussion with the society's board of directors. The directors, headed by president Vera Spina-Greenwald, shared their experiences during college and in the workforce.
"My favorite part of the evening was watching the connections happen as students and alums stayed well after the allotted time to chat and get to know each other," Greenwald said. "We can't wait to partner with Student Activities and Career Services on many more events like this in the future. It is so beneficial for members of our board of directors to be a part of the student experience."
After a light dinner, students had networking opportunities with alumni who provided leads on internships and jobs.
The Dinner and Dialogue series resumes in February with Black History Month.
For more about post-graduate careers, contact Jim Shields, associate director of career services and professional development programs, at 724-334-6065 or [email protected], or visit Career Services online.
Editor's note: Aaron Holness, a senior communications major and intern in the campus' Alumni and Public Relations office, conducted the interviews and contributed to the article.
Contact
Bill Woodard
Alumni and Public Relations Specialist