Degrees conferred at 57th commencement ceremony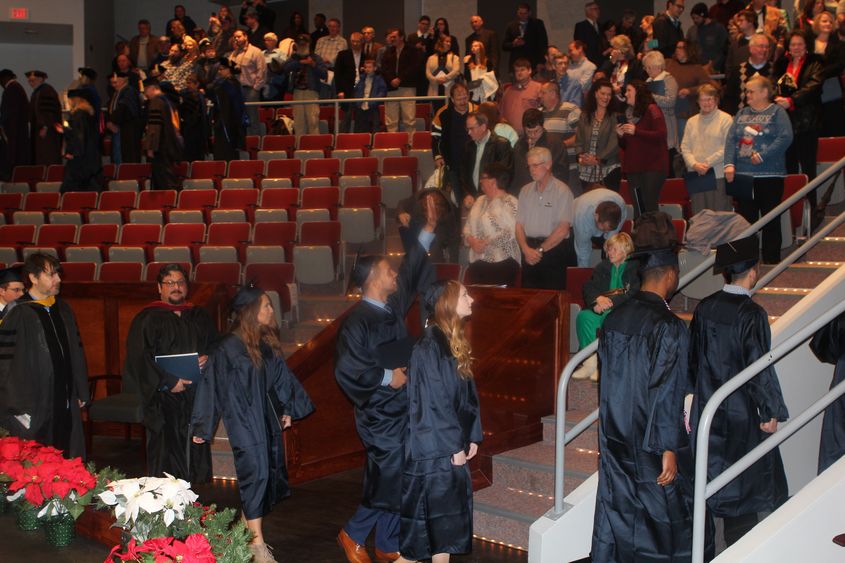 "When we stood at childhood's gate, shapeless in the hands of fate, thou didst mold us, dear old State."

-- Penn State "Alma Mater" by Fred Lewis Pattee
NEW KENSINGTON, Pa. — Forty-six Penn State New Kensington graduates earned their baccalaureate and associate degrees Dec. 17 at the campus' 57th commencement ceremony.
The chronicle of graduates from the New Kensington campus dates from 1960, when the campus graduated 28 students in its first class. Now, 57 years later, the New Kensington campus has 5,270 alumni.
Former campus student Richard Gilbert, principle telecommunications engineer in the networks and cyber security department at Bombardier Transportation, delivered the commencement address, "A Toolkit for Life." Gilbert, who earned a bachelor's degree in information sciences and technology from the campus in 2003, impressed upon the graduates that their Penn State degree is a toolkit of learned skills that will serve as a foundation for life after college.
"I had no idea of what the future would hold," Gilbert said of his commencement day 13 years ago. "But knowing that I had the academic and practical tools given to me by campus faculty, has enabled me to face and accept the challenges in life." 
Kevin Snider, chancellor, and Andrea Adolph, director of academic affairs, conferred the two- and four-year degrees. Snider described the significance of their Penn State journey that culminated with the pomp and circumstance of graduation.
"These commencement ceremonies are public recognition of your accomplishment, and demonstrate the University's pride in your achievement," Snider said. "In just a short period of time, you will officially become a Penn State graduate, which is one of the most prestigious titles in public higher education. On behalf of the campus faculty, staff, administration, alumni, and campus advisory board, congratulations."
Adolph explained the cords worn by some graduates as a part of the academic regalia. Students who have honorably served, are serving, or are commissioned to serve in the U.S. military wore red, white and blue honor cords in recognition of their duty and sacrifice.
Aaron Holness, who graduated with a bachelor's degree in communications, donned the red, white and blue cords. As a senior airman in the Air Force Reserves, Holness earned his degree while on active duty. He intends to stay in the military and apply for officer training.
"The military values those who want to learn and get an education," said Holness, a logistics planner in the Air Force. "I don't want to make a lifelong career out of the military, but I want to learn as much as I possibly can while I'm serving. I know that my experience in the military will give me opportunities that I never thought possible."
Those who achieved academic distinction wore cords denoting summa cum laude, magna cum laude and cum laude. Graduation with distinction is an honor based on a student's cumulative grade-point average. Penn State bestows this special recognition on the top 12 percent of its students in each academic college. She also urged the graduates to stay connected to the campus.
"In the coming months and years, we hope that you will come back and share with us all that you accomplish," Adolph said. "We are proud today to have had a part in your hard work, and now we will eagerly watch as you take on new challenges, learn new things, strengthen your abilities, and use your Penn State degree to the fullest as you reach your goals."
After receiving their degrees, the newly minted alumni were inducted into the Penn State Alumni Association by Vera Spina Greenwald, president of the Penn State New Kensington Alumni Society. Each graduate received automatic membership in the campus alumni society and a one-year free membership in the PSAA, which boasts 176,000 members, the largest dues-paying alumni association in the world.
"Your membership will keep you informed about what's happening with Penn State, and it will provide the services and benefits you need as you walk down the road of life," Greenwald told the new alumni. "It will connect you with the alumni association's network of more than 300 alumni groups across the country and throughout the world."
Frank Santimauro, instructor in business administration, served as marshal and led the processional and recessional. Barbara Arnold, a former campus student and member of the campus' Advisory Board, sang the national anthem and "Alma Mater." Shannon Josefonski, president of the Student Government Association, delivered remarks.
Snider's closing remarks focused on using the Penn State degree to launch a vocation in a world that could be daunting.
"Penn State can hold open the door to a successful career, but remember you have to turn the key to open it and you have to walk through it," Snider said. "Then the hard work begins. The degree helped open the door, but it is applying what you learned that will help you climb the stairs to your goal. Use what you've learned well."

Class of 2016
BACCALAUREATE DEGREES
College of Nursing, B.S., Nursing — Jennifer M. Amorose, Stephen P. Carthy, Natalie M. Diller, Kathryn E. Everson, Amber R. Gettemy, Erik Gibson, Christopher Kravetsky, Kathleen S. Lambert, April A. Ledonne, Shannon R. McDonald, Megan E. Myers, Judith Pavlinsky, Jessica L. Rager, Hanna Schoentag, Gregory B. Singo, Leila-Adair M. Wilson
University College, B.S., Administration of Justice — Melanie Campbell, Paul M. Currington, Sabrina R. Johns, Erin S. Nagy, #Vanessa Osabutey, Bryan Rosenberg, Grant N. Rukat
B.S., Business — Rebecca Bowman, James M. Winiesky
B.A., Communications — Aaron M. Carter, Aaron V. Holness, Erin Kamenic, Ryan W. Long, Katlin V. Miskanic
B.S., Information Sciences and Technology — Scott M. Caltagarone, Vincent M. Deloia, *Matthew A. Lomicka, Jordan S. Miller, Juan C. Rodriguez, Rafael A. Rodriguez, Matthew B. Saeger, Tyler Skirble, Eric M. Trump
B.A., Psychology — Kristy L. Patz
B.S., Psychology — Michael J. Esposito, Kayla M. Kisner
ASSOCIATE DEGREES
University College, Business Administration — Heather N. Sebak, Shannon M. Sebak
Letters, Arts, and Sciences — Michael C. Scarano, Emily Smouse
* Summa Cum Laude
# Intends to fulfill degree requirements during spring 2017
Commencement Address Fall 2016 by Richard K. Gilbert
Thank you and Good afternoon:
Dr. Snider, members of the facility and staff of Pennsylvania State University, graduates, fellow Alumni, parents, and all in the extended Penn State family.
I would like thank Penn State, and the graduating class of 2016, for honoring me with the opportunity to speak at your commencement.  I applaud the graduates here today, for not just starting, but continuing this road towards finishing their degree, and completing a tremendous task.
Penn State was, and still is, a phenomenal experience for me that became (and still is) a pivotal part of my life.  I remember taking so many different classes, that expanded my horizons on so many topics, Chemistry, Calculus, Music, Theater (on this very stage), to my degree in IST (underneath my feet).
While on campus, I was involved in (what seemed like) every organization available (it is hard to remember all of them).  Fondest to me are:
•    Lion Ambassadors
•    Student Government Association
•    Being an Orientation Leader
•    Working on THON
Additionally, I spent countless hours volunteering for the campus for everything.  
I would like to touch on a few quick stories, starting with my time in the Lion Ambassadors and how I decided this University and Campus was home.
Before I go too far, are there any Lion Ambassadors on the stage, or in the audience?  (If so, big congratulations and thank you).
For my Lion Ambassadors friends, whom I know can appreciate this, here are a few valuable lessons I learned:
1.    How to walk backwards, without tripping on anything (most of the time, including the stairs)
2.    And most importantly, how to talk with people…  New potential students and their families, and how to genuinely share my story at Penn State, my story here….
I like to think that my time spent working with these potential new students helped guide them to make the right decision in their future choices…. hopefully at Penn State. 
Something near and dear to me, I know that Vera is in the crowd.  There is something I have to say about how Lion Ambassadors influences (future) students…
Vera was my very first Lion Ambassador tour guide at this campus.  She was the one of the first people I met when I came to this campus (I guess I really met two people first, Nancy Burns being the first, and a cardboard cutout of Joe Paterno), down in the old Admissions Area.  
At that time, when you went down the ramp, and entered Admissions, Joe was ever vigilant at the door, followed by an ever present smiling face of Nancy.  
Prior to visiting Penn State New Kensington, and I am sure this is a story that is familiar to everyone here, I had visited countless schools, colleges, and universities.
None of these places felt right.  They just didn't feel like home, that was, until I came here….. Something felt different the moment I walked on this campus.
When I went into Admissions, Nancy (and Joe) were kindly smiling (and I think Joe was waving hi).  After signing in…
I met a wonderful admissions director (Ms. Patty Brady, who I did not know at the time), and another admissions officer, Liz.  We went over all the typical "New Student" admissions details.
Now… I haven't seen anything on campus yet… but I am asked if I want to go on a tour, and I graciously accept.  Next thing I know, here comes Vera, in her Blue Lion Ambassador shirt, khaki pants, and silver nametag.  
Of all the schools I visited, Vera was the first tour guide I can remember at any school that seemed to know everything about the campus, and everyone on campus.  Most notably, she did all of this, while walking backwards, without tripping on anything.  
She proceeded, telling me any and everything about Penn State, from the Library and how to get books, to Bud's Art in the Art Gallery, and all the different buildings, classrooms and programs here and throughout the University.
Her ability to answer anything that I could think of, combined with her genuine love of the campus, made me feel something that I had not felt anywhere before.  That genuine feeling about Penn State made me want to become part of this wonderful family.
The other thing I noticed here, that I never saw elsewhere, was while we were touring, it seemed like no matter where we went, and/or who we stopped to talk to (and I think it was everyone), faculty, staff, or students, they stopped what they were doing, and genuinely talked to me.  No one was too busy!
The cordially of the faculty, staff, students, and of course, Vera, made me fell assured that this is where I wanted to attend school.
It is these little things that make everyone feel important, like you are welcome and belong.  For me, I combined this experience with the campus offering the IST program, which I really liked.  But… I must say, it was Vera, with Nancy, Patty, and Liz, and all the people here.  
The students, faculty, and staff, combined with the way the campus and university worked, helped me to make the decision to attend this school.  What a good job they did, and little did I know the journey that was about to begin.  
It wasn't shortly after starting school that fall (way back in 2000), I was encouraged by those same friendly faces (mainly Vera) to join that very same Lion Ambassador organization.  
Eventually… With a little training, I was able to pick up the same skill of walking backwards, while answering almost any question about Penn State that anyone could toss out, I really discovered I loved getting to know and help others, and really, doing just this (here in front of the room today).  
I still have my silver nametag!!!  
Over my years here, I gave tours to a countless potential students, as well as guests of the school.  I remember meeting and giving a tour to (the late) PA Representative Terry Van Horne (20 years in the PA House of Representatives).
In a funny note, we were in Engineering 123, which had names of countless people on the walls.  While walking through this room, Terry happened to see his name (just above the door), with one minor issue, his name was misspelled.  Whoever made the signs, forgot the 'e' on his name.  It's one of those Flashbulb memories that I will never forget.
I could go on with endless stories of Lion Ambassadors, trips to different campuses, meeting Mr. MTO himself, Steve Sheetz (yes he is a real person, and has a great story about Sheetz) at a Lion Ambassador conference at the Altoona campus, trips to University Park and other campuses for conferences, the list would go on for hours, but I know that everyone here wants to get their Diplomas, so I will continue onward.  
I had the honor of being a member of the Lion Ambassador organization virtually my entire time at Penn State.
Just before graduation, I was given a gift by the Lion Ambassadors, a Penn State University Alumni License Plate bracket, which, 13 years later, is still on my truck, and although faded to a point that I don't think anyone can even read Penn State University Alumni on it, it is still very special to me.
Lion Ambassadors opened the door to many other organizations on campus.  I very briefly must say thanks to Jim Shields, who invited me to be an orientation leader my 2nd (and 3rd) year in school at Penn State.
We did so many different ice breakers/team building activities (some of which I still use today at work), with our other leaders, and eventually with the next incoming class.  Teaching how to interact with others, how to make friends, and most importantly, how to get people out of their shells.
I recall one year as an orientation leader, perhaps 2002, sitting here in this very auditorium, with my crew of new students, and I was somewhere up by the door, and we had a motivational speaker talking to the incoming class.  This speaker did an amazing job of getting everyone motivated about school, and how to move forward in life.
One important thing I took away from his speech from that day, the only thing that separates anyone of us is time and experience.  
Little did I realize at the time, how that would influence my life.  It was these little details, combined with these different organizations, quietly providing the tools and skills that I would use every day in real life.  
While I was here, I had the opportunity to participate in so many different things:
•    Like a trip to the Carnegie Science Center with the "entire team" (Vera, Sonya, Jim, Matt, Mac, and Dr. Pollock, who we just called Larry), and almost running out of gas in a university car.
•    Theater productions (7-brides for 7 brothers, Wizard of Oz, and many more)
•    Supporting (and canning) for THON.  To this day
o    I still don't know how two of my good friends, Rich (Moser) and Jim (Dykes) knees and ankles still don't hurt… That's a long 48 hours, and for those who do not know, you are up standing and awake for two full days.
•    Creamery Runs, DJ'ing on the Gateway Party Liner (thank you Theresa),
•    and the list goes on…
These were some of my highlights which helped make my academic classes more enjoyable.  In fact, so much enjoyable, I finished, looked back, and then questioned:
•    "Why was I in such a hurry?", It's a jungle out there….
It was an honor to be able to help countless numbers of students and guests during my short time here on this campus, and to have the ability to provide guidance on their future decision.  I would like to think, that some of the future students whom I met, ultimately decided to attend Penn State.  And… that some of those students eventually became Lion Ambassadors, Orientation Leaders, Participated in Student Government, and ultimately succeeded in their careers.  
Perhaps, something that I provided in a tour influenced the next generation of students and those who followed them, continuing ultimately to the graduates here today.
Just two weeks ago, I was privileged to sit in and review the IST 440W capstone projects for three teams.  
I believe some of the students from that session are here on this stage.  I was amazed by the quality of the students and the positive interaction with faculty, as well as the level of detail and work that went into these projects by all team members.  
These students produced (and presented) details on Network and Web systems that were just amazing, and very professional.  I am proud to see that these students, and soon to be graduates, are taking the educational skills they acquired here, and already applying them to the next stage of life.  These students truly represent and embody what Penn State stands for.
While a student at Penn State, I recall being in the midst of, and feeling the Energy, Excitement, Exhilaration, Intimidation, maybe even discouragement at times, let's face it, school is tough, but always challenging.
What I remember the most, was no matter how hard things were, the faculty and staff were always there for you, with open doors.  They knew your names, and they genuinely wanted to see you succeed.  
Something that I keep true to this day, my Penn State family made me want to learn something new every day, and made me want to succeed at everything.
I was transformed by my years here.  I used the skills learned here to continue on through Graduate School, and on into my career, where I have applied these skills almost daily while working with amazing technology.  
My career today might seem boring to so some, but I work with Automatic Train Control Systems that are designed, developed, manufactured, and tested here in Pittsburgh and deployed world-wide, which safely and autonomously move millions of people around the world, reducing urban congestion, and allowing major metropolitan centers to grow.  
I have had the opportunity to work in cities (and countries) that I could not have found on a map when I was younger!  And…. I did it using the foundation, toolkit, and skills I learned here at Penn State!
When I graduated, I had NO idea of what the future held, and I still look forward to what the future holds!  But knowing that I had the tools which were given to me, both academic and social, and combining that with my extended Penn State family.  It has enabled me face and accept the challenges in life.  
At this point, most speakers will give you advice, such as:
•    Work long and hard
•    Never say no to an opportunity
While those are true, I am not here to repeat these things.  I do encourage you, no I challenge you:
1.    Don't go and buy a car tomorrow.
2.    Don't wrack up a ton of debt.
3.    Pay off your college loans.
4.    Stay true to the values that got you this far.
5.    Stay true to the Blue and White.
And mostly
6.    Stay true to you!!!
In the few words of Pope Francis: "I encourage you to remain committed to helping one and another discover your potential in Love, Life, and Appreciate all its limitations in its beauty"
To the Graduating Class of 2016…
Congratulations and Thank You!!!
Contact
Bill Woodard
Alumni and Public Relations Specialist