Campus philosophy professor helps with new curriculum design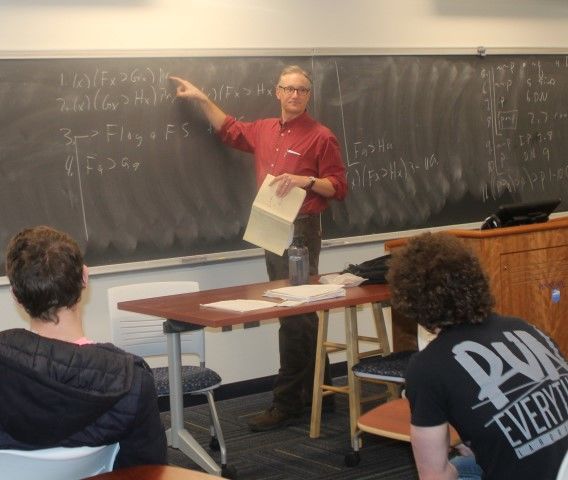 NEW KENSINGTON, Pa. -- Donald Bruckner, associate professor of philosophy at Penn State New Kensington was named a General Education Faculty Fellow recently by the Penn State Office of General Education.
The newly established office developed the general education initiative to engage faculty who have a track record of innovation and student-centered work within General Education, foster high-impact teaching and learning practices, and advance the opportunities available to Penn State students. Bruckner is one of 16 faculty members representing various campuses, colleges and general education areas at Penn State.
Fellows serve one-year terms as liaisons between the General Education office and faculty from across the Commonwealth. The office is responsible for implementing the general education reform passed by the University Faculty Senate.
"Our job is to help facilitate the implementation," said Bruckner, who joined the campus faculty in 2003. "We'll help with curricular design and assessment and serve as resource people for faculty."
Faculty with experience in teaching general education courses, a demonstrated commitment to innovative pedagogy and course design, and a commitment to providing access and service to students across the Commonwealth were nominated by University and college leadership before they were invited to join the program. Bruckner was a natural fit for the position as he teaches many general education courses -- ethics, logic, math and the multi-disciplines of philosophy.
"A broad, general education is at the core of every Penn State degree," said Bruckner. "Like many people, I think that the training students receive in their general education courses is at least as important to success after college as the content of the courses in their majors. So this is a nice opportunity to serve the University in a meaningful way while sharing my enthusiasm for general education."
The new general education requirements cut across disciplines. All New Kensington students have to complete 45 general education credits. The campus benefits by having a general education fellow standing sentry.
"One of the things I hope to do is to help faculty members who want to design or redesign courses satisfying the new general education requirements," Bruckner said.
Bruckner earned his doctorate in philosophy from the University of Pittsburgh. He holds master's degrees in philosophy and mathematics from Pittsburgh and a bachelor's degree in mathematics and philosophy from Bowling Green State University.
The Ohio native's research deals with the theoretical ethics of human good, and what is the good human life. According to the desire theory of well-being, one's life goes well to the extent that one's desires are satisfied.
"I am about to finish a draft of a paper on whether the shape of a life matters," Bruckner said. "For example, is a person's life better for that person if it gets progressively better, as opposed to progressively worse? I address this question from the perspective of the desire theory of well-being in the paper, and give a qualified affirmative answer."
Pedagogy runs through the Bruckner family, who live in Clinton Township in Butler County. His wife, Lynne Dickson Bruckner, is a professor of English at Chatham University in Pittsburgh.
Contact
Bill Woodard
Alumni and Public Relations Specialist