Beloved friend, colleague, mentor; memorial service set for Jan. 21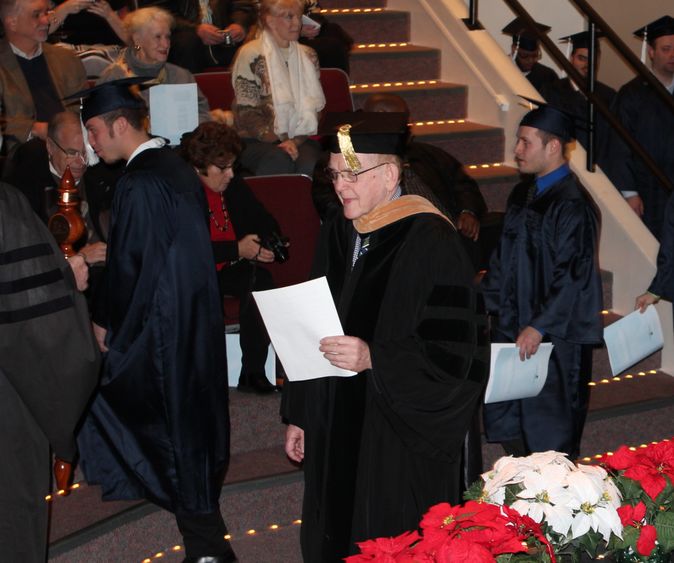 "Dr. McGinnis opened so many opportunities for me, including interviews for my internship, as well for my current marketing position on campus. I would not be graduating with a bachelor's degree this May if it was not for this man. My last semester at Penn State New Kensington is not going to be the same without him."

-- Madison Tonarelli, senior, business administration major
NEW KENSINGTON, Pa. — Michael McGinnis, professor of business administration at Penn State New Kensington, died Dec. 26 in Venice, Florida, where he was visiting family. He was 75.
"Mike was a presence on our campus," said Kevin Snider, chancellor of the New Kensington campus. "He had a deep and sincere interest in people. He would talk to anyone and once he did, he would always check in to see what was up in their lives or discuss a current issue. He never avoided difficult topics and sometimes his views would drive me crazy, but we always left a conversation as friends and colleagues."
Services were held Dec. 30 at the Epiphany Cathedral in Venice. The online guest book for Ewing Chapel included tributes from former students around the country.
Kiersten Alvarez Gaston of Lewistown, Minnesota, a 2013 business administration graduate, shared memories of McGinnis, her educator and mentor. Gaston's tribute conveyed the sentiments of many of the McGinnis' current and former students. She wrote:
"Dr. McGinnis…where to begin. You were an INCREDIBLE teacher, mentor and just all around a loving human being. I've never met someone who was so involved with his students and cared about them and their well-being. What a selfless, kind, gentle soul. He's the only reason I enjoyed logistics. He was an amazing mentor and advisor and made sure my four years at Penn State New Kensington went as smoothly as college can go. I will never forget the hug he gave me at graduation, ever. Thank you, Dr. McGinnis, for everything. You are truly missed. I hope you keep cracking those corny jokes up there; we will sure need them down here."
In and out of the classroom, a sense of humor and corny jokes were trademarks of McGinnis. A snicker usually augmented his delivery, which added to the amusement of the bromide.
"Whether it was his passion for teaching or the corny jokes he told in class, which you made you laugh no matter how corny they were, he brought a smile to everyone's face that he came in contact with," said Marcus Signore, a junior agriculture sciences major who took McGinnis' marketing class. "He lived a happy life, and that was evident every time you talked to him."
A student-centered teacher, McGinnis joined the New Kensington faculty in 2001 as associate professor and taught upper-level business administration courses. In 2014, he was promoted to full professor, the highest rank attainable by senior faculty members.
"When you think of Mike you think of his personality," Snider said. "What we sometimes forget is that he was a well-respected scholar in his field whose scholarship resulted in being promoted to full professor. That is not an easy accomplishment at Penn State." 
Admired by his colleagues, McGinnis' extracurricular activities included serving as coordinator of the business program, chair of the Campus Speakers serie,s and chair of the Administration committee. He was a member of the University College Promotion and Tenure committee and served two years on the University Faculty Senate.
"He was very devoted to his job as program coordinator and set a great example by coming to work every day," said Rujirutana "Dr. A" Mandhachitara, associate professor of business administration. "He was non-confrontational in his management style in the interest of preserving the rare quality of collegial mutual respect and comradeship at the campus. That is, unfortunately, unusual on most academic campuses."
McGinnis also gave back to his profession. For more than 15 years, he served with the Institute for Supply Management at the local, district and national levels, and as a reviewer for several logistics/supply chain management academic journals.
"Mike was an active member of our campus and a truly engaged teacher and scholar," said Andrea Adolph, director of academic affairs. "He provided a significant amount of service to our business program as the coordinator, and he was on campus nearly every day of the week to meet with students and colleagues. He will be missed across the University."
The Michigan native published more than 50 articles in the academic literature and trade press. In 2004, he presented a paper, "Supply-Chain Management Coverage in a Bachelor of Science in General Business Program: A Case Study," at the 15th annual North American Research and Teaching Symposium on Purchasing and Supply-Chain Management in Arizona. His presentation was based on research completed by Leslie Wolfe, one of his honors students. Wolfe was a colleague and adjunct instructor in business administration at the campus.
"Mike was the single most influential person in my career to date," said Wolfe, project portfolio manager at the Penn State Electro Optics Center. "He introduced me to supply chain and project management, pushed me when I was doing research during my undergrad, and recommended me to the person that would hire me for my first job in manufacturing. When I wanted to teach, he helped me again. That was the thing about Mike, he didn't stop caring about his students even after they graduated. You could always go to him for help, advice and a well-timed wisecrack. He was a wonderful person and a great guy. I will always remember him very fondly."
McGinnis earned bachelor's and master's degrees from Michigan State University and a doctorate in business from the University of Maryland. He was a Certified Professional in Supply Change Management and a Certified Purchasing Manager. His research areas were purchasing, logistics strategy, negotiations and supply-chain management.
Prior to coming to the New Kensington campus, McGinnis was professor of logistics and management at the University of South Alabama and professor of business administration at Shippensburg University. He spent four years in industry as a packaging engineer and served three years on active duty as a U.S. Army officer.
McGinnis lived in Leechburg, Pennsylvania, with Donna McGinnis, his wife of 33 years. He enjoyed shooting skeet and trading and collecting firearms. He was preparing to retire in June and move to Florida.
A public memorial service to celebrate the life of McGinnis is set for 10 a.m. Saturday, Jan. 21, in the Forum Theatre at the New Kensington campus. His wife, daughters, Michelle and Kathleen, and brothers, Bill and John, will attend the service. Family members and neighbors, along with Chancellor Kevin Snider and the campus community, will share memories of the beloved husband, father, brother, friend and colleague. 
Tributes from campus community
"Mike was my best friend at PSNK. We shared the same office for almost 10 years. We used to have lunch together most days until my schedule made it no longer possible. We were at bipolar ends of the political spectrum. We had several things in common; the love of donuts, Milky Way chocolate bars and, most important, dogs. Donuts, Milky Way and dogs constituted the great deal of our conversational subject. I also often relied on him as my ATM machine to finance my daily on campus cash flow. I will miss his sense of humor and his presence in our office. I will also miss hearing regularly about (his dog) Princess. He has been a major part of my professional life at Penn State ever since the day he had to wait three hours at Pittsburgh Airport when my flight arrival from New York that brought me to PSNK for my campus visit was delayed. All the years I had known him, he had been the same gracious and supportive colleague and friend. He was a man of wisdom and a giant in his field of supply chain management as evidenced by his more than 20 published refereed journal articles, with great majority at the A-level. As a scholar and dedicated teacher, he was always happy to give me good advice when I asked for it. He was my "go to" person at the campus and could always quickly find answers to questions I struggled to deal with. Usually Mike's sense of timing was impeccable except on this sad occasion we are remembering him here. I was supposed to take over his administrative responsibility after he retired for Florida in June. We agreed that he would mentor me strenuously over the spring semester so that I will be prepared for the transition. This training was scheduled to begin on Jan. 9 and continue throughout the semester. Nice one, Mike!"  -- Rujirutana "Dr. A" Mandhachitara, associate professor of business administration
"I was shocked and saddened to hear of Dr. McGinnis' passing because he sounded energetic when I had a phone meeting with him and Dr. Adolph on Dec. 20. On the next day, he told me via email that he would like to serve on the University College Faculty Scholar Awards Review committee. The last work-related email I received from him was on Dec. 24. Mike has been working diligently for Penn State University for 15 years, even during the last week of his life. I appreciate all the advice he gave me in the past and will miss him forever." -- Yang Xu, associate professor of business administration
"Dr. McGinnis and I were very close. Over the past couple years I attended PSNK, he was not only my advisor and teacher, but became a friend. He gave me so much advice not only academically, but also in my personal life. He always put a smile on my face with his jokes and was the first person to stop to talk to me when I was walking through the halls." -- Madison Tonarelli, senior business administration major
"I think that sincere interest in engaging with and understanding people was what made him a great mentor for so many." -- Kevin Snider, chancellor, Penn State New Kensington
"Dr. McGinnis brought passion and enthusiasm to each and every class because he cared so much about what he was teaching." -- Marcus Signore, junior, agriculture sciences major
"The quote 'bright eyed and bushy tailed' was a favorite of Dr. McGinnis, and also his expectation of how his students were to arrive in class each day. I was privileged to have Dr. McGinnis as a professor during my time at Penn State New Kensington. He was a forward thinker, a straight shooter and someone who was never afraid to inject humor into his lessons.  Dr. McGinnis taught his students that the world around us is ever changing and that you should be ready for anything that may come your way. To illustrate this point, Dr. McGinnis frequently referenced the fact that he worked for the Kodak camera company when it was a giant in the electronics industry, but like many others had faded away to non-existence as new technology emerged. He used this example to show his students that change is inevitable and that someday your kids may ask you 'what's a laptop?' For this reason you have to be willing to accept new things, take chances and look for any opportunities that you can find to advance in your own career. The passing of Dr. McGinnis is a great loss to Penn State New Kensington, and also the Penn State University system as a whole. Even though he is no longer with us, he will surely live on through the lasting impressions he left on his students and fellow faculty. -- Perry Nickleach, 2013, business administration
Contact
Bill Woodard
Alumni and Public Relations Specialist