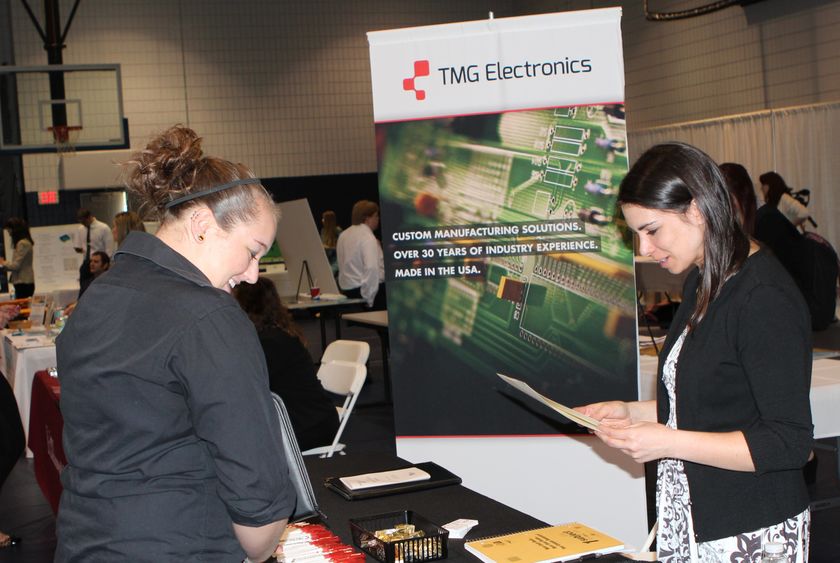 NEW KENSINGTON, Pa. — The Office of Career Services at Penn State New Kensington is planning and promoting four job fairs and career events for the spring semester. The student-centered activities can help recent and soon-to-be graduates get started in a career in the workforce.
"The events are designed to show students how to navigate the 'real world' after Penn State," said Jim Shields, associate director of career services and professional development programs at the campus. "Networking can result in opportunities for internships and jobs."
Leader Launch
Leader Launch is set for Friday, Jan. 27, at Penn State's Pittsburgh Center. A professional conference for student leaders, Leader Launch is an opportunity for campus students and recent alumni to enhance their knowledge of transferable skills, networking and professionalism. The agenda features educational sessions, presentations and panel discussions by 11 campus alumni representing six campus programs. The former campus students will offer advice and recommendations for making the most of a Penn State education.
The alumni presenters are: Juliann Motosicky, NFM Group, Corporate Communications 2012; Lauren Richards, HM Health Solutions-Highmark, Information Sciences and Technology (IST) 2012; Perry Nickleash, PCA Mission Pharmacy, Business 2013; Marissa Russo, PwC, IST 2016; Chelsea Leake, UPMC, Accounting 2016; Brittny Logesky Skeers, Siemens, Electro Mechanical Engineering Technology (EMET) 2015; Stephen Skeers, U.S. Steel, EMET 2012; Brittany MacShane, Arconic, Chemical Engineering 2014; Rich Gilbert, Bombardier Transportation, IST 2003; Dewey Traini, Lanco Electric, EMET 2006; and Ashley Traini, ATI Allegheny Ludlum, Business 2005.
Penn State Career Day
The annual Spring Career Day runs from 11 a.m. to 4 p.m., Tuesday, Feb. 14, in the Bryce Jordan Center at Penn State University Park. More than 400 national and regional employers will be recruiting in all technical and nontechnical majors. The event is the best opportunity for all Penn Staters, students and alumni, to meet with major state and national recruiters. Not only is this an excellent opportunity to gain employment, but it is a great learning experience and offers "real life" practice for professional presentation, interviewing and networking skills.
WestPACS
Western Pennsylvania Career Services Association (WestPACS) job and internship fair is set for 10 a.m. to 3 p.m., Wednesday, March 15, at the Monroeville Convention Center along Route 22 in Monroeville. The job fair is open to current students and graduates of two- and four-year programs. Recruiters from a wide variety of industries, including telecommunications, engineering, technologies, health care, government, human services, retail, hospitality and financial services will attend. The fair is geared to fall 2016 and spring 2017 graduates and recent alumni with program certificates and degrees in all majors. There are also many internship opportunities for current undergraduates.
Penn State New Kensington Career Day
In conjunction with the research expo, the campus will host the seventh annual Career Day from noon to 3 p.m., Tuesday, April 11, in the Athletics Center. Career Day complements the annual Research Fair and Creative Exposition by providing new opportunities for the students and faculty to build stronger contacts with local industries through sharing of career information while also highlighting the campus' numerous research and creative activities. Representatives from more than 30 companies will discuss career options, internships and job opportunities for current students and recent graduates. Organizations attending Career Day represent a variety of fields, including business, engineering, science, information technology, psychology, marketing, administration of justice, communications, finance, accounting, social services and human services. Campus faculty members are encouraged to attend as companies will focus on career paths within their organizations that relate to academic disciplines.
To register for any event, call 724-334-6095 or email Jim Shields
For more information, visit Career Services

Contact
Bill Woodard
Alumni and Public Relations Specialist