Casey Lang, admissions counselor; Adam Robinson, learning center coordinator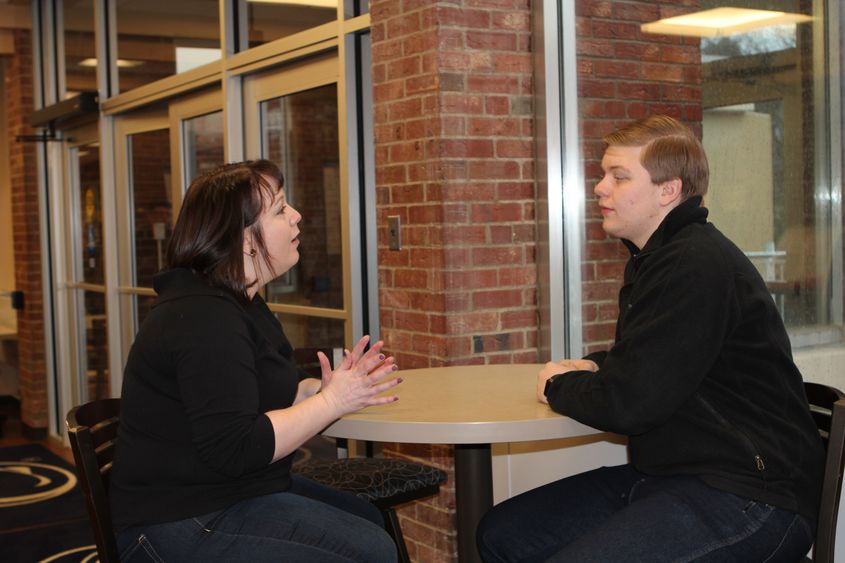 NEW KENSINGTON, Pa. —Casey Lang, admissions counselor, and Adam Robinson, learning center coordinator, are the newest members of the Penn State New Kensington community. Both serve as resources for students — one prior to admission and one after admission.
The Admissions office is the one-stop shop for prospective students — traditional-age, adult learners, internationals, transfers and military veterans. Throughout the year, it sponsors numerous events, such as open-house programs and financial aid and scholarship workshops, designed to educate families on the admissions preprocess. In addition, those interested in attending college can schedule a visit to determine if the New Kensington campus is the right fit for them.
The Learning Center provides academic support to campus students. Tutoring, academic materials, and resources for those with physical or learning disabilities are available free of charge.
Casey Lang
Lang's primary responsibility is recruiting. Her duties include visiting high schools and participating in college fairs. She also serves as the campus' out-of-state representative. For fall 2016, the campus enrolled 27 out-of-state students from 10 states.
"Casey's passion is working with young people in the college research process," said Patty Brady, director of enrollment services. "She brings a lot of enthusiasm to her position."
When she is not on the recruiting trail, Lang assists traditional-aged college students with admissions questions. She also is co-adviser of the campus' Lion Ambassadors club.
"I love having the opportunity of being one of the first resources students come to when they want to apply to Penn State," Lang said.
Lang also brings experience in international educational programs to New Kensington. Before joining the campus, she was a study abroad adviser at Georgia Tech (2013-16) and Indiana University (2009-13). She recruited undergraduates for exchange programs in Asia, Oceania, Italy, France, United Kingdom, Ireland, Canada and the Middle East. In the past five years, New Kensington students have journeyed internationally to study in Ireland, Netherlands and Mozambique.
"I am especially grateful for her experience in international admissions," Brady said of Lang.
After working at large universities, the Belle Vernon, Pennsylvania native was drawn to the New Kensington campus because of its modest size and student population. The fact that the campus is backed by the wherewithal of Penn State added to the decision to "downsize."
"Several things attracted me to this position, and one was the small campus with large university resources," Lang said. "I could tell as soon as I stepped on campus that it was a place I would enjoy working."
Lang earned a bachelor's degree in international business and French from Westminster College and a master's in student affairs in high education from Indiana University of Pennsylvania.
To contact the admissions counselor, call 724-334-6019 or email Casey Lang.
Adam Robinson
As the learning center coordinator, Robinson oversees the campus tutoring program and coordinates services for students with learning disabilities. He provides writing tutoring for all subjects, and meets with students to discuss their academic success and challenges.
Learning support resources, as well as academic advising and career assistance, are under the auspices of the Academic and Career Success Center. All services are free to students.
"We are so fortunate to have Adam join our Success Center team so that we can expand our Learning Center, increase our tutoring services, and continue to strengthen the support that we provide our students on their paths to graduation," said Andrea Adolph, director of academic affairs. "Adam has a rich background and a passion for student development, and he has already brought new ideas to our work in this area."
Prior to coming to the New Kensington campus, Robinson was director of the McCarl Center for Nontraditional Student Success at the University of Pittsburgh (2015-16), and associate director of the Writing Center at the University of Louisville (2010-15).
Similar to Lang, Robinson transitioned from a large campus to a small campus. New Kensington was the perfect outlet for his tutoring zeal.
"Penn State New Kensington provides me with an opportunity to return to the kind of work that I love doing, specifically working one-to-one with students in the context of a tutoring program," Robinson said. "The work is rewarding because good tutoring not only helps students move forward with the immediate projects or problems they are working on, but good tutoring helps students build confidence and develop processes that will aid them with future projects and problems."
In addition to the tutees, the campus' peer tutors are the beneficiary of Robinson's ardor. While the tutors provide an important service to fellow students, in return they receive invaluable help that will serve them when classes end, and the workforce beckons.
"I love training peer tutors," Robinson said. "My new role allows me to help our tutors build communication and teaching skills that will help them in any career."
Learning isn't limited to the students; Robinson enjoys the additional on-the-job training he gets when working with students with learning disabilities.
"I have lots of experience working with students who have learning disabilities, but I have not been in a coordinating role where I've helped students receive accommodations inside and outside of class," Robinson said. "I continue to advocate for students who have learning disabilities. Specifically, I want to make sure that students feel comfortable seeking out my support and services."
Robinson is planning to expand the tutoring program and recruit not only students struggling in class, but students who have a handle on the coursework. He believes all students can improve their study skills and knowledge.
"I hope to see more and more students seek out tutoring to the point that working with a tutor becomes a routine part of their education," Robinson said. "I want students to understand that we have tutors to support them when they are uncertain about coursework material, but I also want students to seek out tutoring even when they feel confident in their abilities. To me, an hour spent with a tutor is a high-quality hour of study time."
The Louisville native holds a bachelor's degree and master's degree in English from the University of Louisville.
"We are excited to see the possibilities for what our Learning Center will look like in the future and how Adam can help to impact student retention and success," Adolph said.
To contact the learning center coordinator, call 724-334-6098 or email Adam Robinson.
Contact
Bill Woodard
Alumni and Public Relations Specialist