Nascent feline experiment renders rodent's shadowy conjecture mundane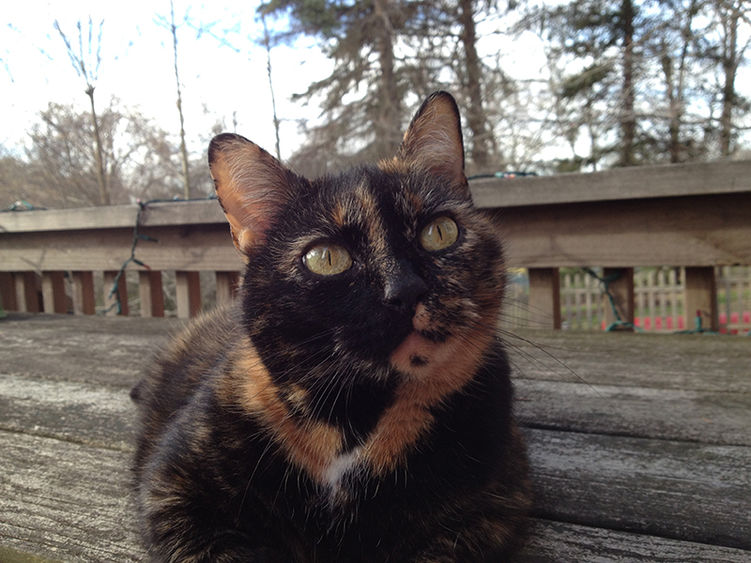 NEW KENSINGTON, Pa. — In today's sophisticated, high-tech world, using a groundhog's prognosticating acumen to predict weather patterns is akin to using an abacus' beads to calculate the Dow Jones Industrial Average.
But with weather information a vital part of everyone's daily routine, Penn State New Kensington biologist and blogger Bill Hamilton suggested a remedy to Punxsutawney Phil's somewhat arcane style — House Cat Mazie.
For the past four years, Hamilton, assistant professor of biology, has been looking at an alternative to the feral woodchuck as the preeminent assessor of the state of the atmosphere, in six-week increments. After considering the pros and cons of birds and bees, Hamilton settled on the domestic grimalkin.
"A cat's inherent love of sunshine and warmth, though, make them a perfect biological agent to help us predict the nearness of the coming warm seasons," Hamilton wrote in his Jan. 19 blog.
Usurping the Groundhog Day date, Hamilton started an experiment on Feb. 2, 2013, with Mazie placed in the middle of Hamilton's yard. If she casually roamed around, it heralded warm weather coming soon. If she immediately bolted for the back door of the house, it was a harbinger of the cold lingering longer.
Early indicators show the feline to be more accurate than the renowned sciurid.
According to Stormfax Weather Almanac, for the past 116 years Phil has correctly ascertained the ensuing weather 39 percent of the time. According to Hamilton, for the past four years Mazie flawlessly deduced the upcoming atmospheric conditions 75 percent of the time.
That's a swing of 36 percent: Who can "auger" with that? True, it is a small sample, but you don't need theoretical physicist Michio Kaku to tell you Mazie is the cat's meow.
"We'll find out on Thursday (Feb. 2) if Mazie's weather predictive abilities continue to prevail," Hamilton wrote. "She will return to the front yard for our fifth experimental trial."
Groundhog Day Update: Cold War Detente
Phil saw his shadow and forecasted six more weeks of winter. Mazie fled to the basement and confirmed the prophecy. The author sighed as it started to snow and put away his golf clubs until St. Patrick's Day.
Ecologist's Notebook
Hamilton's "House Cat Day #5" blog was the eighth installment of his "Signs of Winter" series. The ninth entry, "More Birds," was published Jan. 26.
Hamilton and Deborah Sillman, senior instructor in biology, started a blog site, "Ecologist's Notebook: Reflections on the Natural World of Western Pennsylvania," in 2008. They write and post photos about the birds, insects, mammals and flowers that provide signs for the arrival of the seasons. They report on their observations around their Apollo house and on local nature trails, as well as the campus trail.
The endothermic vertebrates blog previewed the Great Backyard Bird Count weekend, which will be held Feb. 17-20. Assessments of birds by "citizen scientists" from around the world are submitted to identify species and population. Since 1998, residents of more than 130 countries weighed in on the four days of reckoning.
"Last year, 5,689 species were identified, and 18,637,974 birds were counted," Hamilton wrote.
In addition to blogging, they supervise the campus Nature Trail and the Virtual Nature Trail. The nature trail, constructed in 1985 and refurbished in 1999, is a half-mile loop located in the southwest section of our campus. The virtual trail went online in 2002. Both trails serve as environmental education resources for the campus community and local school districts.
To view Hamilton's blogs and to make a comment, visit Ecologist's Notebook
For more about the biologists and campus trails, visit Bill and Deborah
Author's Note: Due to the abundance of statistical data in the article, it is incumbent upon the author to facetiously disclose that 64.7 percent of all statistics are made up on the spot, approximately 39.8 percent of the time, according to nearly 15.2 percent of clinical studies.
Contact
Bill Woodard
Alumni and Public Relations Specialist