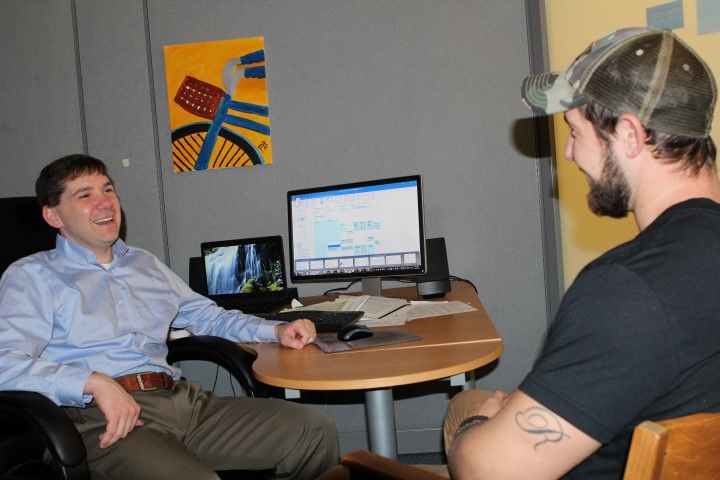 NEW KENSINGTON, Pa. — Sean Bridgen, associate director for academic advising at Penn State New Kensington, is the incoming chair of the Theory, Philosophy, and History of Advising Commission for NACADA: The Global Community for Academic Advising. Bridgen will serve a one-year term beginning in October.
In his role, Bridgen will be responsible for numerous duties, such as planning and chairing the commission's meetings, and working with commission membership to establish goals.
Headquartered in Manhattan, Kansas, NACADA supports quality academic advising in institutions of higher education to enhance the educational development of students. It serves as an advocate for academic advising by providing funding for advising research for more than 10,000 of its members.
"NACADA is a fantastic organization that has helped to advance the scholarship and practice of academic advising at the global level," Bridgen said. "NACADA has also helped me to develop as a professional, and I am excited and honored to have the ability to contribute to the organization in a leadership role."
As associate director, Bridgen advises students who are undecided about academic majors. He helps them to make informed educational choices and teaches them about the logic of the curriculum. Bridgen serves as the primary resource for all aspects of academic advising at the campus, including new student orientation, training, and assessment. He advises Division of Undergraduate Studies and provisional students.
"Penn State has a national reputation for excellence in academic advising," Bridgen said. "My primary role is to help to cultivate and support high-quality academic advising at the New Kensington campus through a variety of means."
Bridgen's department operates under the umbrella of the Academic and Career Success Center. Located on the lower level of the Student Union, the center is a collaboration of three departments — Learning Center, Career Services, and Academic Advising — that work together to help students develop and succeed in their academic and career goals.
After serving as academic adviser and systems analyst at the University of Pittsburgh, Bridgen joined the campus community in 2007 as advising program coordinator. He earned a promotion to associate director in 2014.
Bridgen holds a doctorate in administrative and leadership studies from the Indiana University of Pennsylvania. He earned a bachelor's degree in philosophy from the University of Pittsburgh and a master's degree in student affairs in higher education from Indiana University of Pennsylvania. His research interests are in the advising field.
A consultant for NACADA, Bridgen presented his research, "Using Systems Theory to Understand the Identity of Academic Advising: A Case Study," at the 2015 NACADA National Conference in Las Vegas. He previously received recognition by NACADA in 2010 with the Outstanding Advising Certificate of Merit.
Bridgen, a graduate of Valley High School, and his wife Erin, reside in his hometown of Arnold.
For more information on the center, visit Academic and Career Success Center.
Contact
Bill Woodard
Alumni and Public Relations Specialist