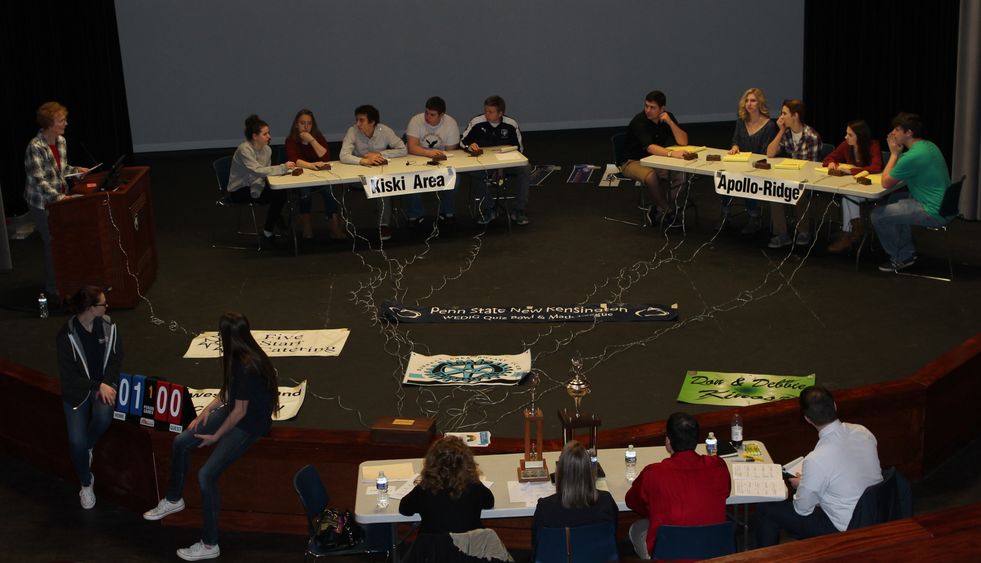 NEW KENSINGTON, Pa. — After an unprecedented four-way tie for first-place, Freeport Area High School relied on superior numbers to capture the 2017 WEDIG Quiz Bowl championship March 9 in the Forum Theatre at Penn State New Kensington.
Freeport, along with three other high schools — Armstrong, Burrell and Franklin Regional — finished the seven-round competition with identical 5-2 records. The tie-breaker was total points accumulated, and Freeport had 50 points or correct answers to nip Franklin Regional by two. Armstrong earned the bronze with 44 points. Burrell, the three-time defending champion, finished fourth with 41 points.
The victorious team featured captain T.J. Pascucci, Andrew Nigra, Jessica Lincoln, Joshua Leonard and Brett Jones. The Quiz Bowl title was the sixth overall for Freeport, which last hoisted the WEDIG trophy in 2010. The Yellow Jackets won the inaugural competition in 1997.
In the junior varsity competition, Armstrong went undefeated, 7-0, to beat back Kiski Area (5-2, 32 points) and Freeport (5-2, 29 points).
The Quiz Bowl was founded as an academic competition among area high schools. In the round-robin, match-play format, teams of five students are asked a series of 20 questions. The first player to buzz in with the correct answer earns a point for the team. The team with the most points in the head-to-head competition wins the match. Match record determines the champion. Points are accumulated during each match, and the total is used as a tiebreaker.
The history of the Quiz Bowl is peppered with mini-dynasties. Freeport won four of five titles from 2006 to 2010, and Kiski Area accomplished the same feat from 2001 to 2005. Burrell won its five titles in the past seven years. Kiski Area is still the standard by which the other schools are measured. The Cavaliers have won the tournament a record nine times.
The event is sponsored by Westmoreland Economic Development Initiative for Growth, better known as WEDIG, and the New Kensington campus. WEDIG is an organization of more than 100 business and government officials who work together to achieve economic growth and global competitiveness through private-public partnerships. Kevin Snider, chancellor of the New Kensington campus, spearheaded the establishment of the group in 2009 to foster quality development in communities throughout the county. Members come from five Alle-Kiski municipalities: Allegheny Township, Arnold, Lower Burrell, New Kensington and Upper Burrell. Snider organized WEDIG into committees that deal with five issues: infrastructure; education and training; quality of life; business and investment; and health, wellness and spirituality. Penn State New Kensington students serve as interns to help each committee.
For more information, call 724-845-8789 or email Kathy Starr.
Contact
Bill Woodard
Alumni and Public Relations Specialist