Officer James Lane makes the sixth safest Pennsylvania campus even safer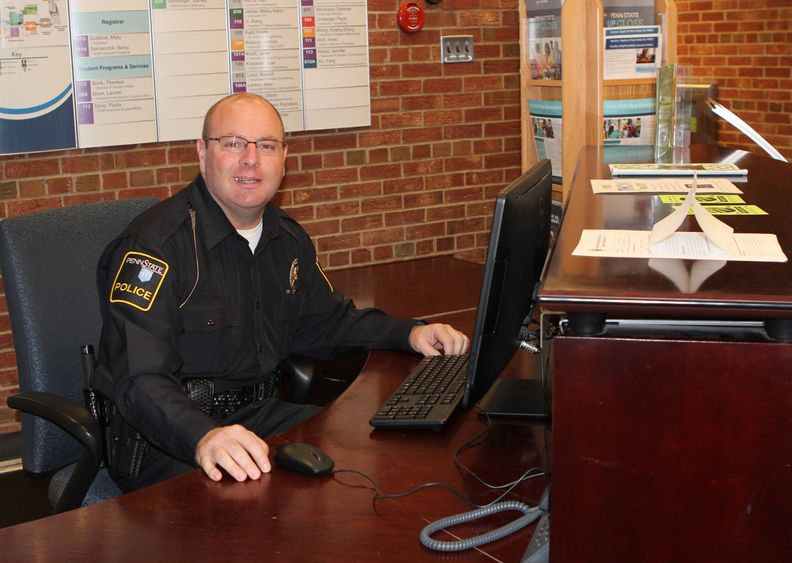 NEW KENSINGTON, Pa. — Already one of the safest campuses in Pennsylvania, Penn State New Kensington added another layer of protection and security in February with the appointment of James Lane as a full-time campus police officer.
Lane, a retired lieutenant from the City of McKeesport Police Department, joins the public safety ranks headed by Wesley Sheets, chief of police and public safety manager for the New Kensington campus and Penn State Fayette. In his position, Lane is responsible for the campus' security staff, investigations of criminal and noncriminal complaints, and enforcing laws, regulations and policies. In addition, Lane serves as the emergency response coordinator for the campus.
"My expectations for this position are to use my skills and knowledge to keep the campus safe for all students, staff, faculty and visitors," said Lane, who received his Police Academy Certification from Indiana University of Pennsylvania.
The North Huntingdon Township resident brings a wealth of experience to the campus. He retired in January after 25 years of service to McKeesport, where he received 18 commendations of valor. In his position, he organized all turn operations, supervised special events, managed 65 officers and enforced policy and procedure.
Penn State New Kensington is one of the safest campuses in the nation — a year ago, New Kensington was named the sixth safest college campus in Pennsylvania by Niche, a company that surveys and reviews colleges nationwide. The campus was ranked 57th nationally.
"We are delighted to have an external validation of what we feel every single day — a safe and comfortable place to learn," said Kevin Snider, chancellor of the campus. "But we also recognize that safety is a continual concern. Officer Lane is a commitment to our continual effort to keep our campus safe. He is the perfect choice for us. He is a seasoned officer who enjoys working with students and sees his role as both being an educator and a protector."
The Safest College Campuses rankings were based on statistical data and student reviews of 1,713 public and private four-year colleges and universities. Using surveys and mandatory annual reports submitted by colleges, Niche compiled a list of seven factors that determined the safest campuses. The factors included student surveys on safety, crime rates, local crime statistics, alcohol-related arrests and drug-related arrests. Also considered were freshmen retention rates and graduation rates.
"Our students, faculty, and staff are here for the right reasons, and their caring and respect for each other have resulted in a campus community with very little crime," Snider said. "We know that we have to keep working to keep our students safe, and that is what we do every day."
Contact
Bill Woodard
Alumni and Public Relations Specialist