Raising awareness about domestic violence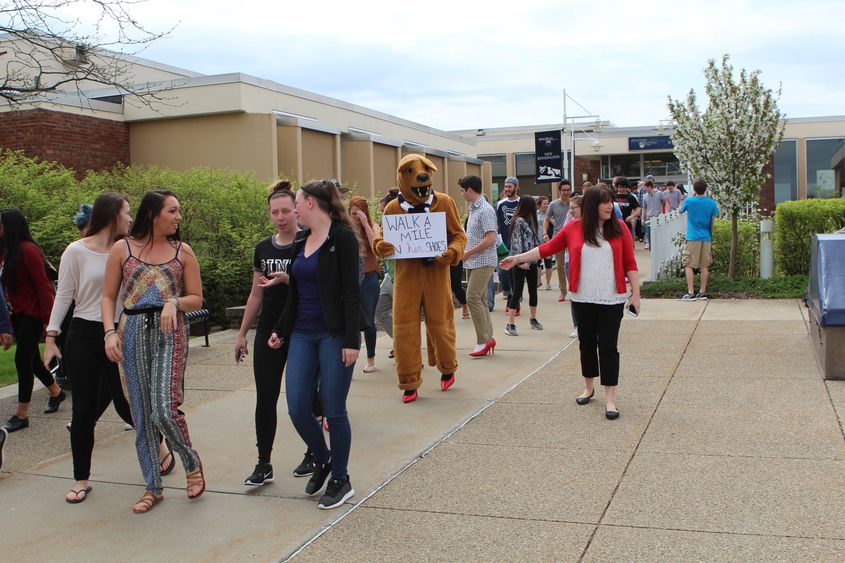 NEW KENSINGTON, Pa. — In honor of the International Men's March to Stop Rape, Sexual Assault and Gender Violence, more than 50 male and female students, faculty and staff at Penn State New Kensington participated in the and the sponsored "Walk a Mile in her Shoes" rally April 19, at the campus.
Men walked in red high heels to raise awareness in the community about the serious causes, effects and remediations to men's sexualized violence against women. The event was co-sponsored by Alle-Kiski Area Hope Center.
Domestic violence is a pattern of abusive behavior by a spouse or partner with the intention to gain control over an intimate person or others residing in the same domestic setting. The victims of the abuse are usually women and sometimes children. Domestic violence occurs when the abuser believes that abuse is acceptable, justified, or unlikely to be reported.
The Hope Center is a nonprofit organization of social change. The center advocates the elimination of domestic violence through intervention, prevention and collaboration. It seeks to change society's behaviors, values, and social institutions that create oppression.
Campus takes on sexual assault with Stand for State
The New Kensington campus continues to combat sexual assaults through the Stand for State initiative. The University-wide effort promotes bystander intervention and its place in preventing sexual and relationship violence. Bystander intervention is based on the fact that people make decisions and continue behaviors based on the reactions they receive from others. The program promotes a sense of responsibility, which gives the bystander motivation to step in and take action.
Contact
Bill Woodard
Alumni and Public Relations Specialist