Former students return to graduate; chancellor confers degree on son; pioneer celebrates 3rd generation of campus graduates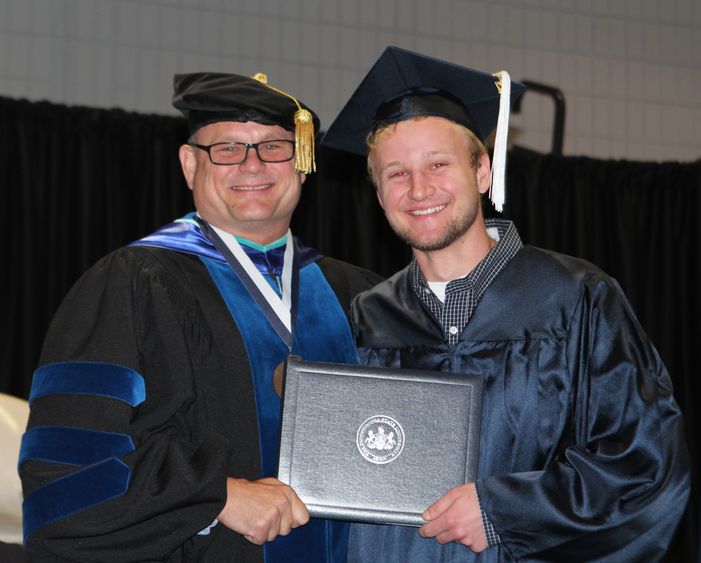 "Commencement ceremonies are the public recognition of your accomplishments and demonstrate the University's pride in your achievement. I don't know what your journey holds in store, but I do know you are leaving with one of the most recognized degrees in the world." -- Chancellor Kevin Snider, Penn State New Kensington
NEW KENSINGTON, Pa. -- Penn State New Kensington Chancellor Kevin Snider often refers to the campus community as "family." The 58th spring commencement exercises May 6 epitomized the truism as five former students returned to the campus to receive their degrees.
"New Kensington feels like home," said Sandra Muhhuku, an international student from Uganda who spent her first two years at New Kensington before moving on to University Park to complete her bachelor's studies. "My parents aren't coming for graduation, so everyone at New Kensington feels like family."
Muhhuku and her fellow returnees were among the 75 candidates who were conferred degrees by Snider. The new graduates represented 18 bachelor's and associate degree programs offered by six Penn State colleges.
Kevin Bode, founder of Knead Community Café in downtown New Kensington, delivered the commencement address, "All We Knead is Love." He prepared the new Penn Staters for life after college, using his example of opening the Knead Café in February. A successful financial manager, Bode embarked on a second career in February when he and his wife, Mary, opened the innovative café, the first "pay-what-you-can" restaurant in western Pennsylvania. Based on a model created by OWEE (One World Everybody Eats), the concept allows patrons of the café to pay what they can afford for a meal or volunteer in the café.
"My wish for all of you today is that you find that career that you truly love," Bode said. "I hope that you are all very successful. But don't stop there. Don't be afraid of hard work." 
Bode beseeched the students to define themselves by more than their careers. He challenged them to challenge themselves, and not to be afraid to take a leap of faith.
"Sometimes through adversity and challenges, we have our biggest opportunity to experience growth," Bode said. "Seek out where you can make a difference by helping your neighbor and ultimately your community. I promise you, there is nothing else like it."
Class of 2017
Snider opened the ceremony with remarks about the magnitude of the graduates' achievements as they join the chronicle of 5,350 graduates from the New Kensington campus that dates from 1960. Commencement is the public recognition of those accomplishments and demonstrates the University's pride in the students' achievements.
"Today your names are added to the list of men and women who have earned degrees from The Pennsylvania State University," Snider said. "The significance of the occasion is not that you are one of many, but that you yourself have achieved a worthy goal."
Eight students were awarded degrees with summa cum laude, magna cum laude or cum laude designations, based on cumulative grade-point averages. The honors group comprised students in the top 12 percent of their graduating class in their college. Of this group, the top two percent graduated summa cum laude (Amanda Mohrbach, business), the next four percent graduated magna cum laude (Nathan Piluso, electro-mechanical engineering technology and Lauren McFall, information sciences and technology), and the final six percent graduated cum laude (Leslie Davis, organizational leadership; Nicholas Iducovich, business; Justin Smith, information sciences and technology; and Elizabeth Legnine and Alicia Carson, psychology). Cords were worn to recognize each classification -- blue and white for summa cum laude; blue for magna cum laude, and white for cum laude.
Two United States service members and veterans -- Jack DelloStritto and Joseph Milinaro (biomedical engineering technology) -- donned military honor cords with their caps and gowns. The red, white and blue cords are reserved for students who have honorably served, are serving or are commissioned to serve in the U.S. military. The military honor cords program was implemented to recognize students' service to their country, as well as their academic achievements.
Vera Spina Greenwald, president of the Penn State New Kensington Alumni Society, inducted the new alumni into the Penn State Alumni Association (PSAA). She urged the graduates to "stay connected to your University and to other Penn Staters." A one-year free membership in the association was the inducement to do so. The PSAA is the largest dues-paying alumni association in the world with more than 176,000 members.
Shannon Josefoski, president of the Student Government Association, spoke to the graduates. Alexander Conte, a freshman engineering major, sang the National Anthem and the Alma Mater.
There's no place like home
Jenna Highfield (advertising and public relations), Claire Fisher and Kylie Kinlough (chemical engineering), Leslie Davis (organizational leadership) and Muhhuku (petroleum and natural gas engineering) started their college careers at the campus before finishing their coursework at University Park or the World Campus. Their decision to return to their original campus for graduation is a testament to the quality of faculty and academic programs at the 700-student campus.
"The New Kensington faculty are amazing," Muhhuku said. "They feel like family and always look out for students, even out of the classroom. I don't have words enough to express how thankful I am for them."
Muhhuku reconnected with the campus because of her experiences inside and outside the classroom. She was a member of the Dean's List and extremely active on campus, serving as president of the Lion Ambassadors, vice president of the Multicultural Club, and as a member of the Campus Activities Board, Creative Writing Club, Jazz Band and THON. Muhhuku was selected as the recipient of the Eric A. and Josephine S. Walker Award, the campus' highest student honor.
"I was so excited to come back," said Muhhuku, whose post-graduation plans include a master's degree in civil engineering. "I missed the faculty and staff."
Muhhuku's parents couldn't make the 7,400-mile journey, but her older sister, Samantha Muhhuku, made the 130-mile journey, one day after earning an electrical and computer engineering technology degree from Penn State Erie, The Behrend Campus. Sandra attended her sister's ceremony.
Samantha preceded Sandra at the New Kensington campus and earned an associate degree in biomedical engineering technology (BET) in 2014. While in high school, Samantha's father helped her research BET programs and determined that the program at New Kensington was one of the best in the United States.
The son also rises
As chancellor for the past nine years, Snider has conferred degrees on more than 1,000 campus students. It always is a privilege, he said, as he has known most of the students personally.
"Awarding a degree to a student I've watched grow over two or four years is an honor," Snider said. "Seeing them celebrate with their families from the sidelines is both humbling and gratifying."
This year, Snider watched one of the graduates grow up for a considerably longer time. In a fortuitous twist of graduation fate, the chancellor had the rare opportunity to confer a degree on his offspring -- his youngest son, Tyler Snider.
"I got to hand a diploma to a young man I've known since the day he was born," said the chancellor, who raised two sons with his wife, Sarah Snider. "I am so incredibly proud of him. It was hard not to be a gushing parent instead of a distinguished granter of degrees at the moment he walked across the stage."
An Allegheny Township resident, Tyler spent his college days in State College, earning a bachelor's degree in psychology from Penn State University Park. He decided to forego graduating with his classmates to attend the commencement ceremony presided over by his father, as a show of appreciation for his parents.
"I came to New Kensington for graduation because of the immense support of my family through my undergraduate career," Tyler said. "Given this support, I thought it symbolic to receive my diploma from the hands of my father."
Tyler will continue his education in graduate school. After a summer position as an intern for University California-San Francisco's Emotional Health and Psychophysiology lab, he will pursue a master's degree in cognitive psychology.
"This was a graduation ceremony I will remember for the rest of my life," said the chancellor, who was in the audience and not on stage when his oldest son, Andrew Snider, graduated from Penn State in 2013 with a software engineering degree from Behrend. He is a software engineer in Chicago.
A Sennett quorum
Penn State alumni in the audience stood as Greenwald inducted the new graduates in the PSAA. However, one alumnus stood out a little more than the others -- John "Jack" Sennett, a member of New Kensington's first class in 1960. Sennett was on-hand to see his grandson and namesake, John "Trey" Sennett III, receive his bachelor's degree in administration of justice. 
Jack's connection to the campus goes back nearly 60 years to the founding of Penn State New Kensington in 1958. He and 78 other engineering students began classes in what was called the New Kensington Center on Fourth Avenue in the city of New Kensington. Jack received an associate degree in mechanical engineering two years later. He went on to earn a bachelor's degree in economics and industrial management from Duquesne University, and a master's in industrial labor relations from St. Francis University.
After retiring as director of industrial engineering at Allegheny Ludlum Steel Corp, Jack remained a vital part of the campus. He was a member of the campus Advisory Board for 12 years and delivered the commencement address to campus graduates in 2008.
Jack heads a family that spans three generations at the New Kensington campus. Susan Sennett Dale, Jack's daughter and Trey's aunt, is the administrative support assistant in the Office of Academic Affairs. All four of Jack and Jean Sennett's offspring hold college degrees.
Dale's daughter, Shelby Dale Noll, and Trey are the latest of Jack's grandchildren to choose the New Kensington campus as the springboard to their careers. Shelby attended the campus for two years before earning an education degree from Carlow University, her mother's alma mater.
"Jean and I are incredibly proud of Shelby and Trey," Jack said. "I am thankful that Penn State New Kensington opened its doors so many years ago and has grown to where it is today."
The commitment to higher education, a hallmark of the Sennett family, goes back even further. Jack's mother and Trey's great-grandmother, Vendla Sennett, earned an education degree in 1927 from Loch Haven State Teachers College. She taught elementary school in the Arnold School District for 35 years. She constantly extolled the value of a college degree. Jack incorporated her ideals into his advice to the campus graduates nine years ago:
"You must be prepared and getting prepared means you must develop a passion for furthering your education so you can beat out your competition.  Learning is a lifelong process, and it never ends. Never ever stop your education process. Continuing your education process and learning will provide you with a competitive edge that will help you through these ever-changing times. As I told my children years ago, giving them an education was the best insurance policy I could ever give them. It will last forever."
It is sound counsel that still resonates today.
Undergraduate curtain comes down
Chancellor Snider concluded the ceremony by telling the graduates that although what lies ahead is unknown, their Penn State degrees will help them pilot their career vessels through the turbulent seas of the "real world."
"The world you will enter tomorrow is scary," Snider said. "The issues facing you can seem daunting, and the future a little uncertain. But I want to you to know you are leaving with one of the most recognized degrees in the world." 
To illustrate the point, the chancellor requested faculty, staff, Penn State alumni, families and friends to stand. The 75 new Penn State alumni were surrounded by 500 supporters.
"Graduates, look at each other, and now look around," Snider said. "Even though you are leaving Penn State, you are not alone. You have a huge network of fellow alumni and colleagues who will help you. Your Penn State degree and your family and friends can hold open the door to a successful career. 
"But remember, you have to turn the key to open it, and you have to walk through it. You have to climb the stairs to success. You have to decide what success means in your life. I don't know what your journey holds in store, but I do know that you are prepared and you are supported." 
The chancellor also had some final words for his son.
"Tyler, your mother and I are so very, very proud of you." Snider said. "You are everything to us. We know you are going to do great things in your life and we are so grateful and hopeful that we will get to see a lot of it. Thank you for making our lives so much richer."
The exercises concluded with Conte, accompanied by the new graduates and alumni, singing the Penn State Alma Mater. A reception for the new Penn Staters and guests followed, as did numerous photos of graduates and their families at the campus' Lion Shrine.
For photos of individual graduates, visit Penn State New Kensington Commencement.
Spring 2017 Graduates
# Summa Cum Laude        ## Magna Cum Laude        ### Cum Laude
BACCALAUREATE DEGREE
COLLEGE OF COMMUNICATIONS - B.A., Advertising and Public Relations: Jenna E. Highfield
COLLEGE OF EARTH AND MINERAL SCIENCES - B.S., Petroleum and Natural Gas Engineering: Sandra N. Muhhuku
COLLEGE OF ENGINEERING - B.S., Chemical Engineering: Claire N. Fisher, Kylie M. Kinlough; B.S., Electro-Mechanical Engineering Technology: Michael A. Dilascio, Patrick T. Fegan, David M. Marullo, Kirk  R. McCardle, Nathan A.  Piluso ##, Lawrence A. Russo, Brian L. Smith
COLLEGE OF HEALTH AND HUMAN DEVELOPMENT - B.S., Kinesiology: James B. Bistline, Jeremy P. Wyles
COLLEGE OF LIBERAL ARTS - B.S., Organizational Leadership: Leslie J. Davis ###; B.S., Psychology: Tyler W. Snider
COLLEGE OF NURSING - B.S., Nursing: Christina M. Chinchock*, Sarah M. Downing, Marcy R. Granata, Cathleen Miller
UNIVERSITY COLLEGE - B.S., Administration of Justice: Stephen C. Bertram, Moregan H. Coleman, Roya M. Fashandi, Matthew M. Morelli *, David A. Sadecky, John E. Sennett III, Kelsey A. Simon, Timothy J. Wakeley *, Jay G. Wu; B.S., Business: Shawna M. Fluhme, Nicholas P. Iducovich ###, Phillip C.  Marra, Amanda N. Mohrbach #, Madison N. Tonarelli, James C. Simpson; B.A., Communications: Jevon Hankins, Danielle A. Richardson, Branna R. Wyant; B.S., Information Sciences and Technology: Benjamin I. Lesko, Jessica E. Logston, Lauren E. McFall ##, Noah M. Serafini, Justin R. Smith ###; B.A., Psychology: Charles J. Biedka, Elizabeth J. Legnine ###; B.S., Psychology: Hannah M. Barnes, William J. Carney, Alicia E. Carson ###, Channing A. Nolan, Jessica L. Vogel, Scout H. Young
ASSOCIATE DEGREES
COLLEGE OF ENGINEERING - Biomedical Engineering Technology: Kenneth P. Boyle*, Jack A. Dellostritto*, Jacob R. Kerlin*, Joseph A. Molinaro Jr.*, Cory R. Norton*, Joshua L. Pilarcik*, Jacob R. Smeresky*, Jacob A. Steffy*, Rostislav F. Tesler*, Cody L. Umbaugh*
UNIVERSITY COLLEGE - Business Admisinstration: Scott R. Moore, Michael D. Walkup; Letters, Arts, and Sciences: Brennan T. Rodden, Maggie M. Brook; Radiological Sciences: Bryan L. Bissell*, Maria E. Cecchi*, Bree A. Dudek*, Courtney L. Edgar*, Hannah R. Fugini*, Madison A. Graham*, Emily J. Hayes*, Alyssa J. Knepshield*, Ashley J. McMullen*, Terri A. Miller*, George F. Mitchell III*, Tori L. Mundy*, Ashleigh N. Piper*, Allison B. Nicklas*, Courtney Schons*
*Intends to fulfill degree requirements during summer 2017
Commencement Address to Class of 2017
"All We Knead Is Love" by Kevin S. Bode
I would to thank this fine institution of Penn State University, Dr. Kevin Snider and especially God for giving me the opportunity to speak with you today. I am very honored but at the same time humbled to be standing here before you.
When Dr. Snider called me to ask if I would be the speaker I looked at the phone with disbelief and asked him if he had the wrong number. Then I asked him who bailed out that you are now calling me.
As I begin my talk today, I would like to give you some background about me that will help you understand the message I hope to convey. In my introduction, you heard that I have been in the financial services business for 30 years all with the same parent company. However, most of those years were spent running an employee benefits company in Pittsburgh. When I was first asked to take over that company, I was so excited that I jumped at the opportunity. I was also so young and inexperienced that I never even asked to see the financials. The first week on the job, our business manager met with me and said we needed to put a plan together to pay back the debt. I guess the look on my face gave away my response of "what debt?"
The good news is we quickly turned things around. Within two years we paid back the debt and started making a profit. Over the next 5 years we became one of the top 10 employee benefits firms in Pittsburgh and we continued to grow year after year. I was enjoying what many people would consider to be a very successful career and I defined myself by my career. Don't get me wrong. I loved my wife and family very much and saw my role as husband and father to be my number one priority. But, my career defined me outside of the home.
About 10 years ago all of that changed. I went on my first mission trip to the Dominican Republic and worked with Haitians in sugar cane villages. The poverty I witnessed in these villages was nothing I could have ever imagined. I fell in love with the people and could not wait to go back every year. Besides having a desire to help the people, I found that the simplicity of life there is very attractive. I also found that while the people certainly appreciated the things we would do to help their physical needs, they even more so appreciated the love we would show them because that love gave them hope. The experiences I have had on those mission trips has changed my life forever.
I share with you this history about me so that you will understand how the Knead Community Café has evolved from a dream into reality.
I had been involved with the YMCA in New Kensington for many years and much of my passion was mentoring teenage youth in that community. A few years ago I found myself traveling between New Kensington and Arnold looking at the rampant poverty in parts of those neighborhoods. After coming back from a mission trip, I kept feeling a calling that I needed to do something more here in my local community. My wife had been joining me for several mission trips and after much discussion and prayer we both agreed that it was time for us to do something.
Almost 3 years ago we put our dream home up for sale, we bought a much smaller home in New Kensington, I stepped down from running the benefits company and we started on our journey. We did not know exactly what we were going do but we knew we were going to do something to make a difference in our community.
About two years ago, after doing much research, we learned about an organization called One World Everybody Eats. A few months later we attended their annual conference to network with other café owners and then set out to visit about a dozen of these cafés around the country working and spending time at them. We took the best of what we saw and learned from the other cafés to implement what we thought would work best in New Kensington. 
One of the core value of community cafes is to serve healthy food, usually in diverse but economically challenged communities and the patrons are asked to pay what they can. The way the model works is that there is a suggested donation for a meal. You can pay that, or if able, anything you pay above that rate, pays it forward to help subsidize a neighbor's meal who cannot afford to pay. If someone has no money, we ask that they volunteer if able, an hour or so at the café in return for their meal. There are only 2 paid employees at our cafe, the cook and the manager and everyone else is a volunteer. We invite those volunteering for a meal to join in the greater café family offering a sense of inclusiveness rather than division.
For more than 6 months, we looked at what seems like every building in downtown New Kensington. Then we finally stumbled upon the Sons of Italy buildings. I say buildings because it's actually three separate structures all connected together. It was way more space than we were looking for but these buildings would help us to expand our mission to be much more than just feeding people and that God would have a plan for us.
While feeding people healthy food in a high poverty area is important, we also wanted to create a beautiful space that would help to spur economic development. In fact, we are now working closely with Dr Snider and Penn State to revitalize the main corridor in New Kensington. But most importantly, we wanted to create a welcoming environment where the patrons could be loved and dignified in a way like they have never experienced before.
Once we purchased the buildings we began our fundraising efforts and we had volunteer days to get the buildings ready for renovations. On our first major volunteer day, we had over 125 volunteers show up and we got the entire building gutted in one day. It was a wonderful show of support from the community. We had many other volunteer days that followed and each time we were amazed at the number of people who would attend. The main section of the café has now been completely renovated and transformed into what looks like a brand new beautiful building in the heart of the business district.
While we had many people who have supported us from the start, there were still many more who thought we had a few screws lose. Many people have admitted to us today that when we would tell them our vision, their response to us would be "that's very nice" but what they were really thinking is "you are crazy."
Very recently an elderly gentleman who was born and raised here and was a very successful businessman in New Kensington called me to meet for lunch. He said to me "Kevin if you would have asked my opinion of your plans for this café two years ago when you were in the planning stages, I would have told you that you have lost all of your marbles. It will never work." Then he went on to say that "What you and Mary have pulled off here is absolutely amazing."
Knead has been opened for two and a half months now. It has been so gratifying to see how excited people get over seeing something brand new in downtown New Kensington. We have already had some great stories of how people are being impacted and I would like to share one of those stories with you now.
When we were in the construction phase, we had a young woman by the name of Nicole reach out to us. She told us she was confined to a wheelchair due to an illness. She is a young widow and she has a young daughter. Suffering from depression, she was having trouble going out into the public. She saw our mission and thought it might be a place where she could feel safe. So, she asked if she could come and volunteer with us but she did not want to get in the way. She said she would not be insulted if we told her we could not put a person in a wheelchair to work in the café. My wife talked with her several times and told her to come, assuring her that we would find a way to put her to work.
Nicole came to the café on Day One and we put her behind the counter taking orders. She came in a couple of days later and then she started coming in every day. We fell in love with her and she quickly became a very important part of our team. Last month, Nicole made an announcement to us that she got up the courage to apply for a job at Lowes as an assistant to a manager. Long story short, she got the job!  She said that if it was not for Knead giving her the opportunity, the love and the support she would have never gotten up the courage to apply for that job. Nicole has become an inspiration to all of us. She has shown us that you can overcome many obstacles when you have the love and support of the people around you.
I made the title of my talk "All We Knead Is Love" because that truly captures what our café is all about. In fact, we have a big sign in our café with this saying on it. I always tell people that the delicious food is just a ruse to get people through the doors. Once people come through those doors, our hope is that they will blend together over a meal and experience an environment of love like no other place that they have ever been.
So why do I tell you all of this?
I want you to know that by far this café has been the hardest thing that Mary and I have ever done in our lives. We have had to make many sacrifices of time and money. We had to step outside the box and do something that most people felt was crazy. It would have been easy to just continue the status quo. For us the norm would have been for me to keep running my company, to just keep sending money to charities, going on mission trips once a year, going to church on Sunday, maybe serve at a soup kitchen once in a while and for me to play golf once or twice a week would not be bad either. Despite how challenging this has been, I will tell you that there has been nothing more fulfilling than serving the people in our community and making a difference in a positive way.
In summarizing my talk today, I hope that you may learn some life lessons from me sharing my story. My wish for all of you today is that you find that career that you truly love. I hope that you are all very successful. But don't stop there. Don't be afraid of hard work.  Sometimes through adversity and challenges, we have our biggest opportunity to experience growth. Don't let yourself be defined solely by your career, others or society. Challenge yourself. Don't be afraid to step outside of the box. Let people think you are crazy. Take a leap of faith. Seek out where you can make a difference by helping your neighbor and ultimately your community. I promise you, there is nothing else like it.
Many years ago a great man once said "Greater love has no one than this, to lay down one's life for his friends."
Once again congratulations to you all and God Bless.
Contact
Bill Woodard
Alumni and Public Relations Specialist