Debbie Hoch and Jim Shields recognized for excellence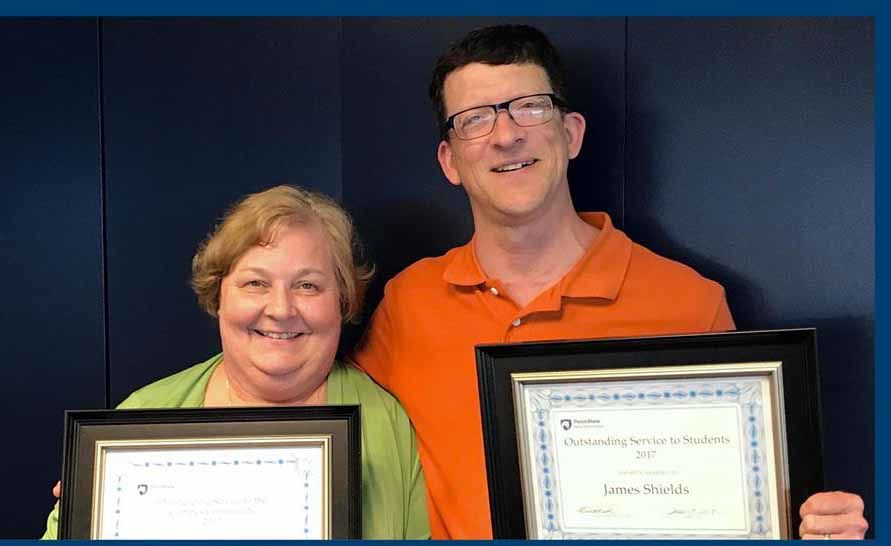 UPPER BURRELL, Pa. — Penn State New Kensington Chancellor Kevin Snider honored two staff members June 13 as the recipients of the campus' outstanding service awards. The awards were developed to recognize campus staff members who have made a valuable impact on the campus, whether through interactions with students or faculty, or through the development of new systems, policies and programs.
Debbie Hoch, administrative support assistant in the business and finance office, collected the Outstanding Service to the Campus Community citation, and Jim Shields, associate director of career services and professional development programs, garnered the Outstanding Service to Students guerdon.
The service-to-campus-community commendation is given to a staff member who demonstrates a pattern of extraordinary dedication and goes above and beyond assigned job responsibilities in an effort to serve the needs of members of the New Kensington campus. The award recipient is honored for providing excellent service in meeting the needs and expectations of members from the campus community, exhibiting a willingness to help others, impacting the campus community when taking action, setting policies or carrying out tasks, improving services that may increase efficiency, demonstrating positive interpersonal relationships that support diversity, and building partnerships with other departments for the sake of improvements.
The service-to-students citation recognizes a staff member who promotes a consistent student-centered environment. Criteria include demonstrating a positive campus experience, furthering academic achievement, helping to make education more accessible and affordable, and contributing toward the development of students both personally and professionally.
The decorated pair shares a common trait — winners of the University-wide "We Are!" awards. "We Are" is a Penn State initiative that provides students, faculty and staff with a platform to give acclamation to fellow Penn Staters for work that goes above and beyond their job duties or responsibilities. Hoch (October 2016) and Shields (March 2016) were nominated by campus colleagues for personifying Penn State's commitment of service to the community.
Debbie Hoch
Hoch joined the campus community in 2003 as a staff assistant in the student life office. She moved to her current job five years later. In her position, she takes on a variety of roles, including bursar, handling tuition payments, and assisting students and families with various tuition-related questions. In addition, Hoch supports other departments while managing accounts receivable and wage payroll. She said the most satisfying part of her job is working with students.
A native of Gilpin Township, Hoch earned a bachelor's degree in education from Indiana University of Pennsylvania. She started as a teacher at Our Lady of the Most Blessed Sacrament School, teaching fourth-, fifth- and sixth-grade math before putting her career on hold to stay home with her children. When she was ready to return to the workforce, a new career awaited at the New Kensington campus.
"Debbie continues to be a valued member of the business and finance team," said Jason Bush, director of business and finance. "Her diligence in her position greatly contributes to the success of the department. She is very compassionate about her work and interactions with the students."
Jim Shields
Shields, who has been at the campus since 1999, earned the award for the second time. He was the inaugural recipient in 2015.
Shields received a bachelor's degree from Bucknell University and a master's degree in student affairs in higher education from Indiana University of Pennsylvania. In his position, he is responsible for career planning, education, and job search support services for students and alumni of Penn State. He works with students and employers on internships and job fairs.
One of the campus events Shields helped develop is the annual Alle-Kiski Job Fair in October. Co-sponsored by Pennsylvania CareerLink of Alle-Kiski, the fair features more than 60 recruiters who provide career options for those beginning a career or seeking a change in vocation. Last year, nearly 600 prospective employees attended the event, which featured full- and part-time employment, internships and co-op opportunities with employers in the local region.
Another Shields-inspired event that brings employers to campus is Career Day at the annual Research and Creative Exposition. Career Day complements the expo, which provides students the opportunity to present their research in a public setting. At the April expo, representatives from over 30 companies discussed career options, internships and job opportunities for current students and recent graduates. Shields also is the contact for off-campus job fairs, such as Penn State Career Days, Western Pennsylvania Career Services (WestPACS) Association and Westmoreland Assists Native Talent (WANT).
In addition to job fairs, Shields oversees the campus' GREAT (Growing Regional Excellence through Experience, Academics and Training) program. GREAT matches promising engineering and IST students with local internship opportunities.
"Jim is a professional and his experience in career planning and professional development is well known by his Penn State colleagues and peers in the career services profession," said Theresa Bonk, director of student affairs. "He continues to find innovative ways to develop interpersonal communication skills in our students through his implementation and development of stellar leadership programs and networking events held both on campus and in Pittsburgh."
Contact
Bill Woodard
Alumni and Public Relations Specialist