Poet Denny Kolakowski and artist Bruce Pipman's "Story Songs"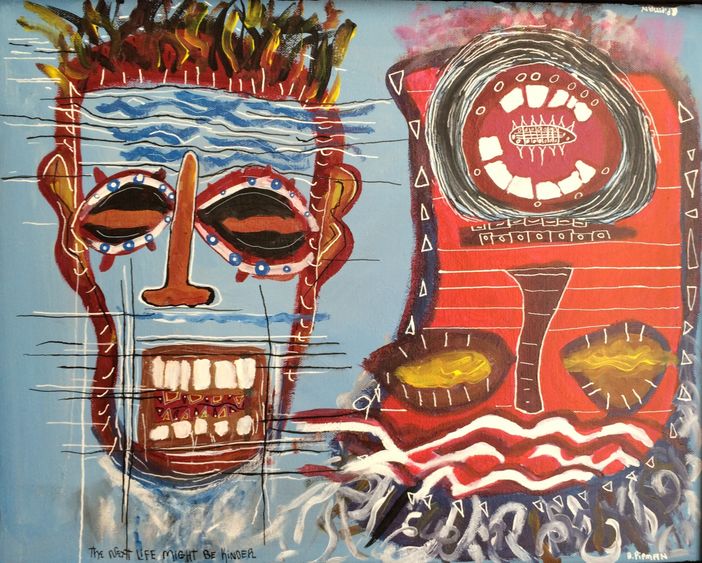 UPPER BURRELL, Pa. — Writer Denny Kolakowski provides an ekphrasis on the whimsical creations of artist Bruce Pipman for the new exhibit at the Penn State New Kensington Art Gallery. The two-man show, "Story Songs," runs from July 1 to 28.
Using vivid and dramatic words to reflect on a work of art is an ancient form of commentary that dates back to at least Homer's "Iliad." Kolakowski's recent poetry features many of Pipman's paintings, including "The Next Life Might Be Kinder," that appeared in Oddball Magazine.
Kolakowski's work has been published by a variety of media outlets, including Scarlet Leaf Review, Poetry Pacific, Summerset Review, Visitant, The Oddville Press, Indiana Voice Journal, and Zombie Logic Review.
A Penn State alumnus with a degree in mechanical engineering, Kolakowski writes short stories and essays, as well as screenplays. He is a member of the Pennsylvania Outdoor Writers Association.
Kolakowski wrote in his artist's statement: "Assume nothing, consider everything, stand back and look close. When I remember, it's always worthwhile and sometimes makes it to the page."
Pipman also blends words with his images. His art reflects the emotions of desire, romance and love. Pipman exhibited previously at the campus in 2013, 2014 and 2015.
The New Kensington resident holds a bachelor's degree in sociology from Kent State University. He worked as a consultant and recruiter in the technology and engineering fields with various companies in the region before retiring and devoting his time to painting.
The artist has ties to Penn State. His wife, Millie, was an adjunct professor of English at the campus, and their sons are Penn State graduates.
A reception for the artists is set for 6 p.m. Friday, July 7, in the gallery. The reception and exhibit are free to the public. The gallery is open 8 a.m. to 8 p.m. weekdays and noon to 5 p.m. weekends. It will be closed on Independence Day, Tuesday, July 4.
For more information, call 724-334-6056 or email Tina Sluss, director of the art gallery.
Contact
Bill Woodard
Alumni and Public Relations Specialist