Petroglyphics: Stories from the Earth to appear Oct. 1-31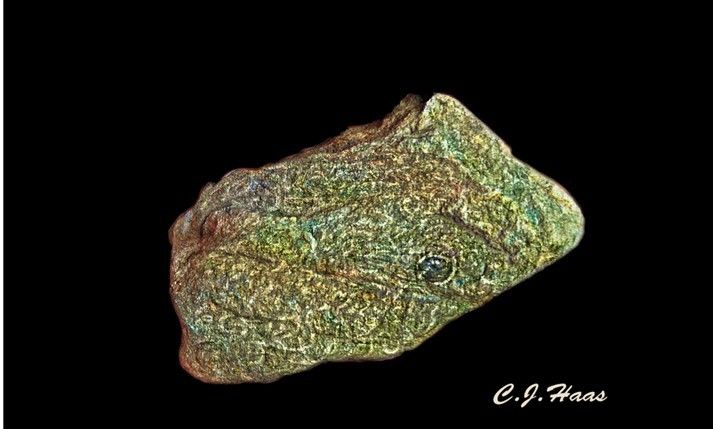 NEW KENSINGTON, Pa. - Artist Carolyn Haas will showcase her upcoming art exhibition, "Petroglyphics: Stories from the Earth," featuring her art collection unveiling a hidden world within rocks, at Penn State New Kensington's Art Gallery. The free exhibition will run Oct. 1-31.
The exhibition invites visitors to embark on a unique artistic journey that uncovers captivating stories and intricate patterns hidden within rocks. Over the past few years, Haas began creek walking, accompanied by her dog, collecting stones and capturing their essence through her lens. What emerged were mesmerizing digital images that reveal unexpected shapes and motifs, ranging from animals to symbols. Her keen eye and creative process involve digitally enhancing these images to reveal the hidden narratives in the earth's canvas.
The Pittsburgh-based artist began her artistic journey in her twenties, transitioning from oil and acrylic paints to discovering her affinity for colored pencils. Her current focus is transforming rocks into art, leveraging digital photography and techniques to reveal patterns and images, reminiscent of ancient petroglyphs, which she then prints on metal. To learn more about Petroglyphics Art, visit the project's website and online portfolio.
The New Kensington gallery is open Monday through Friday from 8 a.m. - 5 p.m. and Saturday and Sunday from noon until 5 p.m. Please note that the gallery is also used as a multi-purpose space on campus, so classes, activities or other events may be scheduled in the space from time to time. It is recommended that you call Tina Booth, Art Gallery coordinator, at 724-334-6056 before your visit to make sure the gallery is open.
The campus gallery features multimedia works of local, regional, national and international artists. For more information about the gallery and how to become a future exhibitor, contact Booth. More information can also be viewed on the Art Gallery webpage.