Retirees turn the page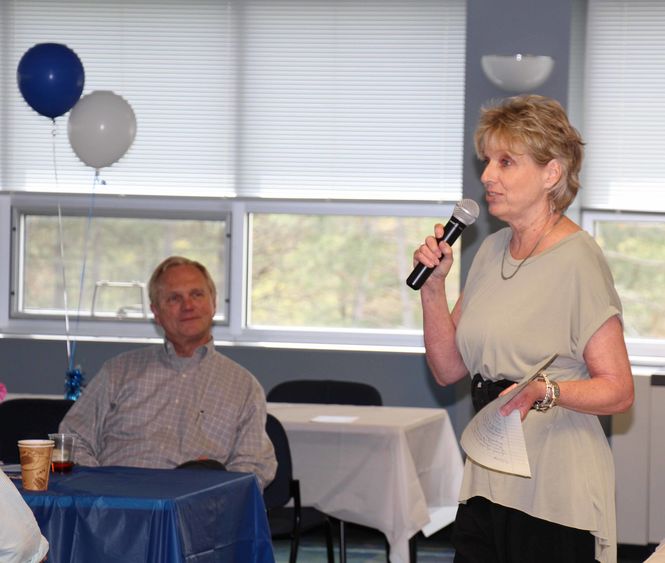 "Thanks for the memory, of Atherton awards, technology that soars, mathematics education and scholarships galore, how lovely it was."
"Thanks for the memory, Lion Ambassadors, the golf team's winning scores, and nature trails, recruiting tales, 'We Ares' and so much more, how lovely it was."
(Apologies to Bob Hope and Shirley Ross, who performed "Thanks for the Memory" in the movie "Big Broadcast of 1938" — song starts at 0:40 of this YouTube clip.)
UPPER BURRELL, Pa. — With accomplishments celebrated, mishaps exaggerated and rebuttals tolerated, the Penn State New Kensington community congregated in the campus Conference Center April 28, and venerated six longtime faculty and staff before they migrated from Penn State. Yeah, go ahead and call it a retirement party.
The newly-minted retirees were: Patricia Brady, director of enrollment management; Nancy Burns, staff assistant VI in the Office of Enrollment Management; William Hamilton, assistant professor of biology; Robert "Doc" Mueller, associate professor of engineering; Kwang-Shang Wang, assistant professor of mathematics; and William Woodard, public relations specialist. They leave the campus June 30 to head off for new sunrises.
"This year we are losing many of the people who have been the heart and soul of Penn State New Kensington," said Kevin Snider, chancellor of the campus. "Over 170 years of experience and institutional knowledge is walking out the door and into retirement. They will be hard to replace."
The seasoned employees' terms at the campus ran the gamut. Brady held service the longest with 38 years, which included 12 years as an adjunct instructor. Woodard had the shortest rally at 17 years. At the net were Hamilton, 34 years; Burns, 27; Wang, 22; and Mueller, 19.
"Losing so many of the personalities that have been such a large part of Penn State New Kensington will also take a lot of getting used to," Snider said. "These professionals built up a lot of friendships over the years, and it will be strange not to see them around every day. But they all have given this campus a lot, and we wish them the best as they head into the next adventure in their lives."
Patty Brady
Brady sandwiched 12 years of teaching English in between two stints in the Admissions office as counselor (1979-88) and director (2000-17). In her final position, she was responsible for recruitment, marketing and financial aid initiatives, as well as management of the day-to-day operations of the admissions office. Although recruiting encompasses a variety of students — traditional (18-24 years old), adult, international, transfer and dual enrollment — Brady was fond of assisting adult learners with the college process. She has served under six of the campus' eight chancellors. The Leechburg, Pennsylvania, resident earned a master's degree in English and a bachelor's degree in education/communications from Clarion University.
Nancy Burns
A graduate of Youngstown College of Business and Professional Drafting, Burns joined the campus community in 1988. She provided support for the enrollment management staff, which includes admissions and financial aid. The Lower Burrell resident worked closely with the financial aid coordinator on the scholarship process. In addition, Burns served as the liaison for the campus' nursing program and the Citizens School of Nursing. Burns was recognized for her work in 2015 when she was selected as a "We Are!" recipient. The We Are program is a University-wide initiative that provides students, faculty and staff with a platform to give kudos to fellow Penn Staters for work that goes above and beyond their job duties or responsibilities.
Bill Hamilton
Hamilton joined the New Kensington faculty in 1983 after earning an undergraduate degree at Texas Tech University, a master's in forest ecology at Ohio State, and a doctorate in soil ecology from the State University of New York College of Environmental Science and Forestry at Syracuse University. He taught a broad range of biology courses, including principles of biology, population biology and ecology, cell and molecular biology, anatomy, and physiology. His research agenda focused on the historical ecology of western Pennsylvania. He was the co-coordinator of the campus' International Travel and Honors programs. Hamilton was recognized by the campus and University for the quality of his pedagogy. He was the recipient of the campus' Excellence in Teaching Award in 1996, the Commonwealth College's Excellence in Academic Integration Award in 2002, and Penn State's George W. Atherton Award for Excellence in Teaching in 2003. In addition, Hamilton, along with his colleague and wife, Deborah Sillman, senior instructor in biology, supervise the campus nature trail and the online virtual trail. Hamilton also writes about the birds, insects, mammals and flowers that herald the arrival of the seasons on his blog site, "Ecologist's Notebook: Reflections on the Natural World of Western Pennsylvania."
Doc Mueller
A member of the engineering faculty since 1998, Mueller taught upper-level courses in electro-mechanical engineering and lower-level courses in computer engineering technology. He holds a doctorate in electrical engineering from the University of Pittsburgh and a bachelor's degree from Wichita State University in Kansas. Prior to teaching, Mueller spent more than 30 years in the private industry working with industrial control systems. A registered professional engineer in Pennsylvania, he is a consultant regarding industrial automation and serves as an expert witness in product liability and wrongful-death lawsuits. He served for 21 years in the military and retired as a colonel from the U.S. Army Corps of Engineers. In 2013, Mueller and his wife, Linda, established the Doc and Linda Mueller Trustee Scholarship at the campus. The $50,000 endowment is a need-based scholarship with first preference given to students in the four-year Electro-Mechanical Engineering Technology (EMET) program. In addition to his academic responsibilities and philanthropic generosity, Mueller co-chaired the campus' Faculty/Staff Campaign for the University's $2 billion fundraising effort, "For the Future: The Campaign for Penn State Students."
Kwang-Shang Wang
Born in Taipei Taiwan, China, Wang joined the campus faculty in 1985, after earning his doctorate in mathematics from the University of Arizona. Besides mathematical research, his interests include mathematical education in the computer age and culture-exchange programs between the United States and China. He taught numerous math courses, including pre-calculus, vector calculus, calculus sequence and differential equations. His students nominated him several times for the campus' annual Excellence in Teaching award. Wang is the author of numerous articles and a book, written in Chinese and published in Beijing.
Bill Woodard
Woodard arrived on campus in 2000 and was responsible for disseminating news and working with the Penn State New Kensington Alumni Society. He also was the head coach of the men's and women's golf team. Prior to coming to New Kensington, Woodard worked for 16 years at the University of Baltimore where he served in various positions — assistant athletic director, sports information director, assistant director of public information, tennis coach, cross-country coach and assistant soccer coach. Woodard earned his bachelor's degree in English from the University of Maryland, Baltimore County (UMBC), where he was a two-year captain of the Retrievers soccer team.
Contact
Bill Woodard
Alumni and Public Relations Specialist