Rhonda Schuldt ready to help aspiring entrepreneurs, innovators and local community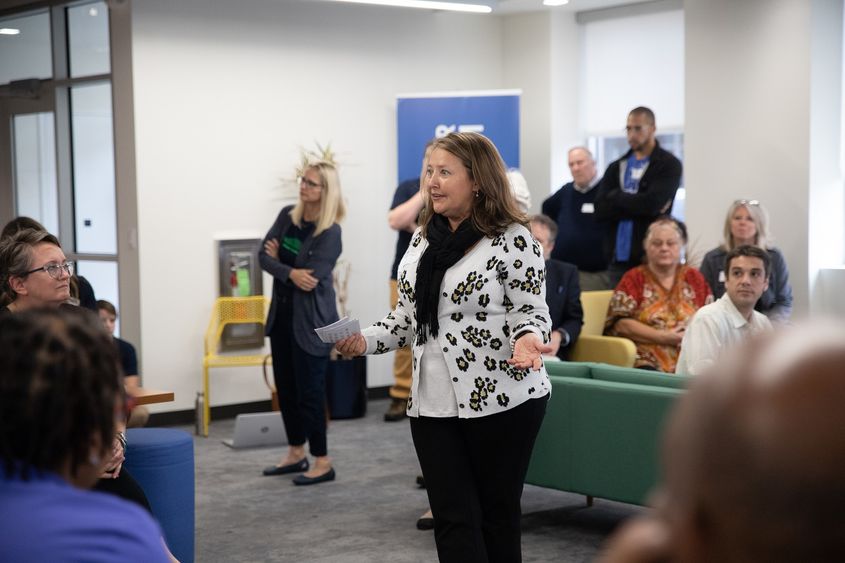 NEW KENSINGTON, Pa. — Innovation, entrepreneurship and community engagement have been pillars of Rhonda Schuldt's expansive career and experiences. Now, Schuldt joins Penn State New Kensington as innovation coordinator in the campus innovation hub, The Corner, located in downtown New Kensington.
"I love that The Corner is not just a facility or a series of programs to support innovation and entrepreneurship," said Schuldt. "It's bigger than that. It represents a commitment among a number of partners to put a stake in the ground for students, small businesses and the community that says 'we believe.'"
The Corner, located at 701 Fifth Ave. in New Kensington and one of 21 Invent Penn State hubs across Pennsylvania, opened its doors in December 2017. In addition to providing signature LaunchBox programming, the space also serves as a location for area entrepreneurs via a membership-based system through Pittsburgh's Beauty Shoppe. In addition, The Corner, under the leadership of Penn State New Kensington Chancellor Kevin Snider, has become a foundation in the revitalization of New Kensington.
"It's an anchor in a community that is reinventing itself and is harnessing the resources of Penn State, the commitment of Penn State New Kensington, the strength and experience of key partners in Westmoreland County, and the greater Pittsburgh region to bring resources, expertise and support to those who want to embrace innovation and the entrepreneurial spirit," said Schuldt.
While The Corner's mission is founded upon connecting students and community members with resources to strengthen ideas and businesses, Schuldt believes it is so much more.
Schuldt, who holds a master of business administration from the University of Missouri-Kansas City and a bachelor of science in business administration from the University of Missouri-Columbia, explained, "In its walls there is a village. A village comprised of small businesses, startups, coaches, mentors, connections … all sparking an energy that helps fuel the development of a community full of opportunity."
The Corner, however, isn't just for those wanting to start a business venture.
The Corner, under the leadership of Penn State New Kensington's chancellor Kevin Snider, has become a foundation in the revitalization of New Kensington.
"For both students and the community, whether interested in starting a business or not, The Corner is a place to gain an understanding of an entrepreneurial mindset, the power of innovation, and how these can be applied in almost any organization or initiative to drive positive change and impact," Schuldt said.
Because of this, Schuldt is ready to set out on a list of goals she has set for herself and The Corner. They include continuing to help the hub and Penn State New Kensington be vibrant partners in the community; helping the campus fulfill its commitment of building a workforce for tomorrow; being a resource and partner for campus faculty to connect classes and students with experiences that will make them valuable and competitive in the next industrial revolution (Industry 4.0); helping students, faculty, small businesses and others connect to resources and programs; and leveraging the resources of the University and its partners to help strengthen the ongoing revitalization efforts of New Kensington so that the community can thrive in the future.
"We want students and the community to get to know us and for us to get to know them, so that we can provide resources, experiences, connections and support that can help them achieve their goals," said Schuldt. "Without them, The Corner is just a space, but with them, it's a place, a 'Corner'stone, if you will, of possibilities and opportunities."
Members of Penn State New Kensington and the local community are invited to meet or speak with Schuldt to learn more about The Corner, programming and workshops, as well as resources available to them through the University and Invent Penn State. She holds office hours at The Corner weekly, but encourages those interested to schedule a visit with her. She can be reached by email at [email protected] or phone at 412-551-4408. For more information about The Corner, visit newkensington.psu.edu/launchbox and thecorner.place.