Mary Dubbink's selection expands campus honorees to 13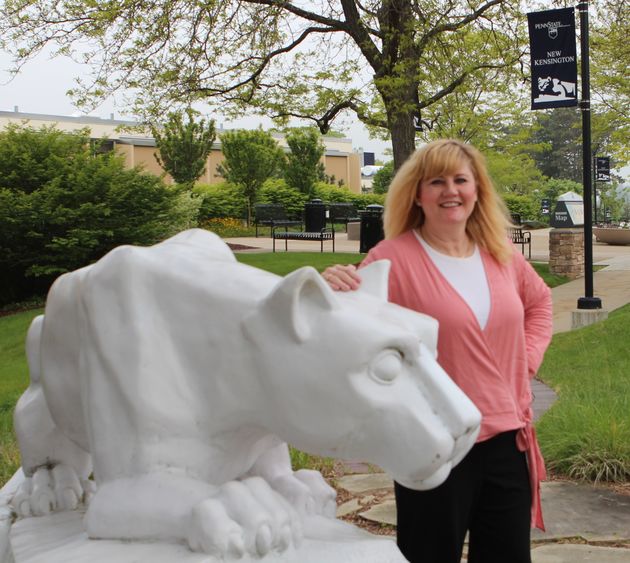 UPPER BURRELL, Pa. -- For people with triskaidekaphobia, there is a jinx in the number 13. For people of Italy, there is fortune in the number 13. For staff at Penn State New Kensington, there is honor in the number 13.
Mary Dubbink, campus registrar, was recognized May 6 with the "We Are!" epithet. She is the 13th recipient from the campus to be guerdoned with the University-wide moniker.
"We Are!," a weekly feature of the daily email publication Penn State Today, is a University-wide initiative that was launched last year to provide students, faculty and staff with a platform to give kudos to fellow Penn Staters for work that goes above and beyond their job duties or responsibilities.
Dubbink's nominator wrote: "Mary is the campus registrar at Penn State New Kensington, and she has been amazing in her adaptability to all the system changes that have come her way. She is able to consistently troubleshoot in new areas, and she is a leader on campus as we meet all the newness with a positive outlook."
A native of Allen Park, Michigan, Dubbink earned a bachelor's degree in business administration from Central Michigan University. She joined the campus community in 2005 as staff assistant in Academic Affairs, under Arlene Hall, director emeritus. She was named registrar in 2008. In her position, she works with Andrea Adolph, director of academic affairs, and faculty in planning class schedules. In addition, she assists students with all aspects of scheduling, as well as academic petitions. The most satisfying part of her job is working with students.
"I love to help students, and since we are smaller than other campuses, I can give individual attention to students," Dubbink said. "Many students need a little extra attention, or they get lost in the crowd. I love seeing students who have been struggling at other universities or larger Penn State campuses, find a home at Penn State New Kensington. Once they get help, they begin to turn the academics around, and it's great to see how well they do."
Dubbink joins the chronicle of New Kensington campus staff who have received the honor over the past 16 months. Nancy Miller, co-director of continuing education, started the "We Are!" onslaught in February 2015. She retired a year later. Miller was followed by Corinne Coulson, enrollment specialist; Kevin Churik, information technology generalist; Jennifer Marino, assistant director for financial aid; Danielle DeStefano, assistant director of enrollment management; Susan Dale, administrative support assistant in the Office of Academic Affairs; Nancy Burns, staff assistant VI for the Office of Enrollment Management; Karen Harlan, multimedia specialist; Lauren Blum, assistant to the director of student affairs; Diana Hill, administrative support assistant; Jim Shields, career services coordinator; and Candee Christy, administrative support assistant for Chancellor Kevin Snider. All were nominated by campus colleagues or students for personifying Penn State's commitment of service to the community.
Snider praised the recipients for shining the Penn State spotlight on New Kensington. He encouraged the campus community to recommend other colleagues for the honor.
"The word is getting out about what a great campus and community we are," Snider said. "It's a great way to continue to get our fantastic community recognized outside the campus."
A "We Are!" candidate could be a staff member taking extra steps to make sure a project is completed, a student organizing a charitable event, an administrator doing something special for employees, or a faculty member taking additional time to advise students.
To nominate a "We Are!" candidate from the campus community, visit http://news.psu.edu/WeAre.
To view "We Are!" stories, visit http://news.psu.edu/story/359184/2015/06/01/we-are-thankful-these-penn-staters.
Contact
Bill Woodard
Alumni and Public Relations Specialist