Warrior award honors superior job performance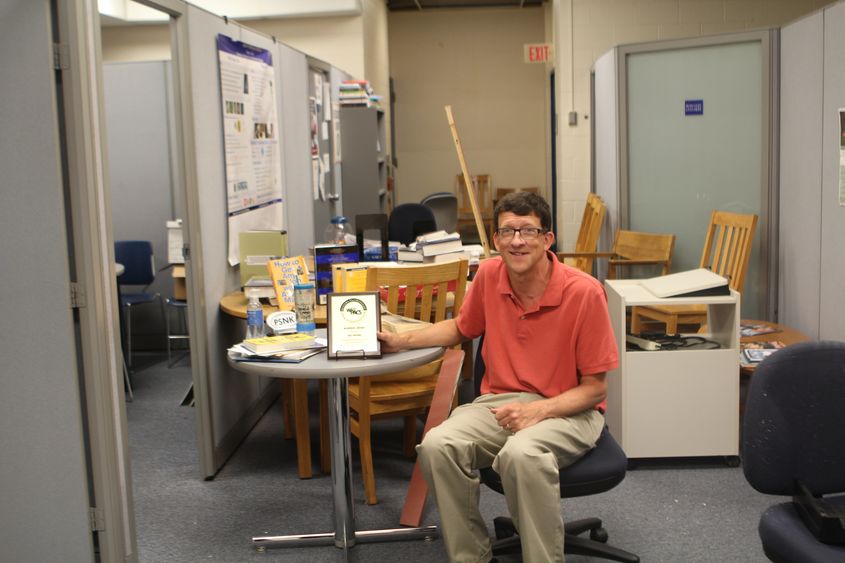 NEW KENSINGTON, Pa. -- The next capital project at Penn State New Kensington should be the construction of an "awards" wing for the office of Jim Shields in the Academic and Career Success Center. (The timing couldn't be more serendipitous since the center is undergoing restoration after a ceiling water pipe broke in July and doused offices, equipment and the adjacent Penn State bookstore.)
Shields, career services coordinator, picked up another accolade in May when he was given the Warrior Award by the Western Pennsylvania Career Services Association (WestPACS). It was the third time in the past 14 months that Shields has been recognized for the quality of his work. Previously, he was selected in May 2015 as the inaugural winner of the campus' Outstanding Service to Students award and in January as a recipient of a Penn State's "We Are" certificate.
"Jim is an amazingly experienced professional, and we are so very lucky to have on our team," said Theresa Bonk, director of student affairs. "He provides one of the most comprehensive career services departments among the Penn State campuses, and has mentored countless new professionals and graduate student interns in the field of career planning and professional development. A well-deserved award."
The Warrior award recognized Shields' dedication and service to WestPACS, a consortium of 46 colleges and universities in western Pennsylvania and eastern Ohio. Shields has served on the WestPACS executive board for 14 years as president, vice president, student marketing chair and evaluations chair.
A nonprofit group, WestPACS is an association of career development professionals who organize two annual job fairs in the spring and fall for the students and alumni of member institutions. The events are the largest collegiate job and internship fairs in the region.
Shields, who has been at the campus since 1999, received a bachelor's degree from Bucknell University and a master's degree in student affairs in higher education from Indiana University of Pennsylvania. In his position, he is responsible for career planning, education, and job search support services for students and alumni of Penn State. He works with students and employers on internships and job fairs.
One of the campus events Shields helped develop is the annual Alle-Kiski Job Fair in October. Sponsored by Pennsylvania CareerLink of Alle-Kiski and the New Kensington campus, the fair is free to Penn State students and alumni, as well as the public. More than 60 recruiters are available to provide career options for those beginning a career or seeking a change in vocation. Last year, nearly 600 prospective employees attended the event, which featured full- and part-time employment, internships and co-op opportunities with employers in the local region. The next Alle-Kiski job fair is set from 10 a.m. to 2 p.m., Thursday, Oct. 6, in the campus Athletics Center.
Another Shields-inspired event that brings employers to campus is Career Day at the annual Research and Creative Exposition. Career Day complements the expo, which provides students the opportunity to present their research in a public setting, by creating new opportunities for the students and faculty to build stronger contacts with local industries. At the April expo, representatives from over 30 companies discussed career options, internships and job opportunities for current students and recent graduates.
Shields also is the contact for off-campus job fairs, such as Penn State Career Days and Westmoreland Assists Native Talent (WANT). Career days bring more than 400 national and regional employers to Penn State University Park for recruiting of all technical and nontechnical majors. The fall 2016 event is set from 11 a.m. to 4 p.m. Tuesday, Wednesday and Thursday, Sept. 13, 14 and 15, in the Bryce Jordan Center. The WANT expo links the region's students and graduates with employers and careers in Westmoreland and surrounding counties. WANT is usually held in February in Greensburg.
In addition to job fairs, Shields oversees the campus' GREAT (Growing Regional Excellence through Experience, Academics and Training) program and the Professional Etiquette Dinner. GREAT matches promising engineering and IST students with local internship opportunities. The etiquette dinner is designed as a workshop on proper business dinner etiquette and on best practices for networking and handling of awkward social situations. The dinner is held in the spring.
For information on job fairs or GREAT program, contact Shields at 724-334-6065 05, [email protected]
For information on resources for campus students and Penn State alumni, visit http://newkensington.psu.edu/career-services
Contact
Bill Woodard
Alumni and Public Relations Specialist