Funding to help create high school STEM program for underrepresented students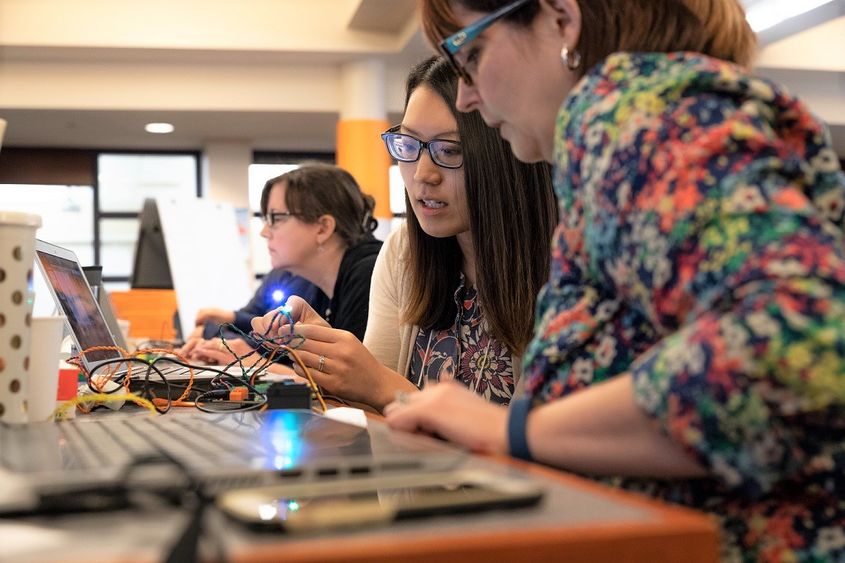 NEW KENSINGTON, Pa. — Penn State New Kensington has been awarded a $25,000 grant from the Arconic Foundation to create a new, out-of-classroom STEM (Science, Technology, Engineering, Math) program specifically for local high school students. The program will be developed in partnership between the campus' digital innovation lab, the Digital Foundry at New Kensington, and its K-12 collaborative, ABC CREATE.
"STEM education and skill sets not only prepare people to fill current and future talent demands in many fields, but are also considered vital to economic health," said Sherri McCleary, executive director of the Digital Foundry. "While we will emphasize opportunities in STEM fields, we will also help participants hone essential skills like communication, collaboration, problem-solving and personal branding, and we will partner with Arconic and other local business and industry to expand understanding of opportunities and pathways in STEM fields."
The New Kensington campus was one of 21 chosen awardees in the most recent grant process. Nonprofit partnerships are selected based on Arconic Foundation's funding priorities and local needs. Arconic Foundation invests in programs that: create skill-building learning experiences, specifically within STEM; protect the world around us and ensure a sustainable future; help build a more equitable society that reflects the diversity of all people; and help people meet their basic needs, including food security, shelter and health.
"Arconic Foundation is building on our long history of partnership in the region, working with both new and past nonprofit partners," said Diana Toman, Arconic Foundation president and executive vice president and chief legal officer of Arconic. "We are grateful for the opportunity to support and work with these organizations that share our values, demonstrate a deep commitment to the community, and show innovation in their approaches to improving the lives of those they serve."
The goal of the new program will be to address educational challenges and opportunities created by Industry 4.0, a term used by manufacturing experts marking the shift in industry caused by digital transformation, and to continue the campus' regional projects and initiatives related to strengthening future-ready skill sets in students, the workforce and Rust Belt communities.
"Any time that we can provide opportunities to build upon what students experience in the classroom, we are strengthening opportunities for them to further explore and to advance their learning," explained Colleen Smith, STEAM outreach coordinator at the New Kensington campus and ABC CREATE coordinator. "Industry professionals will bring real-world experiences and current-use cases to share with both the students and educators involved. Students will be encouraged to approach their learning with agency and curiosity, and educators will be granted insider views bridging the gaps between classrooms and workplaces."
The proposed program will have a particular focus on students in grades nine-12 from underrepresented populations and plans to bridge their classroom learning experiences to those in the real world through relevant STEAM experiences and through connections to industry networks and future opportunities. The fall semester will be devoted to planning, developing and designing logistical elements and pedagogical strategies, as well as recruiting students with the assistance of local school districts and organizations. In the spring semester, students will come together on a monthly basis to engage in STEM activities, industry mentorship and professional career exploration and development. The culminating program activity will be a week-long summer camp experience held at the newly built Digital Foundry at New Kensington in early summer 2022.
"By working with the Digital Foundry and its employer sponsors and partners, we will be able to magnify the impact we have on the high school students who participate," continued Smith. "Penn State New Kensington and ABC CREATE bring the understanding of teaching and learning, and the Digital Foundry adds the real-world use cases for the learning. Additionally, interacting with industry professionals will help the high school students gain insights, not only on a variety of potential STEAM careers, but also on the many pathways available to enter those careers."
About the Digital Foundry at New Kensington
The Digital Foundry at New Kensington, currently being constructed along Fifth Avenue in New Kensington, Pennsylvania, will be a 15,044-square-foot innovation and manufacturing lab space aimed at building future-ready awareness and skill sets for the manufacturing industry, K-16 education sector, current and future workforce and community members in Southwestern PA. The lab received $5.5 million in funding from the Richard King Mellon Foundation, as well as a $1 million matching gift from Penn State through the Economic Development Matching Program, an initiative of its current campaign, "A Greater Penn State for 21st Century Excellence." A collaborative effort between Penn State New Kensington and the Economic Growth Connection of Westmoreland, the foundry's mission is to drive the growth of ideas, learning and problem solving through application of digital technologies. Stay up-to-date with the Digital Foundry at DigitalFoundryNK.com.
About ABC CREATE
Formed in 2014 as a way for school districts in the campus' local region to work together to integrate technologies and project-based learning, ABC CREATE has grown into a community of hundreds of educators from 14 school districts learning and growing together to provide thousands of students opportunities and preparation for a rapidly-changing world. Coordinated by Penn State New Kensington, the effort also includes partnerships with the Grable Foundation, the Arconic Foundation and the Community Robotics, Education and Technology Empowerment Lab (CREATE Lab) at Carnegie Mellon University's Robotics Institute. Since its inception, the collaborative continues to strengthen its work to provide regional educators with training opportunities, tools and best-practices. In 2019, ABC CREATE was awarded a PAsmart Advancing Grant through the Pennsylvania Governor's office to further its work, as well as align with the campus' increased attention in bringing innovation, entrepreneurship and related essential skill sets to K-12 students, industry and communities in the Alle-Kiski Valley region.
Contact
Corinne Coulson
Manager of Strategic Communications and Marketing