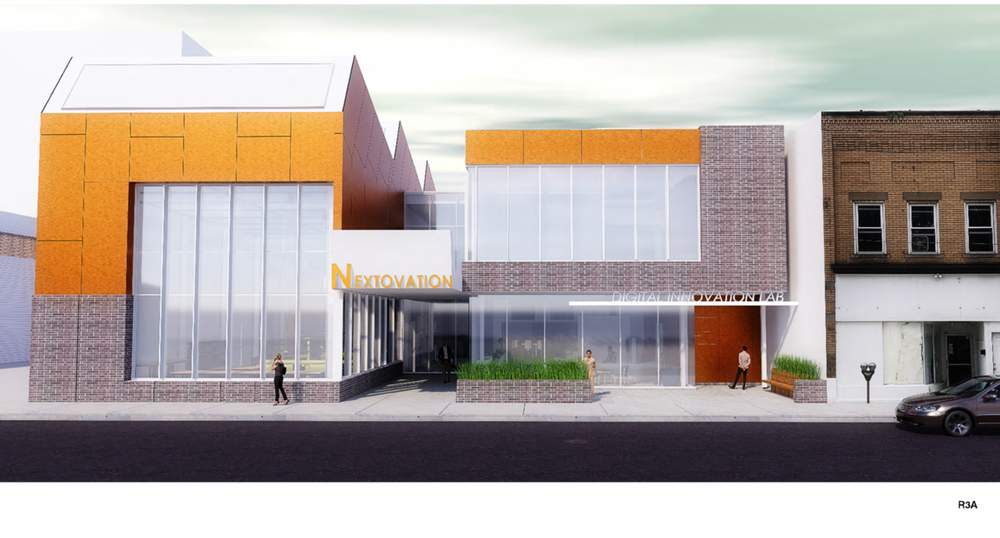 NEW KENSINGTON — The Richard King Mellon Foundation has awarded $5.5 million in funding for a new, state-of-the-art digital innovation lab in the city of New Kensington. The lab is a collaborative effort between the Economic Growth Connection of Westmoreland and Penn State New Kensington, with support and advisement from the Westmoreland County Industrial Development Corporation (WCIDC). A priority project identified in the Westmoreland County Comprehensive Plan – Reimagining Our Westmoreland, the lab is expected to be located along the city's Corridor of Innovation, a five-block stretch of Fifth Ave. between the campus' innovation hub, The Corner, and Westmoreland County Community College-New Kensington.
Penn State New Kensington will receive $1.5 million to outfit the lab and sustain its operations for a year, with the remainder of the $5 million directed to the costs of construction. The University will match $1 million of the gift through a program that offers matching funds for specific initiatives focused on economic development throughout the commonwealth. The Penn State funds will be directed to an endowment for ongoing operating support of the lab.
"We are looking forward to continuing our ongoing commitment as a university to the local and regional communities through the addition of this unique lab and learning center," said Kevin Snider, chancellor of Penn State New Kensington. "We want to create a model and ecosystem so that small Rust Belt towns like New Kensington can thrive and be competitive in the digital age, while also spurring economic revitalization and development."
The lab will serve a variety of stakeholders such as regional manufacturers and industry, K-12 school districts, college students, entrepreneurs, makers and workers in need of retraining or new job skills, therefore preparing the area and its current and future workforce for the fourth industrial revolution, known by some as Industry 4.0. The goal of the regional lab, which is part of the campus-led Nextovation initiative, is to serve as the epicenter for training and access to modern software tools by integrating digital data into new product development, manufacturing, operations and overall business management in a variety of fields.
"The collaboration and relationship between Penn State, Westmoreland County and the City of New Kensington have made a major impact towards our goal of revitalizing our downtown," said Thomas Guzzo, mayor of New Kensington. "The addition of a digital innovation lab will be the perfect next piece in our efforts to become a recognized community for innovative infrastructure."
It is expected that the lab will consist of demonstration and collaboration space, including work cells available for demonstrating or incubating products from local partners and innovators, in addition to space for fixed assets such as hardware and software stations, virtual and augmented reality spaces, an Industry 4.0 factory simulator and a maker space production area.
"The digital innovation lab will help us reach one of our main objectives of aligning the workforce, education system, employers and entrepreneurs to create and sustain jobs throughout the region," said Jim Smith, CEO and president of the Economic Growth Connection of Westmoreland. "We recognize that opportunities of the future hinge on the creativity of technology, and we believe that the lab will play an integral part in fostering a vibrant regional economy. We hope this unique partnership between public, private, non-profit and an educational institution will serve as a prime example of what can be done in other areas of the commonwealth."
Penn State New Kensington has been a major force and collaborative partner in the city's revitalization efforts. In 2017, the campus' Invent Penn State innovation hub, The Corner, opened its doors, and in 2019 alone, nearly a thousand individuals were hosted at the hub for a variety of free and low-cost entrepreneurial trainings, events and community outreach activities. The project, like the upcoming digital lab, was also a collaboration with Westmoreland County's economic development agencies, and since its opening, it has spurred other new development and business growth in the city's downtown corridor, as well as becoming a foundational component in the campus' Industry 4.0 work.
"Our initiative has augmented its work with startups to becoming a model for bringing a Rust Belt area into the digital age," said Snider. "The catalyst for this shift was local industry, which is partnering with us to develop a workforce for the next industrial revolution where the pace of technology and the need for innovation has changed what businesses and industry need in a 4.0 workforce."
Ground is expected to be broken for the digital lab later this spring, with the lab opening in 2021. In the meantime, the campus and its partners have been working on creating awareness events about the opportunities and challenges presented by the digital age, as well as meeting with industry and educational leaders to craft tailored workforce development and essential skills training opportunities for before and after the lab opens.
This gift will advance "A Greater Penn State for 21st Century Excellence," a focused campaign that seeks to elevate Penn State's position as a leading public university in a world defined by rapid change and global connections. With the support of alumni and friends, "A Greater Penn State" seeks to fulfill the three key imperatives of a 21st-century public university: keeping the doors to higher education open to hardworking students regardless of financial well-being; creating transformative experiences that go beyond the classroom; and impacting the world by fueling discovery, innovation and entrepreneurship. To learn more about "A Greater Penn State for 21st Century Excellence," visit greaterpennstate.psu.edu.
Contact
Corinne Coulson
Manager of Strategic Communications and Marketing