Chancellor Kevin Snider unveils additional funding; gives props to innovation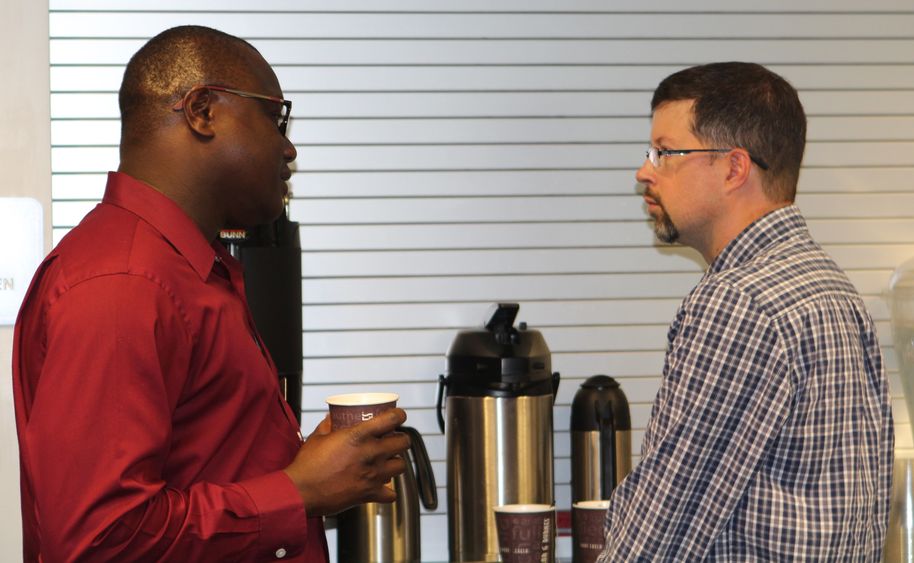 NEW KENSINGTON, Pa. -- The availability of more than $60,000 in new grants for projects that complement the campus' strategic plan was the cornerstone of Penn State New Kensington Chancellor Kevin Snider's "State of the Campus" address Aug. 18. The chancellor annually gives updates to faculty and staff prior to the start of the fall semester.
Snider outlined the distribution of the funds earmarked for student, faculty and staff projects that enhance the campus' five-year strategic plan. The core of the plan, which the chancellor unveiled in 2014, focuses on educational experiences, STEM activities, global competency, poverty and sustainability, and young alumni.
"We have a plan that positions this campus very well for the future within the framework of the area and the University," Snider said. "Our faculty and staff are dedicated to doing the things that move us toward achieving our goals, but they needed support. We're lucky to have donors and friends that understand and like the direction we are going and want to help us. This effort aligns the interests of some of our donors and the work of our faculty and staff by putting funding behind the implementation of the strategic plan."
Beginning his ninth year as head of the campus, Snider encouraged the campus community to be creative in submitting grant proposals. He touched on six available funding sources:
-- $10,000 to support faculty and student affairs projects that enhance students' abilities to communicate, solve problems and work in teams across disciplines.
-- $25,000 to launch entrepreneurial scholarships to draw students into the campus' non-STEM academic programs, such as Business, Communications, Psychology, and Administration of Justice.
-- $5,000 to support faculty exploration of technology to develop the educational experience of the future, one that uses technology, online and blended-learning delivery modes, and resources from across all Penn State campuses.
-- $3,000 for projects related to global competency and diversity. The initiatives will provide students a range of educational experiences that go beyond the borders of the Alle-Kiski Valley.
-- $6,000 for projects related to poverty and sustainability. The campus will work with the community and other partners to improve the economic vitality of the area while providing learning and researching opportunities for campus students.
-- $5,000 for young alumni outreach to increase donor support for campus initiatives and student scholarships.
"These initiatives are all critical to our future success," Snider said. "The good news is that we are building on the exceptional learning environment that already exists at Penn State New Kensington. Creating entrepreneurial opportunities and training for new as well as returning students will distinguish our non-STEM programs. Supporting the efforts of our faculty and staff to look for even better ways to enhance learning and our academic experience and programs benefits everyone. We are lucky that on this campus we don't have to convince our faculty and staff that students are our focus, we just have to support their work. These initiatives do that."
The chancellor committed additional funding to highlight and reward faculty and staff efforts to boost New Kensington's student-centered campus. For the past two years, staff have been recognized with outstanding service awards for making a valuable impact on the campus, whether through interactions with students or faculty, or through the development of new systems, policies and programs.
Snider updated the campus stalwarts on ongoing projects that are designed to bring campus' resources into the local community and the greater Pittsburgh region. Initiatives such as Homework Hotline and ABC CREATE, both of which involve high school students and teachers, are under way, and the entrepreneur center is getting ready to open to the public.
The Homework Hotline program provides free math tutoring to students in local school districts. Geared to middle and high school students, the sessions are offered by telephone or email on evenings throughout the school year. Campus students with strong math skills, such as engineering and information sciences majors, serve as tutors, guiding students through their homework problems by focusing on the terms and processes. The initiative began in the spring with Highlands School District students serving in the trial program. Burrell and New Kensington-Arnold school students will be added in the fall when the complete pilot program is up and running. The featured math courses are algebra, geometry and trigonometry.
Alle-Kiski Best Practices Collaborative CREATE Lab Satellite Network Regional Hub, better known by its acronym, ABC CREATE, is a campus partnership with 15 local school districts, the CREATE Lab at Carnegie Mellon University, Westmoreland County Community College and the Penn State Electro-Optics Center. The educational coterie works in concert with the school districts, government and industry to share best practices and to integrate technology into classrooms to prepare students for future careers. In February, the third phase of the program kicked in when more than 150 teachers, administrators, business representatives and government officials returned to the campus for a series of workshops that focused on three key strategies -- learning new technologies to engage high school students in STEM fields; collaborating with colleagues to share ideas and strengthen the region; and using technology to integrate education and business. The next phase will focus on teacher training for creative technology projects. Summer sessions were conducted by teacher advocates who already use the strategies [KNH1]in their classrooms.
The campus' new entrepreneur center in downtown New Kensington is in the final stage of development. When completed later in the year, the center will launch a business accelerator program to attract and nurture innovation and small business development across the Alle-Kiski Valley. The program is funded by a $150,000 grant from Invent Penn State, an initiative that brings together Penn State's intellectual resources, alumni, private and public businesses and investors to support the efforts. The campus has partnered with the city of New Kensington, Beauty Shoppe, and Westmoreland County Industrial Development Corporation to bring energy and vitality to the local communities. The efforts were recognized recently with a "Points of Light" award from the city of New Kensington.
"This project is incredibly exciting because it puts the campus right in the middle of trying to help Mayor (Tom) Guzzo and others transform the city while at the same time creating tremendous opportunities for student learning and engagement," Snider said. "Our partners are working with us to create a model that can be applied across many of our cities. For Penn State New Kensington to be at the forefront of using higher educational resources to help rejuvenate an area and positively impact hundreds of lives is an honor. This is going to be one heck of a project."
Snider concluded the address by reminding faculty and staff to get involved in community projects and to look for ways to get students involved in the entrepreneurial center. He had a final shout out for campus staff, the "unsung heroes" of Penn State.
"If you are a faculty member, give a staff member a hug and a big thank you," Snider said. "They have all done an incredible job to overcome significant challenges and get this campus ready for you and our students."
Contact
Bill Woodard
Alumni and Public Relations Specialist