Agricultural sciences student Hannah Albright working to convert old building into greenhouse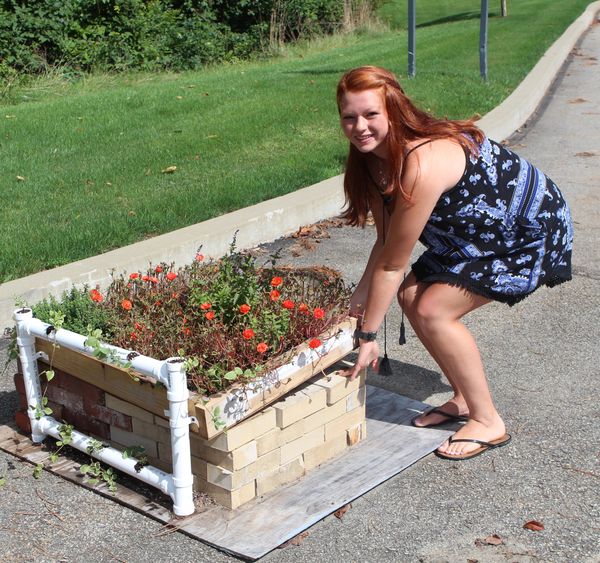 Local produce is often marketed as "fresh from the farm." Penn State New Kensington sophomore agricultural sciences student Hannah Albright wants produce rebranded as "fresh from New Kensington."
Albright spent the summer researching the possibilities of repurposing derelict structures in urban areas to grow fresh produce. Her project, "Converting an Abandoned Building into a Greenhouse," explores the possibility of turning a pre-existing building in the city of New Kensington into a greenhouse that will be viable throughout the year and inexpensive to maintain.
"My research focus this summer was to find out if anything could be done to the outside of an abandoned building to make this idea more efficient," said Albright, a member of the campus' GREAT program.
Kevin Snider, chancellor of the New Kensington campus, supplied space on campus in the parking lot next to the soccer field for the experimental portion of the project. Albright set up shop in a corner spot and constructed two brick building replicas. One building had a standard shingle roof, and the other had a green roof and living wall. A green roof is covered with vegetation and serves the building by absorbing rainwater and providing insulation. It also creates a habitat for wildlife. A living wall is similar to a green roof except that it is a vertical structure.
Monitoring the models with temperature probes, Albright collected data and compared the inside temperature to the outside temperature. The information revealed the green roof building to be the most efficient way to bring her idea to fruition.
"This made me realize that having a green roof and living wall would make the building cooler while also increasing room to grow produce," Albright said. "I can use gutters for a water supply and windows for ventilation."
The genesis of Albright's research idea was her engineering design class taught by Joan Kowalski, senior instructor in engineering. Green roofs was one of the core subjects of the course.
Albright's vision for greenhouses came into focus at the city of New Kensington's Better Block event in fall 2015. Better Block is a semiannual celebration that highlights the revitalization of the city's business district. Albright volunteered to help at her hometown's one-day festival.
"I came up with the idea when I looked at what was wrong with the city and saw the need to eliminate abandoned buildings," Albright said. "That's when my love for greenhouses came into play, and I shared this with people in the community. They thought it was a great idea. I decided I wanted to make it a real thing."
Albright presented her initial research to the public in May in the campus' Entrepreneurial Center in downtown New Kensington at the spring Better Block event. She used the front window of the center to showcase her project in poster form. Visitors were impressed with the proposal.
Encouraged by Kowalski, the New Kensington native applied for admission to the Research Experience for Undergraduates (REU) program, an initiative for engineering students at Penn State. The program provides a stipend to the students and promotes undergraduate research to broaden student education and establishes collaboration between engineering professors at University Park and Commonwealth campuses.
Robert Cameron, adjunct professor in landscape architecture, and Kowalski served as Albright's mentors. Cameron, who holds a doctorate from Penn State's Center for Green Roof Research, provided a wealth of knowledge on greenhouses. Kowalski helped procure the necessary equipment. She also met with Albright regularly to answer questions, and reviewed her final presentation.
"It has been incredibly exciting to witness the progress Hannah has made this summer," Kowalski said. "Her passion and commitment to this project will undoubtedly contribute to it becoming a reality."
The Valley High School graduate's research continues into the fall semester as she gathers more data from the building replicas. Then it will be time to put her theory into practice. Her first order of business is securing an unused building in the city of New Kensington. Albright plans to present her research to the City Council and ask the council to donate a building.
"I want to take off the top half of the building and replace it with Plexiglas," Albright said. "I still have lots of research to do, but I do hope to see this idea become a reality."
More information is available at Better Block and Entrepreneur Center and GREAT Program.
Contact
Bill Woodard
Alumni and Public Relations Specialist