Campus team gains valuable experience at the national Challenge Case Competition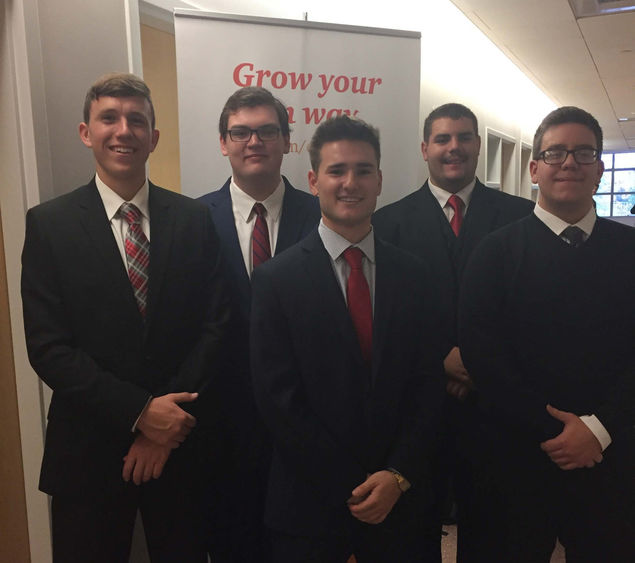 NEW KENSINGTON, Pa. — "To buy, or not to buy: that is the question: Whether 'tis nobler in the mind to suffer the slings and arrows of outrageous mergers, Or to take arms against a sea of troubles, and by building end them?" — Shakespeare's Hamlet possibly talking about the PricewaterhouseCoopers Challenge Case Competition.
Like Shakespeare's Hamlet in Elsinore Castle in Denmark, a team of business students from Penn State New Kensington faced a conundrum Oct. 26 at the PricewaterhouseCoopers' Challenge Case Competition at Penn State University Park. While Hamlet pondered life and death in a personal vacuum, the campus contingent mulled the wisdom of acquiring an existing company or creating a new one in a team competition.
PwC's national business collegiate tournament gives students the opportunity to work through some of the same issues that challenge business and government leaders. They devised solutions for business tax cases that required marketing, management and financial analysis. Twenty-one teams, comprising sophomores and freshmen, competed at Penn State. Nationally, more than 5,000 students from 100 colleges and universities entered the competition.
New Kensington sophomores Nathaniel Coup of Richland Township, Chad Navarro of Munhall, William Sadecky of Lower Burrell, Tyler John of Worthington, and Dakota Testa of Bradenville worked on a case study involving the best option for a fictitious company facing large fines and trying to find a way to recycle their products.
Playing the role of PwC employees, the campus contingent entertained three viable choices — merging with an existing recycling company, establishing a new internal company, or coming up with another scenario to save the struggling business concern. The team, under the advisement of Yang Xu, associate professor of business administration at the campus, had a week to find a solution and create a presentation for a panel of judges from PwC.
"I liked how the idea and concepts were hypothetical real-life situations, and how we had to actually analyze companies and construe actual methods of recovery for the company," said Coup, a product of Steel Valley High School. "It was cool consulting for the hypothetical company."
The campus team, who called themselves The Other Guys, tackled the problem by creating a strategic alliance between the struggling company and an established recycling company. The analysis and presentation drew praise from the judges.
Event organizer Randi Camhi of PwC wrote in an email to Xu that he spoke to the judges, and they noted The Other Guys were "very well prepared, thorough, and great public speakers."
Navarro relished rising to the challenge.
"I liked presenting and doing the research for our decision on what to do," said Navarro, a graduate of Pine-Richland High School. "The judges complimented us on how well we presented, and I found it very gratifying after doing the research for our side."
Although the New Kensington team did not advance to the next round, the members gained valuable experience by working together and utilizing their analytical skills. By attacking the problem from varying perspectives, the group was able to develop a cohesive solution.
"The student team experienced analytical thinking, fact-based decision making, and collaborative action," Xu said. "The PwC judges recognized the team members' critical thinking and communication skills. The team also had the opportunity to connect with PwC professionals who can provide mentoring for their career pursuits."
Sadecky, an accounting major, embraced the teamwork challenge and the learning experience.
"The experience was one to remember, spending the day with my group and professor, and coming up with a scenario," said Sadecky, a graduate of Burrell High School. "The smiles on our faces when we got good feedback is something we together won't forget. The day was full of memories and learning experiences."
Coup, who is also majoring in accounting, saw the competition as a preview of what he will face in the future job market. He welcomed the give-and-take with the judges in defending the project.
"It was a great experience because it prepares me for real-life interviews and presentations," said Coup, who will pursue a CPA after graduation in 2019. "I also learned how to deal with questions after an interview. I have had first-hand experience of being questioned, and I was capable to confidently respond."
Navarro, who also is an accounting major, echoed Coup and Sadecky's sentiments on teamwork and getting a taste of the business industry that they will soon enter.
"The competition will help me in the business field, especially how to present and how to make important decisions for future companies and for myself," said Navarro, a member of the campus' baseball team.
Established in 2003 by PricewaterhouseCoopers, a multinational professional services firm, the event uses real-world business challenges to test the critical thinking, team-building and presentation skills of undergraduates.
For next year's competition, the three accounting majors won't have to travel far. They are moving to the University Park campus next fall to complete their bachelor's degree studies. They are a part of the campus' 2+2 Plan, the most common path to a Penn State degree. Students spend two years at New Kensington and then transition to another Penn State campus to finish. More than 50 percent of Penn State students choose this path, and it is available for the vast majority of majors.
Sadecky, who is following in his family's footsteps in chasing a certification in public accounting, credits the New Kensington campus with providing the opportunity to succeed in his field.
"My first two years of college would not be the same if I didn't go to Penn State New Kensington," Sadecky said. "The experience and education I have received over these two years is a blessing upon me. I'll be prepared to take on University Park because of the faculty and staff at the campus, and also my family who supports me through everything."
Penn State New Kensington offers two business degree programs: a bachelor's degree in business and an associate degree in business administration. Students in the bachelor's degree program can choose from two degree options: Management and Marketing, which prepares graduates for careers in small and large corporations and not-for-profit organizations, as entrepreneurs, or partners in a small or family business; and Individualized Business, which allows students to work with faculty in developing a course of study that meets their specific career needs and interests.
For more on the campus business program, visit Bachelor of Science in Business or Business Administration.
Contact
Bill Woodard
Alumni and Public Relations Specialist