Heather Shultz recognized through Tau Alpha Pi honors society at New Kensington campus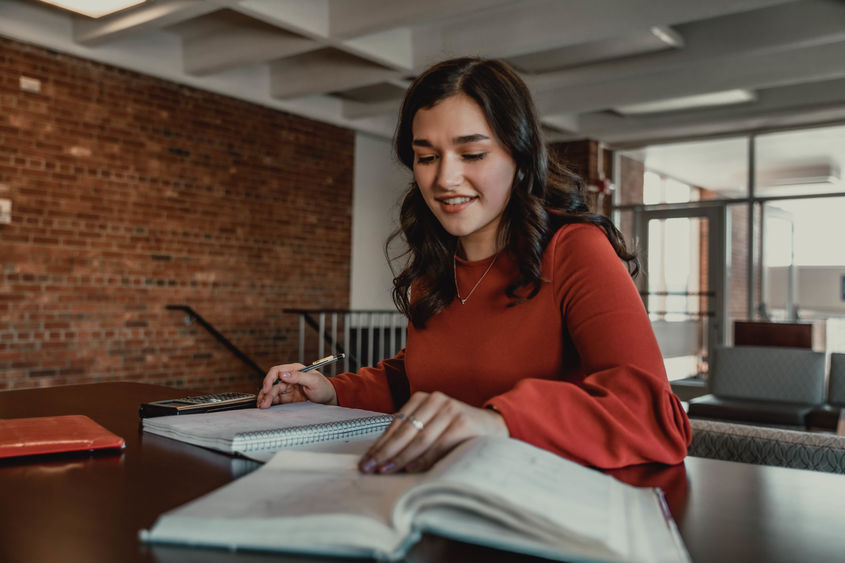 NEW KENSINGTON, Pa. - The act of welding consists of joining together or uniting parts or concepts. Heather Shultz decided to weld together a unique path, both literally and figuratively, that would lead her to studying electro-mechanical engineering technology (EMET) at Penn State New Kensington and earning a scholarship recognizing her excellence in the field.  
"I always knew that I wanted to further my education and pursue a degree in engineering but was unsure exactly what type of engineering I wanted to study," said Shultz, who became a welder during high school through the Northern Westmoreland Career and Technical Center prior to attending the New Kensington campus. 
Shultz, a Burrell High School graduate and award-winning welder, wanted to stay close to home for college and continue within an education option that provided hands-on learning experiences. A visit to the New Kensington campus to learn about its four-year EMET program solidified her postsecondary plans. 
Now, as a current sophomore at the campus, Shultz has built upon her welding background and continued pursuit of academic success. 
"Heather is a very talented engineering student, with a very pragmatic eye towards problem solving," said Joseph Cuiffi, assistant teaching professor and program coordinator of EMET. "She demonstrates a breadth of engineering skills, cutting across mechanical to electrical, that can be rare amongst undergraduates." 
Outside the classrooms and labs, she stays busy on campus as a member of the campus Honors Program, the G.R.E.A.T. Program for promising engineering and information technology students and the Tau Alpha Pi national honors society for engineering technology students. She also serves as a desk attendant for the campus Athletic Center during the semester. Off-campus, she will continue her internship at Eaton this upcoming summer as a field service engineer intern; last summer she was a switchgear modernization intern. 
Her commitment to academic excellence and drive to add real-world, professional experience to her resume made her an obvious candidate for Tau Alpha Pi's Frederick J. Berger award and scholarship, which is given to a student who has shown leadership qualities and has made significant contributions to engineering education within their respective accredited institution. It was founded and named after Frederick Berger, who endowed the award at Penn State, in 1990.  
"Tau Alpha Pi provides recognition to top students in engineering technology programs as it is a national honor society," explained Joie Marhefka, assistant teaching professor and program coordinator of biomedical engineering technology and Tau Alpha Pi adviser. "Our local chapter also provides opportunities for leadership and involvement." 
Tau Alpha Pi was founded in 1953 by Berger, an engineering technology educator and is open to top-performing associate- or bachelor-degree seeking students in engineering technology programs. Local chapters of the organization must nominate eligible students. In 1993, the American Society for Engineering Education began administering the society, which is also a member of the Association of College Honor Societies. 
Cuiffi added, "Organization like Tau Alpha Pi help students with both a sense of belonging and as a discriminator against their peers. Any efforts to stand out and convey a sense of going above and beyond to a prospective employer will help being noticed for employment." 
The Berger award and scholarship is Shultz's latest recognition piece to weld to her ongoing list of academic and career achievements. She hopes to become a full-time engineer in a position that allows her to work in an office, with hands-on projects, or out in the field upon graduation from the University.  
"When it comes to engineering, there is a high standard to uphold," said Shultz. "Penn State is a community with a legacy of high-achieving graduates who, throughout their education, learn to be hardworking and integral leaders."