Robert Mathers named 2022 Penn State Distinguished Professor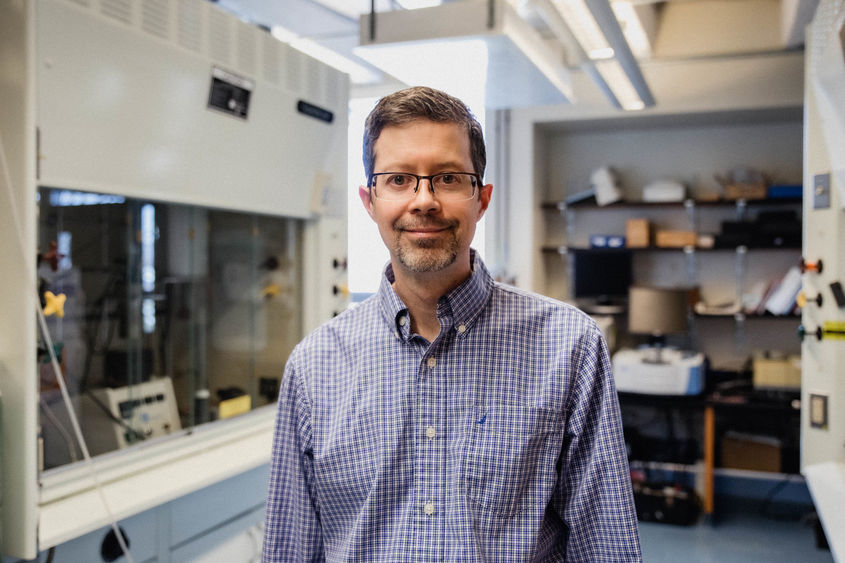 NEW KENSINGTON, Pa. – Robert Mathers is an avid rock climber, martial artist, bread baker, and now, distinguished professor at Penn State.  
"Chemistry is a vehicle for trying and learning," said Mathers, professor of chemistry at Penn State New Kensington. 
Mathers was one of 21 faculty members throughout the University given the title of distinguished professor from the Office of the Vice Provost for Faculty Affairs. The honor is bestowed upon those holding the rank of professor and who are notable leaders in their fields of research and study.  
"With this achievement, Dr. Mathers has reached a pinnacle of his faculty career at Penn State. The rank of distinguished professor is available only to those faculty who not only exhibit excellence in the classroom and in their research field, but who also take extensive time to mentor students through undergraduate research and who not only serve the campus and University, but also provide service to their broader profession," said Andrea Adolph, director of academic affairs at Penn State New Kensington. 
"Most importantly, he shares his knowledge with our students, and he has worked closely with many of them to foster their scientific knowledge and abilities. He works with those students as collaborators, including them as contributors to publications and academic presentations, and he has mentored many students who have gone on to successful careers in science and medicine," said Adolph. "He exemplifies the spirit of the Penn State New Kensington faculty and their collective dedication to student success." 
Throughout the years, Mathers' love of chemistry and teaching is something that has always remained constant since his first science experiment making ice cream, he said, but it was his experiences in a laboratory while attending college that solidified his decision to pursue the field over his other potential path related to mathematics. 
From those college experiences and throughout his teaching career, Mathers has developed his own engaging environment for his students in and out of the lab. Students are incorporated into his own teaching methods and have opportunities to work with him for undergraduate research projects. His goal is to help students realize that anyone can enjoy and learn from the results of an experiment. 
He stated, "If you can be more curious, you can enjoy it." 
Mathers, who became a full professor in 2016, has been teaching students at the New Kensington campus since 2004. He holds a doctorate in polymer science from the University of Akron. His research and work has appeared in more than 50 journals, and he has received past research grants from organizations including the National Science Foundation, the Alcoa Foundation and the American Chemical Society Petroleum Research Fund (ACSPRF). Recent publications and research specialties include polymer chemistry, renewable resources and sustainable materials.  
When he is not on campus, Mathers resides in Pittsburgh with his family and enjoys rock climbing, martial arts and other ways to stay active. Since the COVID-19 pandemic began, he has also enjoyed bringing chemistry into the kitchen with baking homemade bread, a process which has allowed him to experiment with mixing various ingredients, including his own flour mixes. 
Amari Walker, sophomore communications student at Penn State New Kensington, contributed to this story.