Robert Mathers' work on polymers helps students gain "real-world" experience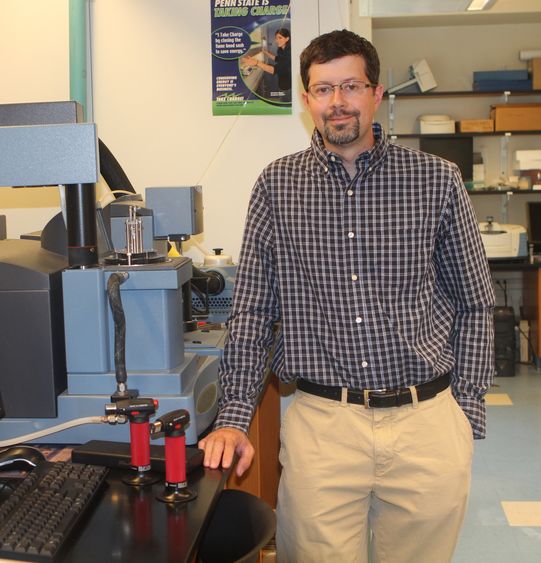 Robert Mathers is Penn State New Kensington's newest full professor. His promotion in June to professor of chemistry gives the campus four full professors among its 38 faculty.
Mathers' title complements Jyotsna "Josi" Kalavar, professor of human development and family studies, K. Robert Bridges, professor of psychology, and Michael McGinnis, professor of business administration, as members of an elite class of faculty. Full professor is the highest rank attained by senior faculty members. It is a prestigious landmark in the life of the professorate and means recognition by peers for exceptional contributions within their discipline.
"Robert is one of our most productive faculty researchers, and his commitment to not only his own work in the lab, but also to undergraduate research and mentoring, has been a hallmark of his career thus far," said Andrea Adolph, director of academic affairs. "His research is well respected in his subfield, and his work in sustainable polymer development is cutting edge. Students who have the chance to take his classes and to work alongside him are gaining a fantastic experience. His promotion is a way that his peers both inside and beyond Penn State have illustrated their belief in his status as a scholar and his promise for continued high-level success. We are so proud of him."
A resident of Pittsburgh, Mathers joined the campus community in 2004, after two years as a postdoctoral researcher at Cornell University. He holds a doctorate in Polymer Science from the University of Akron. Mathers teaches classes in general chemistry and organic chemistry labs. His research interests include renewable and sustainable polymers.
"Converting plant oils to plastics is a part of the research theme in my lab," Mathers said. "I am using renewable resources to create sustainable materials."
Mathers coedited two books, and his works have appeared in more than 40 journals. One article, "How Well Can Renewable Resources Mimic Commodity Monomers and Polymers," was published in 2012 by the Journal of Polymer Science Part A: Polymer Chemistry. It has been cited over 100 times.
Along with Roderic Quirk, professor of polymer science at the University of Akron, Mathers holds a patent for a polymerization of oxiranes with a lithium-containing initiator. He also obtained a patent in 2015 for soybean-based polymers.
Research grants
Mathers' research has been fueled by a number of national grants. In 2008, he was awarded a $65,000 research grant by the American Chemical Society Petroleum Research Fund (ACSPRF) for a three-year study to develop additives to improve the oxidative stability and low temperature performance of biodiesel and diesel blends. That grant followed a $35,000 ACSPRF grant in 2005 to research conducting ring-opening metathesis polymerizations.
In 2012, the Alcoa Foundation invested $70,000 in Penn State New Kensington to enhance undergraduate education in the sciences, and to help create an environmentally-friendly region. The initiative, "Reducing Our Environmental Impact: Green Coatings without BPA," teamed interdisciplinary groups of students with campus faculty, Alcoa scientists and industry leaders to research environmental issues. BPA (or Bisphenol A) is a synthetic compound that is used to harden plastics in products such as beverage containers. The use of BPA on consumer products is an issue for some environmental experts because it breaks down easily, and exposure can lead to numerous health disorders. Mathers was the lead faculty member on the project.
Mathers' proposal for soybean-based alternatives to petroleum-based polyesters was funded for $87,000 by the United Soybean Board in 2012 and $101,000 in 2013. He also received funding of $58,000 from Chevron Phillips Chemical Company and $99,000 from Army Research Office for the synthesis and characterization of polyolefins.
The National Science Foundation was the benefactor of Mathers' largest funding project, a $300,000 grant in 2013 for research on sustainable polymeric materials. The three-year project focused on the catalytic transformation of renewable resources.
The plethora of research opportunities that Mathers has secured is a boon to his students. Campus initiatives, such as the Chancellor Fellowship, a program that allows students to collaborate with faculty on specific projects, and the Research Stipend program, which encourages faculty to design undergraduate research projects, provide students, even freshmen, with the advantages of "on-the-job" experiences. Over 40 students have conducted undergraduate research with Mathers over the last 12 years. Although many projects are at the forefront of polymer chemistry and sustainability, Mathers tries to tailor projects to individual student interest.
Outside the lab, Mathers interacts with students on a leisure-time basis through campus clubs and organizations. He has been involved in the Martial Arts and Self-Defense club, and the Group Investigating God club, which encourages students to ask difficult questions about God and the Bible.
2 + 2 Plan
Although, the New Kensington campus does not offer a Chemistry major, many of Mathers' students major in chemistry, biology, various chemical engineering disciplines, materials science, and petroleum and natural gas. They typically study under him for two years before moving on to another Penn State campus to complete their bachelor's degree work.
They are a part of Penn State's 2+2 Plan that allows students to spend their first two years of study at one campus and transition to another for their remaining two years. For a majority of Penn State students, the 2+2 Plan is the most common path to a degree. Two former students and Penn State alumni, Matt Cavassa and Mike Cavassa, took this route for their petroleum and natural gas engineering degrees. Both brothers earned Chancellor Fellowships which allowed them to do research with Mathers as freshmen. Both finished their undergraduate studies at the University Park campus. For more on the 2 + 2 Plan, visit http://newkensington.psu.edu/2plus2
Contact
Bill Woodard
Alumni and Public Relations Specialist