Nearly 40 student projects showcased at annual exposition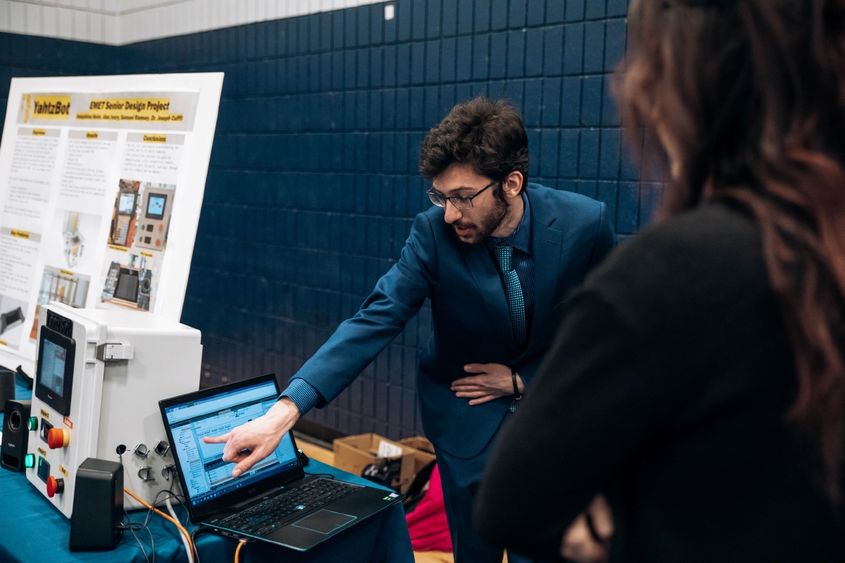 NEW KENSINGTON, Pa. — Forty-one students presented 36 research projects at the 21st annual Research and Student Engagement Exposition at Penn State New Kensington on April 11. Each project included poster presentations documenting the research, which was accomplished with assistance of faculty mentors throughout the 2022-23 academic year. The event also included a feature of several faculty research projects, as well as the return of Career Connections Day with more than 10 employers and internship providers from the area.  
This year's research projects covered topics including reducing plastic waste, law enforcement, the effects of lighting in classrooms, quantitative effects of sleep apnea and caffeine consumption. 
In addition, 10 students were awarded Undergraduate Research Award: Excellence in Information Literacy prizes from Penn State University Libraries. The 2023 winners from the New Kensington campus included: Ally Albert, Alaina Aulerich, Laurel Cowling, Kelly Dugan, Rosa Heath, Kaylea Kemp, Pape Mbaye, Farid Nafash, Michel Nafash and Lauren Reed. The award recognizes the demonstration of literacy skills in relation to their research and poster presentations. 
Penn State New Kensington's innovation hub, The Corner, also recognized a project as winner of the first-ever Entrepreneurial Spirit award. The inaugural recipient of the newest recognition was Ally Albert.  
To view all of the 2023 research projects, visit the expo website. A full gallery from the event can also be viewed on the campus Facebook page.