Prospective students can discover benefits of campus that go beyond academics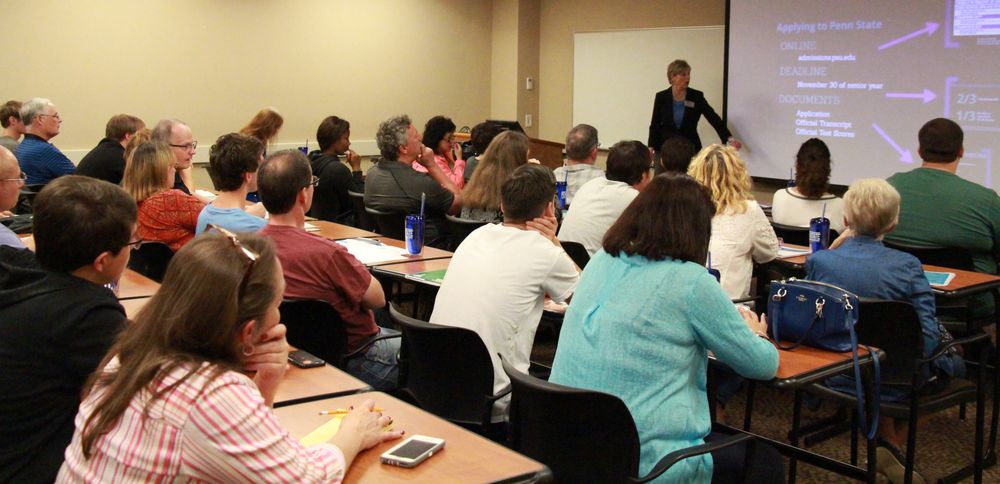 NEW KENSINGTON, Pa. – A new year and a new beginning. Prospective students and their families will have the opportunity to discover the benefits of attending Penn State New Kensington at Transfer Student Open House from 9 to 11 a.m., Thursday, Jan. 5, in the campus Conference Center.
The open house will review the admissions process for transfer students. Discussions will focus on important points about admissions and financial aid services available to this special population. Students are welcome to bring copies of any post-secondary transcripts with them for an unofficial review of credit transfer. Patty Brady, director of enrollment management, and the admissions staff will talk about the admission process and student-aid opportunities. To reserve a spot for the open house, call the admissions office at 724-334-LION or 888-968-PAWS
Admissions events, such as open houses, application days, and Be a New Kensington Student for a Day, are held throughout the year at the campus. Brady considers a visit to campus to be the best way for students pursuing higher education to make a college decision. The events showcase the advantages of choosing Penn State New Kensington.
"We always encourage prospective students to visit our campus," Brady said. "Once they see our facilities and meet our faculty and staff, students are impressed with the quality academic experience we can provide to them."
B.J. Rayburg, a former campus student and Penn State graduate, accompanied his daughter, Julia, a senior at St. Joseph High School, to the fall open house. Both were so impressed with the campus' academic programs that Julia applied for admission that day. She plans to major in psychology, one of the campus' 10 bachelor's degree programs.
"The atmosphere at the open house was very informative and welcoming," said B.J, who matriculated at the campus in 1978. "I want my daughter to have the same experience that I had at the campus. The great professors and small class sizes are conducive to learning."
According to B.J., knowing professors personally is another benefit of beginning a Penn State career at the New Kensington campus. He keeps in touch with his former instructors Linda Shoop, retired associate professor of education, Lillian Coury, retired instructor in theatre arts, and Rob Bridges, professor of psychology.
"Having a world-class university in your neighborhood is a great asset for the community, and it helps students save money," said B.J., a resident of New Kensington. "But staying in contact with your professors is special."
Bridges, who was promoted to full professor two years ago, remains a fulltime member on the psychology faculty. As a psychology major, Julia will have ample opportunities to learn from a professor that taught her father.
Earning a Penn State degree is almost a Rayburg birthright. Besides her father, Julia's two uncles, Edward Rayburg and Thomas Rayburg, started at New Kensington and finished at University Park. Three cousins, Chris Rayburg, Brian Rayburg and Allison Rayburg, hold Penn State degrees. Julia's brother Jacob is a senior at University Park.
For more information on campus visits, go to Admissions Events

Contact
Bill Woodard
Alumni and Public Relations Specialist