Coach Art McCray's high-powered offense to carry team in second half of season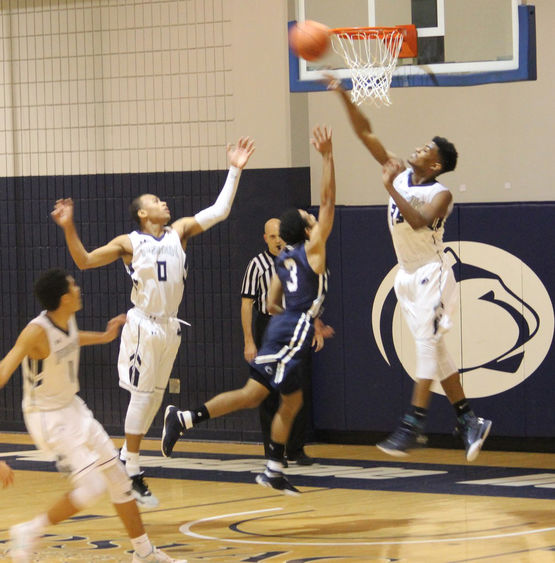 NEW KENSINGTON, Pa. — After a four-week semester break, the Penn State New Kensington men's basketball team enters the 2017 portion of the campaign. The remaining 12 games of the regular season, five home and seven away, are all Penn State University Athletic Conference games.
Coach Art McCray's young and inexperienced squad, which at times has started three freshmen, begins the second half of the regular season with a two-game road trip to eastern Pennsylvania at 7 p.m. Friday, Jan. 13, against Penn State Schuylkill, and 1 p.m. Jan. 14 at Penn State Hazleton. New Kensington heads into the weekend with a 2-2 PSUAC record and a 4-5 overall mark. The team is in seventh place, one game out of second place.
With a league-leading offense producing 86 points per game, McCray's up-tempo style is dictated by circumstances. Although missing a true "big man" — the tallest New Kensington player is 6 feet 5 inches — McCray draws up his game plan around small players who can handle the ball, run the floor, and score from anywhere. A five-guard lineup is a staple at each contest. The team features five players scoring in double figures.
Freshman Kenny Rouse tops the squad in scoring with 18.9 points per game, fourth best in the conference. Rouse, a communications major from West Mifflin High School, was named PSUAC Player of the Week in December for scoring 48 points in a two-game split at the John Benchoff Tournament in Mont Alto, Pennsylvania. The 6-foot guard shot 56 percent from the floor, connected on six 3-pointers, pulled down eight rebounds, and recorded seven steals.
Freshman Alex Bell (Allderdice High School) follows with a 17.1 scoring average. The 6-foot-4-inch forward is shooting 50 percent from the floor. Bell also tops the team in rebounding with 8.4 a game, sixth in the PSUAC, and blocked shots with 15.
Rounding out the double-figure scorers are junior guard Jordan Williams (East Allegheny) at 16.6 points per game, sophomore guard Javon Turner (Beaver Falls) with 12.7, and freshman guard Juwan Willis (Woodland Hills) at 10.6. Williams is second in the conference in 3-point shooting with a .450 percentage. Willis is third in the league with a .836 free-throw percentage.
Sophomore Shane Baronner (Western Branch) is leading the PSUAC in field goal percentage at .650. The 6-3 forward is averaging 9 points and 6.4 rebounds per game. Antonio Hill (West Mifflin), a sophomore forward, is tied with Baronner in rebounds while chipping in more than six points a game.
In addition to its scoring acumen from the outside, the team is equally adept at going to the hoop and drawing fouls. McCray's squad is the conference leader in total attempts (336), free throws made (241), and percentage (.717). Nationally, the team is second in going to the line and connecting, and fourth in percentage, according to United States Collegiate Athletic Association statistics.
The New Kensington Lions return to the friendly confines of the Athletics Center for a three-game homestand starting at 7 p.m. Tuesday, Jan. 17, against Penn State Greater Allegheny (3-1, second in PSUAC). Undefeated Penn State York (5-0, first in PSUAC) visits at 3 p.m. Saturday, Jan. 21, and Penn State Mont Alto (2-2, seventh in PSUAC) comes in the next day for a 1 p.m. tipoff.
The top six teams earn berths in the PSUAC playoffs. McCray, a former student-athlete at the campus, is looking to return New Kensington to the championship series for the first time since 2008.
For roster, statistics and schedule, visit Penn State New Kensington basketball online.

Contact
Bill Woodard
Alumni and Public Relations Specialist