Conference enhances transferable skills, networking and professionalism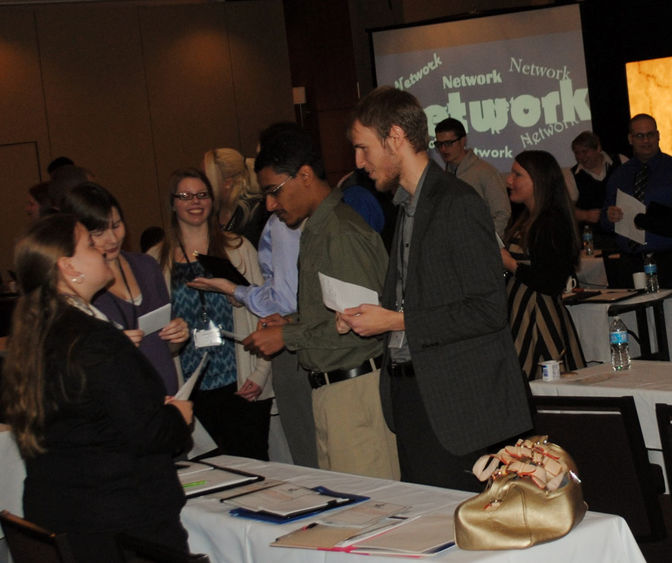 NEW KENSINGTON, Pa. — Transitioning from learning in the classroom to training for a career is the focus of the fourth annual Leader Launch conference Jan. 27 at the Penn State Center in Pittsburgh.
A Penn State New Kensington initiative to provide a professional conference for students, Leader Launch is an opportunity for campus undergraduates to connect with prospective employers and improve professional skills.
"The conference is open to Penn State New Kensington students and recent graduates who are seeking internships or job experiences and are interested in building skills and connections for long-term career success and growth," said Jim Shields, associate director of career services and professional development programs at the campus.
Current students and recent alumni will be joined by business leaders who will talk about the latest trends in interviewing, communication, goal setting, the job search process, internships, social media, networking, leadership and presentation skills. The conference can help students prepare for the challenges after graduation.
Jennifer Phillips, a 2015 graduate from the Psychology program, attended the inaugural 2014 conference as a third-year student. She was getting ready for life after a bachelor's degree and seeking to improve her ability to look and act professional.
"Leader Launch was a really worthwhile and valuable experience, where I gained useful new skills to use in my search for both an internship and a career," Phillips said. "It was an excellent networking opportunity and learning experience. I especially liked the panel of business men and women who were able to give us direct feedback on what employers are looking for while answering questions from the audience."
The agenda features educational sessions, presentations and panel discussions by Penn State alumni and business representatives. Opportunities to talk with the professionals will be available during the etiquette luncheon at the center, and networking dinner at Buca di Beppo in Station Square.
Danielle Richardson, a senior communications major, went to the conference two years ago. Learning to network in a professional setting was her top priority.
"The young professionals' panel was great to listen to as they were relatable, and they offered great advice for people who are just starting out on their career journey," said Richardson, who will graduate in May. "Overall, Leader Launch was another great seminar that is beneficial to any student in any major."
The cost to the students for Leader Launch is $15 and includes the conference, two meals and transportation. To register for the event, call 724-334-6095 or email Jim Shields.

Contact
Bill Woodard
Alumni and Public Relations Specialist