Students volunteering in San Juan during spring break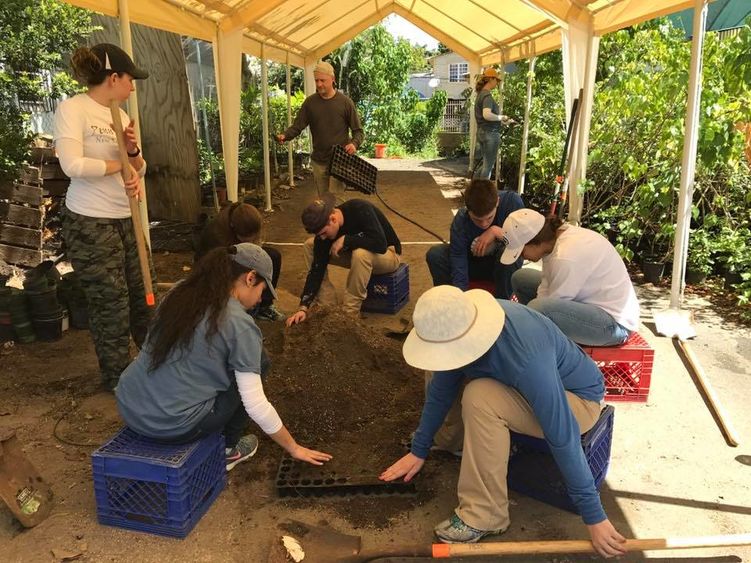 NEW KENSINGTON, Pa. — After spending Martin Luther King Jr. Day 60 miles from campus volunteering at nonprofit organizations in Uniontown, Pennsylvania, Penn State New Kensington students are extending their sphere of influence and spending spring break week 1,700 miles from campus performing community service projects in San Juan, Puerto Rico.
Fourteen New Kensington students traveled to the Commonwealth of Puerto Rico on March 3 for a hybrid community service project, which combines helping environmental efforts and underserved communities. Melba Amador, instructor in Spanish, and Adam Robinson, learning center coordinator, accompanied the students to the United States' territory.
"I've never taken part in an alternative spring break, and I have never led a student trip," Robinson said. "I see this as a chance for me to learn and grow as an educator and global citizen. I'm excited to see how the trip will change our students' view of the world and their place in it. My view will change alongside theirs."
Bill Sadecky, Billy Carney, Tyler Campbell, David Rottschaefer, Paulina Iniguez, Shannon Lamanna, Savannah Smith, Ashley Worlds, Courtney Cambal, Hannah Albright, JadeAnn Menear, Ahsanti Crowder, Taylor McHenry and Shannon Josefoski volunteered for the trip. While many of their classmates are soaking up the sun in a variety of exotic locations during the weeklong cessation of classes, the campus contingent is soaking up culture in the midst of an "Alternate Spring Break."
"Not only are we doing service that is impacting the communities we are working in, but we also have the ability to immerse into their cultures," said Josefoski, a senior project and supply chain management major.
The students are performing a variety of functions, including rehabilitating a mangrove in San Juan, the commonwealth's capital. Mangroves are trees or shrubs that grow in tropical coastal swamps, which flood at high tide.
"We are in an area that has been deforested and is, therefore, prone to flooding," Robinson said. "The area attracts more mosquitoes and brings more mosquito-borne illnesses to the local community."
The New Kensington group is working with Amizade, a Pittsburgh-based organization that facilitates global service learning trips. Amizade involves students with community projects that are initiated and led by the community itself. The arrangement ensures the project helps the community.
"We are working on the planting project along with the staff of a nonprofit organization called Caras de las Americas," Robinson said. "Caras' goal is to plant 1,500 trees by July."
The eight-day goodwill journey includes sightseeing around Old San Juan, a small island off the coast of the commonwealth. Three bridges connect the oldest settlement in Puerto Rico to the mainland. Crossing bridges should make the students from western Pennsylvania feel right at home when they visit El Morro Fortress and other colonial buildings that are still standing and in service.
Other leisure activities include beaches, rainforests (El Yunque) and festivals. The campus volunteers are eating meals in the communities where they are working and at local restaurants.
"The idea is to help the small business owners and the communities where we will be working," Amador said. "We want to not just help our students learn about the world we live in, but also to help the communities we go to."
The group doesn't need a tour guide for their side excursions as they have an expert among them. Amador was born and raised in San Juan, and thus is very familiar with the area.
"I looked forward to seeing my family, but also to see students learn," Amador said. "I am always looking for that 'aha' moment to happen. I like to see students go outside their comfort zone and learn about different cultures and languages other than their own. Even though we traveled to a U.S. territory, it is still a very different place. Students are immersed in a Spanish-speaking world with different food, music and traditions."
Amador's mother, father and a sister still live in the commonwealth. Her other siblings reside in the continental United States. She tries to get home about every couple of years; the last time was three years ago at Christmas. The spring break trip gives her the opportunity to get re-acquainted with a young niece.
"I was excited to go this time for several reasons," Amador said. "One of them was because my youngest niece doesn't know me. She was less than a year old last time I visited."
For one student, the trip is an opportunity to return to her Spanish roots in a different land. Iniguez, a sophomore from Murrysville, grew up in the Dominican Republic and moved to the United States when she was 15 years old.
"I am on the trip because I want to be around the language, music, food, and overall culture I grew up with," Iniguez said. "I am going back to what I've always known, but in a place where I've never been to before."
Carney, Josefoski and Worlds are veterans of the Alternate Spring Break program. Last year they went to Navajo Nation in Arizona. The students absorbed the Navajo culture and history.
"The trip last year was a life-changing experience," Josefoski said. "This year, I am extremely excited to learn not only about myself but the Puerto Rican culture as well."
The students return to the states March 11. The final project for the expedition will be a public presentation to the campus community. The students will show photos and videos while talking about learning and working with the indigenous people.
The students' daily Facebook posts keep the campus community abreast of the group's activities.
Information on all campus events can be found on the Social Media Dashboard.
Puerto Rico
Like destination weddings for young couples, Puerto Rico is a destination community service project for New Kensington students. Two years ago, ten students embarked on the same benevolent journey.
Puerto Rico, Spanish for "rich port," is an archipelago comprising four islands in the in the northeastern Caribbean Sea. San Juan is the capital of the main island of Puerto Rico, which is located between the Dominican Republic and the Virgin Islands. The "island of enchantment" is a part of a group of islands that includes Cuba, Hispaniola (Dominican Republic and Haiti) and Jamaica that constitute the Greater Antilles.
A possession of Spain for more than 400 years, Puerto Rico was ceded to the U.S. in 1898 after the Spanish-American War. The inhabitants elect their own governor but are unrepresented in the U.S. Congress, which holds sway over the territory. The 3.7 million Puerto Rican people cannot vote in U.S. presidential elections.
The island operates under the Atlantic Time Zone, an hour ahead of Pittsburgh in the Eastern Time Zone. Puerto Rico and the U.S. Virgin Islands are the only United States possessions located in the Atlantic zone.
Amador and Robinson
Amador brought a wealth of Latino, Chicano and Latin America culture to the New Kensington campus in 2015. She taught college-level Spanish, composition and grammar for 12 years, including two years at Western Kentucky University, prior to joining the campus faculty. She is nearing completion of her doctorate in Hispanic Literature at the University of New Mexico, where she earned a master's degree in Latin America Studies and a bachelor's degree in Fine Arts. Amador is active outside the classroom and serves as faculty mentor and adviser for student clubs and as a volunteer and organizer for community events.
As the learning center coordinator, Robinson oversees the campus tutoring program and coordinates services for students with learning disabilities. He provides writing tutoring for all subjects, and meets with students to discuss their academic success and challenges. Learning support resources, as well as academic advising and career assistance, are under the auspices of the Academic and Career Success Center. All services are free to students. Prior to coming to the New Kensington campus in fall 2016, Robinson was director of the McCarl Center for Nontraditional Student Success at the University of Pittsburgh (2015-16), and associate director of the Writing Center at the University of Louisville (2010-15). The Louisville native holds a bachelor's degree and master's degree in English from the University of Louisville.

Contact
Bill Woodard
Alumni and Public Relations Specialist