Students present research and draw prospective employers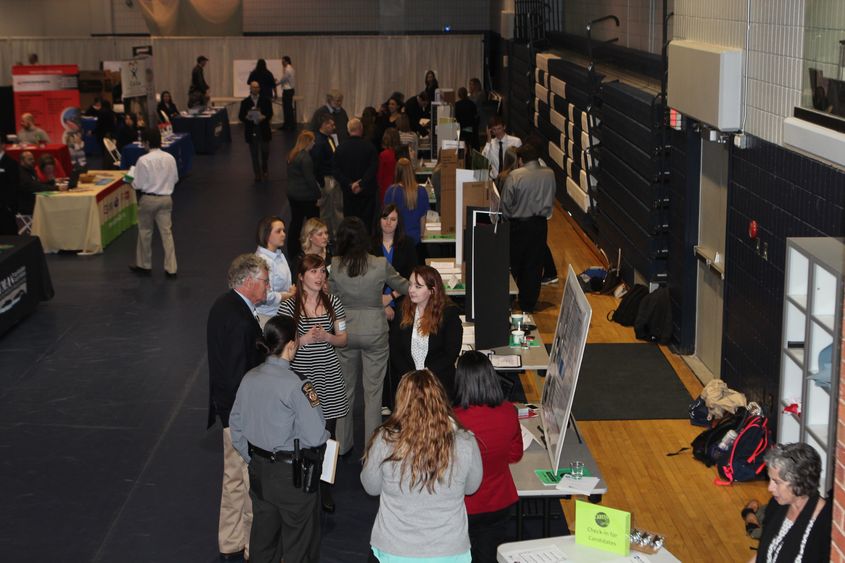 NEW KENSINGTON, Pa. -- Want to know if you are ready for a driverless car? Need to find out the role of multi-colored paper in short-term memory? Anxious for a new sleeping aid? The answers to these and other questions are available at the next episode of Penn State New Kensington's Research and Creative Exposition, which is set from 1 to 3 p.m. Tuesday, April 11, in the campus Athletics Center.
New Kensington students explored a variety of issues during the fall and spring semesters and will display their research as posters at the innovative event. The 15th edition of the annual exposition provides students, under the guidance of a faculty mentor, with the opportunity to conduct research, draw conclusions and present their information in a public setting. This year, 79 students researched 49 projects under the direction of 21 mentors.
"Student research provides the opportunity to work closely with a faculty mentor and to develop the skills necessary to follow a project from conception to completion," said Deborah Stillman, senior instructor in biology and mentor for two student projects. "Students demonstrate their creativity, their ability to do scholarly research, design an experiment, gather data, analyze data, and synthesize and present results."
Posters are designed to convey the project's significance to scholars in the field and potential significance to the general public. The students' written research is translated into a poster. Participants are judged on content, display and oral defense of their project.
Logan Villella, a freshman information sciences and technology major from Sarver, Pennsylvania, researched the technology behind driverless cars. Villella's project, ""Driverless Cars: Are We Ready to Let Go of the Wheel?" delved into cyber security and the potential economic and social impact of driverless cars.
"My project focused on the amazing technology of these vehicles," said Villella, who was mentored by Michael Manojlovich, instructor in information sciences and technology. "Technology is impacting the U.S. economy as driverless cars are currently being aggressively explored by automotive and technology companies."
'With Uber's Advanced Technology Center testing self-driving cars in Pittsburgh, Villella's research is timely. Although he also explored the hazards associated with the vehicles, he thinks the advantages will prevail.
"The many benefits of this technology also come with equally large real-life risks,' Villella said. "But within the next 20 years, the driverless car will pervade nearly every facet of society."
Career Day
In conjunction with the expo, Penn State New Kensington will host the seventh annual Career Day from 12:15 to 3 p.m., in the Athletics Center. Career Day complements the expo by creating new opportunities for the students and faculty to build stronger contacts with local industries through sharing of career information while also highlighting the campus' numerous research and creative activities.
Representatives from more than 30 companies will discuss career options, internships and job opportunities for current students and recent graduates. Organizations attending Career Day represent a variety of fields, including business, engineering, science, information technology, psychology, marketing, administration of justice, communications, finance, accounting, social services and human services. The campus faculty is encouraged to attend, as companies will focus on career paths within their organizations that relate to academic disciplines.
"The combination of the Career Day with the Research and Creative Expo creates a major annual event for the campus while giving students significant opportunities to present their best work to local professionals and employers," said Jim Shields, associate director of career services and professional development programs at the New Kensington campus. "At the same time, it's another chance to showcase Penn State New Kensington as a vital resource for local communities and businesses."
Career Day is more than just a job and internship fair. The goals for the event are three-fold: career information-sharing with students; networking among students, faculty and local businesses; and recruitment for internships and jobs. A directory with more information about opportunities with each employer will be available before the event to help students prepare for their interactions with the representatives.
The free event is open to Penn State students and recent graduates. For more information, 724-334-6095 or contact Jim Shields
Poster Presentations
Mentor: Abhinav Aima
"A Case Study of the Journalistic Ethics during the 2016 Presidential Election" -- Isabella Bordonaro
Mentor: Megan Bardolph
"Innovation and Familiarity Principles in Architecture" -- Daniele Smith"
"Internet humor in relation to political discourse" -- Bogdan Bordean
Mentor: K.R. Bridges
"Improving Study Habits" -- Joshua Gump
"Being Healthy Starts with Eating Healthy" -- Savannah Smith
"College Binge Drinking: A Review of Prevention Efforts" -- Jonathan McCabe
Mentor: W.E. Hamilton
"Northern Flickers" -- Carly Duncan
"Applications of Neuroengineering" -- Michael Ferrone
Mentors: W.E. Hamilton, Frances Blanco-Yu
"Effects of Nitrogen on the CO2 Respiration in the Soil in Corn Fields" -- Ryan Stanga
Mentors: W.E. Hamilton, Deborah Sillman, Tracie Brockhoff
"Ecology of Honey" -- Andrew Soxman, Shea Begolly, Jadelyn Cunningham
"Carbon Dioxide Evolution from Various Compost Treatments" -- Mariah Briggs, Jocelyn Rueda
"Effectiveness of Hand Cleaning Techniques on Microorganisms" -- Danielle Leeman, Shane Molyneaux, Gary Shaffer
"Effect of Phosphates on a Pond Microcommunity" -- Courtney Cambal, Morgan Pajerski
Mentor: Rick Harnish
"Color and Memory" -- Katie Dugan
"The Impact of Irrational Beliefs on Compulsive Buying" -- Joshua Gump
"The Role of Money Ethics on Compulsive Buying" -- Alicia Carson
"Does Monetary Value Have an Effect on Honesty?" -- Savannah Smith
"Helping Behavior: Is It Contagious?" -- Jonathan McCabe
"The Stroop Effect: Testing Automatic Processing" -- Jaclyn Tinnemeyer
"Effects of Aromatherapy on Mood" -- Latania Thomas
"Effects of Color on Mood" -- Paulina Iniguez
"Mozart: Does He Really Help Us Learn?" -- Alyssa Slancauskas
"Effects of Smiling on Mood" -- Jessica Vogel
"Colored Paper's Role in Short-Term Memory" -- Jordan Williams
"Schema and False Memory" -- Yuke Luo
Mentor: Abdou Jallow
"Development and Design of an E-commerce Website for Bagazco" -- Jessica Logston, Jeremy Glavanics, Matthew Lomicka, Raphael Rodriguez, Tyler Skirble, Eric Trump
Mentor: Joan Kowalski
"Structural Analysis for 'Green Roof" Viability" -- Brittney Scott, Nick Roth, Sarah Peppler
"Impact on Plant Growth of Different Types of Grow Lights" -- Hannah Albright
"Forces in Bridges" -- Christopher Oberdorf
Mentors: Debra Majetic, Marcia Curler
"Hypophosphatasia: Have We Learned How to Grow Bones?" -- Terri Miller, Madison Graham, George Mitchell, Emily Hayes, Ashleigh Piper
"How Doctors Make the Breath Taking Diagnosis" -- Tori Mundy, Maria Cecchi
"Exposed: The Truth Behind VATER Syndrome" -- Ally Knepshield, Ashley McMullen, Courtney Edgar, Bryan Bissell
"Neurocysticercosis" -- Hannah Fugini, Bree Dudek, Allison Nicklas, Courtney Schons
Mentor: Rujirutana "Dr. A" Mandachitara
"On the Wall: An Innovative Self-Service Machine" -- Phil Marra, Joseph Connelly, Shawna Flumhe, Antony Maiolo, Cody Shoemaker
"A New Sleeping Aid Using Delta Wave" -- Cody Shoemaker, Dante Palmieri, Alexis Strawoet
Mentor: Michael Manojlovich
"Driverless Cars: Are We Ready to Let Go of the Wheel?" -- Logan Villella
Mentor: Joie Marhefka
"Medical Equipment Calibration" -- Jacob Smeresky
Mentor: Robert Mathers
"Structure, Functions, and Uses of Chitosan Based Hydrogels" -- Jared Burk
"Purifying Water Using Imines" -- Derek Fuhrman
Mentor: Penelope Morrison
"Themes in Letters of Understanding" -- Danielle Richardson
"Health Promotion: Addressing Mosquito Borne Illnesses using the Precede Proceed Model" -- Ashley Worlds
"Victims' Perspectives on Programs for Men Who Perpetrate IPV" -- Bilge Civi
Mentor: Nicholas Petrucci
"How Tensile Stress Affects Everyday Objects" -- Justin Dumm
Mentor: Jeff Roth
"College Students' Perspective of Sexual Assault" -- Roya Fashandi
Mentor: Hal Smith
"The Research and Development Process of Creating a Mobile App" -- Evan Shaffer
Mentor: Yang Xu
"Tesla on the Road to Sustainable Energy" -- Nicholas Iducovich
"Tesla Organizational Analysis" -- Connor Kelly
"Trader Joe's Business Approach" -- Sarah Laird
"Trump's International Impact" -- Nathaniel Coup
Contact
Bill Woodard
Alumni and Public Relations Specialist