Radiological sciences upperclassmen reap research and image analysis honors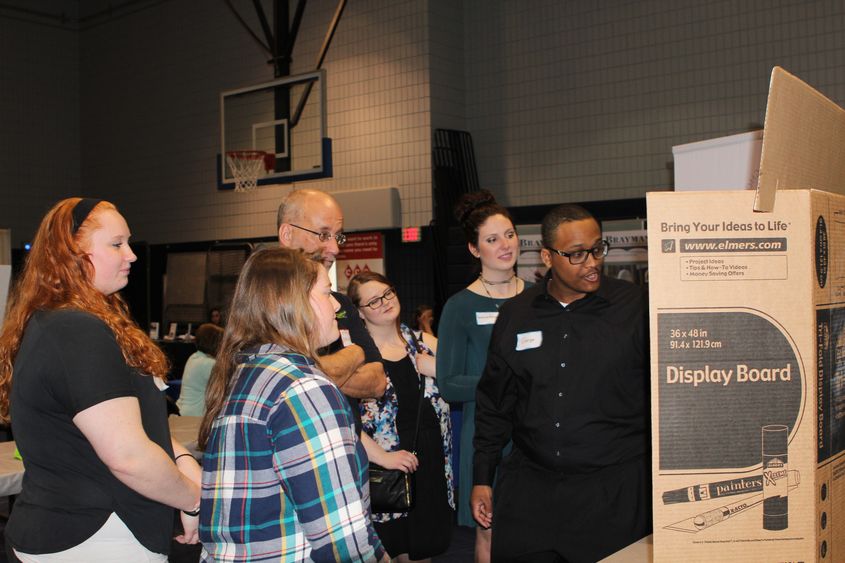 NEW KENSINGTON, Pa. – In keeping with tradition, radiological sciences students from Penn State New Kensington took home the hardware March 18 at the Pennsylvania Society of Radiologic Technologists (PSRT) conference in State College.
Debra Majetic, coordinator of the Radiological Sciences program, and Marcia Curler, instructor in radiological sciences, escorted 14 second-year students to the annual meeting. The upperclassmen -- Bree Dudek, Tori Mundy, Courtney Schons, Maria Cecchi, Terri Miller, Bryan Bissell, George Mitchell, Madison Graham, Allison Nicklas, Hannah Fugini, Emily Hayes, Ashley McMullen, Ashley Piper and Ally Knepshield -- graduate in August with an associate degree, which makes them eligible for examination with the American Registry of Radiologic Technologists (ARRT) for national professional certification.
"The students were able to network with prospective employers and other students, listen to awesome speakers, meet with a representative from the American Society of Radiologic Technologists and attend the business meeting of the PSRT," said Majetic, who is a graduate of the campus' radiological sciences program and holds a master's degree in higher education from Geneva College.
The purpose of the trip was two-fold. Students had the opportunity to meet with soon-to-be colleagues and to compete with fellow students in various categories -- research presentations, image analysis and Techni-Bowl. Students were effusive in their praise of the conference, especially the organization of events and the list of guest speakers.
"The conference was well organized, and the speakers were diverse and very knowledgeable," said Bissell, a resident of Apollo. "Some of the information went over my head, but the concepts I could grasp were interesting."
"I thought it was really informative, very well organized and most of the speakers were great," said McMullen, a native of Pennsylvania Furnace. "Overall I learned a lot from this meeting."
The team of Miller, Hayes, Piper, Graham and Mitchell took first place in the research competition for their poster, "Hypophosphatasia: Have We Learned How to Grow Bones?" Hypophosphatasia is a bone disease that causes deformity of the arms, legs and chest. The New Kensington students presented the argument for cultivating healthy bone to be transplanted in a patient as an alternative to bone rodding, which strengthen bones by connecting them with a metal rod.
After the conference, the students presented their work April 11 at the campus' Research and Creative Exposition. The annual expo allows New Kensington students to conduct research, draw conclusions and present their information in a public setting. This year, 79 students researched 49 projects.
Bissell and Dudek won the top awards for the image analysis contest. After viewing several images, students wrote down their choice of pathologies. Bissell selected Malroatation of Intestine, which is a twisting of the bowel that can cause obstruction. Dudek identified Urethral Diverticuli, a condition where the urethra pushes into its connective tissue layers to form a pouch that can fill with urine and lead to infections.
In the Techni-Bowl, a quiz-style competition featuring questions about radiological science, the duo of Fugini and Nicklas finished in a tie for third but lost on a tiebreaker to Penn State Schuylkill. Fugini reveled in being a part of the competition and the meeting.
"I really enjoyed going to the conference and being a part of Techni-Bowl," said Fugini, who was raised in Kittanning. "Overall, it was a great experience to be able to go and listen to the speakers."
Garnering awards and accolades at the society meetings is a tradition for Majetic's students. In the past seven years, the up-and-coming radiographers have won each of the competitive categories at least twice.
"The opportunity for our students not only to participate in the competition but also to attend the state meeting was invaluable," said Majetic, who joined the campus faculty in 2005. "Imaging professionals recognize the importance of networking with others, sharing new technologies, promoting the profession and supporting education and new technologies entering the field."
Radiological sciences program
Radiography is a science combining medical imaging technology with human compassion. Radiographers use their knowledge of physics, human anatomy and physiology to create permanent medical radiographic images. Imaging professionals provide a wide range of services using technology founded on theoretical knowledge and scientific concepts. New Kensington and Schuylkill are the only Penn State campuses to offer the two-year program.
As a part of the health-care team, radiographers provide patient care using safe radiation practices, operate sophisticated technical equipment and make independent judgments and decisions daily. Radiological services are offered in a variety of settings such as hospitals, health care facilities, physicians' offices, research centers and equipment sales offices. Careers in radiography offer flexible work schedules that accommodate various lifestyles and employment needs.
The radiological sciences program at Penn State New Kensington offers students an associate degree, and graduates are eligible for examination with the American Registry of Radiologic Technologists. The 72-credit, academic- and clinical-based curriculum begins in the fall of each year and requires 24 consecutive months of study, including summer sessions.
"In the past two years, the certification examination pass rate for our graduates was 100 percent," Majetic said. "The five-year average is 96 percent."
For more information, visit Radiological Sciences
Pennsylvania Society of Radiologic Technologists
PSRT is an affiliate of the American Society of Radiologic Technologists (ASRT), an organized group of radiologic technologists who live in a specific region or state. Affiliates, who share a common mission and purpose with ASRT, provide services for their members, such as conferences, grass-roots networking, social networking, leadership opportunities and community awareness in support of local radiologic technologists.
"One of the greatest strengths of ARST is its 54 affiliate societies, which represent the 50 states, the District of Columbia, Philadelphia, Puerto Rico and Guam," Majetic said.
The local society supports student research to expand knowledge of the radiology profession.
For more information, visit PSRT

Contact
Bill Woodard
Alumni and Public Relations Specialist